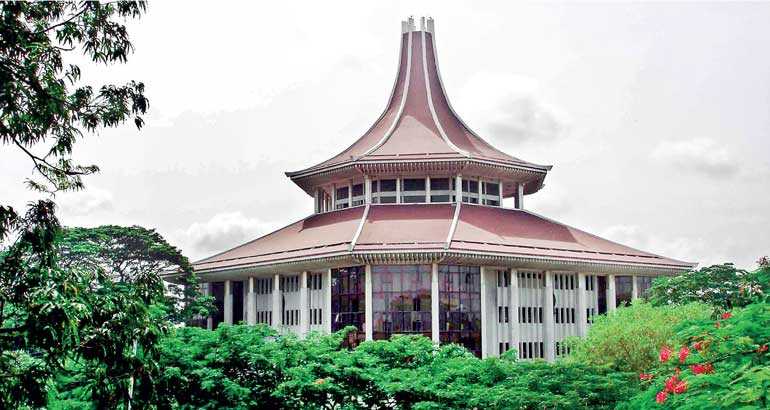 J'ACCUSE! In an incendiary editorial, a writer once accused the government of his republic of a cover-up as regards the career of an army general staff officer in a scandal that smacked of crimes against state and humanity. While neither such a case nor a time have come – yet, perhaps it behoves democratic-republicans to ask why so many magistrates of late have been recusing themselves in the face of a plea and a process to establish justice with peace? Or will dissenters critically engaging with realpolitik be constrained to ask whether their refusal is for a fear of their lives under a present dispensation that has failed to establish safeguards for its citizens – including its members of the third estate – in the face of an ethos of terror of the unknown, which we all thought was a thing of the past?
I had a dream. That there were monsters ruling the land in the disguise of being military champions. But then some knights in slightly tarnished armour rode to the nation's defence and liberated us from our saviours. And all was well again. At least for a while. And peace and justice shone over all creatures great and small for about 100 days…

Then over the course of the next brace of years or so, all things bright and beautiful began to come under a cloud. The sun still shone, but all things wise and wonderful showed a slight veneer of corrosion at the edges. There was a regrettable patina in the air in which a newly liberated people desired in some cautious measure to breathe the polluted air of growth, development and progress again – even if it came under the smog of ogres' manufactories.

Sad to say, it was the very people of the land who wished for peace with justice who felt the pinch most. Previously they had no peace, but at least there were parks to walk in and pretend all was well. Today, they still walk on less well maintained lawns all right, and somehow sense the absence of justice – and the rot has spread (or at least re-emerged), as if someone forgot to take out the trash leftover from the former dispensation.


Reality bites

In my dream, I had a bitter taste of the above reality. Recently, a family hosted a birthday party for a well-beloved little boy they had been blessed with. Friends and well-wishers came from far and wide to meet him and greet him with good fortune and gifts. Their cars, unfortunately, were not a welcome presence in the neighbourhood. For parked line astern as they were, they impeded the progress of an ogre who had a taste for fast-food – or so he later admitted – and was passing through, using the byway as a shortcut to the Big M.

So there was something of a small traffic jam in the midst of cakes and ale. The well-meaning partygoers, including yours truly, momentarily abandoned the merrymaking to attempt unclogging the arteries. But the congestion had caused such inconvenience to the thug with an appetite for McDonalds that he emerged from his trishaw with a two-foot metal rod. And threatened to smash all the parked cars ("okkoma kudu karanawa") – I suppose that's what betrayed his identity as a 'kudu mudalali'.

We are peace-loving people in our sunny suburban borough. But when two-bit thugs darken our threshold, we stand up for our rights. Sadly, justice was not to win the day. The little monster – really, no more than a pocket Hercules; but try reasoning with an inebriated hobgoblin brandishing a deadly poker – threatened to introduce our noggins to the sharp end of his business card. I'm a drug lord of the underworld, he said. I'm in a hurry to get some junk food into me, he said (all right, I translate). I'm prepared to smash all of you to kingdom come… and if you take me to the cop shop, I'm prepared to take my chances, he said, because the HQI is a good friend of mine… I will not interpret that as being representative of peace with justice – and then I woke up to the dream we'd all been having together in Cloud-Cuckoo-Land...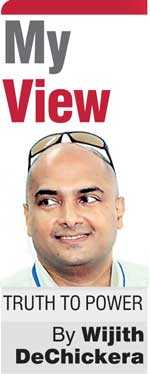 Respect bates

We've been dreaming that the monsters are gone. But they've only gone underground. And as with good men, so with bad. You can't keep them down. They keep cropping up like bad pennies. And some of them had never really gone underground to begin with. Like old soldiers, they never really die; they just fade away… to live and terrorise another day.

Once upon a time, the evil ice giants of the northern territories feared such men. And rightly so. For they were the wrath of god to return the sceptre to its rightful throne – the sovereignty of the state and its people. But when the deliverer's masked slipped and the nation glimpsed the serene face of a demon, that's when the hoi polloi first began to feel the heat. For there were no ice giants in warmer southern climes, were there? Just democratic hobbits whose habit was to dissent at any departure from true republicanism. And some of them felt constrained to ask, "So, who's the terrorist now?"

The questions continue to spring on the lips of truth seekers. Who is he, what is he doing? Why do justices of the peace run miles from him, relegating the lost people of the land to peace without justice? What men or gods are these, that the princes of the people fight shy of prosecuting him with the full force of the law made available to them… in fact, by them? What flights of fancy, what struggle to escape, what mad pursuit of pragmatic politics has empowered the return – or ostensible return – of the prince of darkness?

For the plight of the people at present is a bitterer pill than a suburban peace lover bowing before the police protected plunderer of joy at children's parties. The powers that be themselves have had to eat humble pie at the re-emergence of this once powerful bureaucrat in a tin hat. And if greybeards and such eminent magistracies as the law of the land are fleeing at not his presence but they very mention of his name. Why then we can be sure that it is not Gandalf the Grey come to bless the land but Sauron resurrected like a fiery wizard from his own ashes. But you can bet your bottom dollar it's not hamburger from a US franchise that the Hun from Hambantota is after, even if he bears an uncanny resemblance to a two-bit thug whom everyone in the neighbourhood fears. For even if you win your argument about the place of proper parking in public by daylight, it is what the police and politico protected ogres can do in the night that keeps sensible citizens from interacting too closely with the kind of thug in mufti whose name shall not be spoken out aloud.

(Journalist | Editor-at-large of LMD | Writer #SpeakingTruthToPower.)