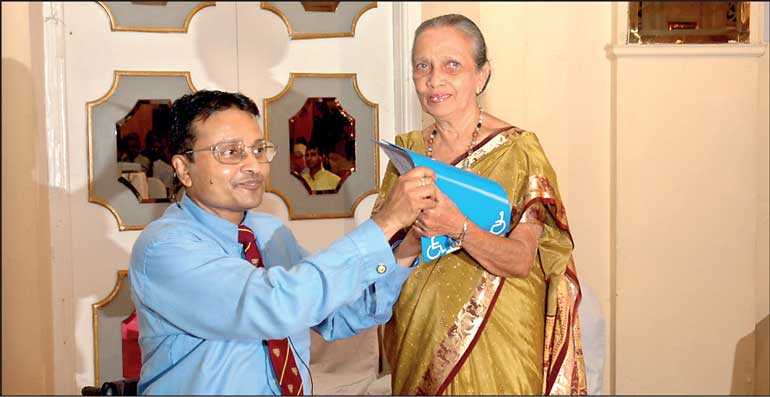 The first copy of the first book on accessibility in Sri Lanka compiled and published by Dr. Ajith Perera being presented to the first President of Idiriya, Maureen Johanna Perera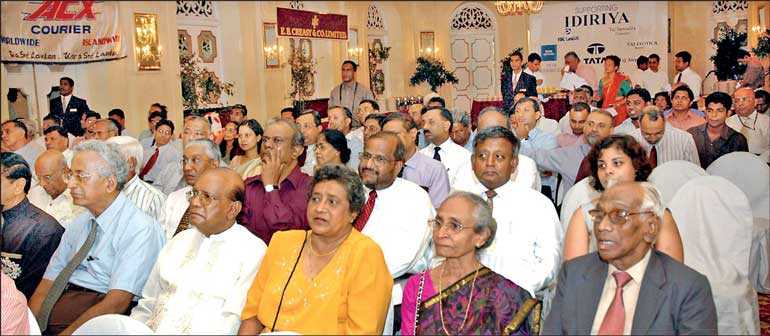 The inaugural meeting of the pioneer fighters for 'Sri Lanka – Accessible for All' held at the Taj Samudra Hotel, 1 July 2005
---
Persons who deserve honour for their patriotic deeds and distinguished services to the country are rightly recognised as National Heroes, National War Heroes and recipients of Sri Lankan National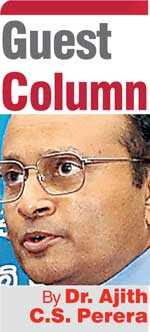 Honours.

There are also other persons who have performed extra-ordinary deeds – often voluntarily – especially at times of calamity and distress. They are the people who elevate us emotionally; heal our psychological ills; or even call us to come forward to win our inherent rights to enhance the quality of day-to-day lives, etc.

Although their outstanding efforts often go unnoticed, they indeed are our unsung heroes. These include: the doctors, nurses, attendants, pharmacists, technicians, innovators and several others, including taxi drivers and grocers, unhesitatingly going that extra mile to serve us in response to a crisis.
Sri Lanka's National Heroes
'Sri Lanka National Hero' is a status of civil honour that is bestowed on an individual recognised and declared as 'Patriotic War Hero' who fought for the freedom of the motherland especially in the Uva Wellassa Great Rebellion (1817-1818), Matale Rebellion (1948) and, the Independence movement against the British Empire.

The country known (1948-1972) as Dominion of Ceylon, declared 4 February as its National (Independence) Day). It proclaimed itself a republic on 22 May 1972. On this day each year – declared Sri Lanka National Heroes' Day – these patriotic fighters are remembered and celebrated.
National War Heroes
Meanwhile, 19 May in 2010 was celebrated as 'Victory Day' for defeating separatist terrorism after 30 years of fighting.

Since 2011, on this day each year, a ceremony is held under State patronage, to commemorate and honour the ultimate sacrifice the heroes from the Army, Navy, Air Force, Police and Civil Defence along with civilians – irrespective of ethnicity – made with their lives or limbs, for their family members and for the sake of unity and integrity, peace and wellbeing of our country.

This annual celebratory event held on 19 May 2020 was renamed as National War Heroes Day, and also recognised the extraordinary deeds of some living war veterans.

Members of the tri-forces are further recognised at various levels of service and personal accomplishments – and presented with different awards and their associated ribbon bars. They are means to outwardly display the highlights of a serviceperson's career.
Recipients of Sri Lankan National Honours
There are exceptional individuals who are recognised and honoured in the form of medals, decorations and titles for a variety of distinguished services to the country or for eminence in various fields of endeavour.
Unsung heroes
There are other exceptional people with eminence in a very important field of endeavour or who have made a significant difference to their community, but have not received the honour for it.

In India, we hear of that recognition just given to 21 unsung heroes. These include: 84-year-old Jagdish Ahuja, who serves free food daily to hundreds of disabled and poor patients outside Chandigarh, and Arunoday Mondal, a doctor who travels six hours every weekend to treat such patients in remote Sundarban villages.
Do we need an Unsung Heroes' Day?
Unsung heroes appear often voluntarily in many a field. Hence it is not feasible to have such a formal day for them.

But still, there are feasible ways of celebrating their achievements:

1. The media can play periodically an important role in helping to raise awareness of their inspiring inputs to society and spur them on to keep persevering in spite of challenges.

2. We have several international days designated in many a field.

More importantly, governments, civil society, the public and private sectors, media, schools, universities, and, more generally, citizens, should, as their moral duty, grab these opportunities as a springboard for awareness-raising actions and celebrate the significant achievements of those unrecognised heroes in those fields concerned. For example:

1. For war veterans living – 21 August – 'International Day of Remembrance and Tribute to the Victims of Terrorism'.

2. For doctors, nurses and others in health sector – 28 April – 'World Day for Safety and Health at Work'.

3. For exceptional dis-ability rights activists who themselves are dis-abled and fought for the betterment of humanity – 19 August – 'World Humanitarian Day'.

4. For those significant inventions – 21 April – 'World Creativity and Innovation Day'.

5. Even 'International Men's Day' or 'International Women's Day'.
Disabled war veterans and civilians
The war veteran heroes – disabled for life – have now joined the country's largest minority – close to four million others living with limitations in mobility, stability and/or eyesight.

It is, therefore, an opportune time to ask, 11 years after ending the separatist war, how many seniors, war victims, those with debilitating medical conditions, etc., can enjoy the right to hassle-free inclusion in society with dignity and with minimum unwanted dependency on caregivers?

How is the Government, the private sector, the media and our communities – as their social responsibility and moral duty – supporting them to be socially included without costly unwanted dependency?

We do appreciate with gratitude the improved facilities helping the disabled soldiers to access and be safe in some institutions like the Military Hospital and Ranaviru villages. However, these are exceptions, a lack of facilities is more common in auditoriums, theatres, restaurants, temples, etc.

Even in the tourism industry and health sector, toilets and other basic facilities at most 5- and 4-star hotels and leading hospitals are inadequately provided for independent wheelchair users.
Fighters for rights of others
Two Supreme Court Orders (in 2011 and 2018) regulate the construction of buildings and facilities that are essential for the public to access and use in daily life.

Fighters for accessibility are providing the right advice and guidance to comply with these Court Orders, promote social inclusion with equal access to a better quality of life for all Sri Lankans and thereby eliminate danger of physical injury and the trauma of exclusion crippling precious human life causing colossal losses to the country.

Implementation of accessibility measures are not costly and requires no allocations of additional funds.

Accessibility is not an add-on. Hence the fighters for designing buildings for inclusion (who are very limited in number here) require commitment to a cause of national importance with a wide and thorough practical understanding of the intricacies involved. By mere reading of books this prerequisite cannot be acquired. Their silent service to the nation thus is of national importance.

Perhaps, that is the very reason why, Article 8.1(a)(c) of the UN Convention on the Rights of Persons with Disabilities (CRPD) – a binding legal document even Sri Lanka ratified in February 2016 – states: "State parties should initiate to adopt immediate, effective measures: To honour and promote awareness of the capabilities and substantive silent contributions these heroes have made in fighting for the rights of others, often marginalised in society."
Idiriya
Many organisations in Sri Lanka stand up for the rights of disabled persons. In May 2005, 43 visionary individuals, grouped together voluntarily, registered themselves as not-for-profit, humanitarian organisation and founded Idiriya.

They are the pioneer and perhaps the only organisation here yet, fully focused and committed to this very pertinent subject of inclusion by design with the vision 'Sri Lanka – Accessible for All'.

Inaugurated in this very month of June in 2005, its sole mission is to promote and assist in creating built environments free of the tormenting consequences of poor design.

It is our moral duty to commemorate with deep gratitude the unhesitating contributions by some founder members who are no longer with us. These pioneers here include the following:

Anne Abayasekara, Dr. Cameron Battersby A.M., Dr. Chandra Tissa Fernando, Theera Fernando, Edwin Gunasinghe, Joseph Grimberg (legal advisor), Darrel (D.G.) Perera, Rita Beatrice Perera and Maureen Johanna Perera (Founder President) along with Christopher Martin-Jenkins MBE (Founder Patron), Sam Wijesinha (Patron), Vidya Jyothi Professor V.K. Samaranayake (Founder Vice-Patron), Dr. Wickrema Weerasooriya (Founder Vice-Patron) and Professor Carlo Fonseka (Vice-Patron).

They were not born heroes but circumstances made them so by unhesitatingly rallying round amidst other commitments, age and disabilities as a team, towards a cause of national importance.

Although not members of Idiriya, perhaps it could be the lifetime only opportunity we get also to remember fondly with sincere gratitude other pioneer heroes who they themselves were either visually or physically impaired, fought and rendered yeomen service but gone unrecognised. These include: Rienzie Alagiyawanna, J.P. Pathirana, Pramadasa Dissanayaka, S.L. Hettiarachchi, Cyril Siriwardane, W.J. Ratnasekera, R.A. Sirisena, Alex Jayawardena, Rienzie Benedict and Professor D.P.M. Weerakkody.

Our disabled war veterans now have joined the largest minority in Sri Lanka. We plead on behalf of them and for all our fellow citizens living with a disability, for more meaningful and prompt ongoing progress to help all live with dignity, social inclusion and equality.

However, we feel the winds of change, as our President is the former Defence Minister and believe that he will take it on himself to ensure that all his people with disabilities will be able to enjoy their inherent right to access by design and thereby turn 'Sri Lanka – Accessible for All' into a long-felt reality.

[The writer (acsp@sltnet.lk), a paraplegic since 1992, is a professional and a former senior manager in industry. Personal adversity has turned him the pioneer voluntary accessibility rights activist here. He is an internationally-recognised and a competent advisor on accessibility, trained in England, with over 23 years of widest practical experience. See: https://is.gd/aoFU72]