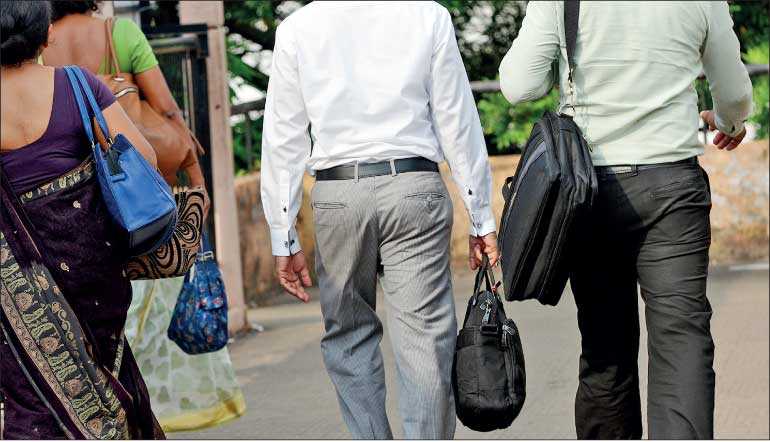 This young person had no intention of joining our well-established companies because he considered these institutions to be full of 'old men with old ideas' – Pic by Shehan Gunasekara
---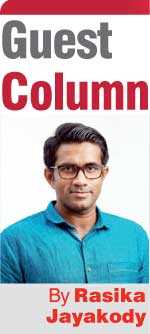 With the pandemic wreaking its havoc across the length and breadth of the world, the news out there is bad. Not only for those seeking jobs in developed countries but also those who have gone looking for greener pastures, using higher education as a conduit to seek permanent residency in those countries — especially the west.

According to a CNN Business report, millions who lost their jobs in the USA have no hope of gaining them back anytime soon. Although there were some jobs given back last month they were mostly factory, hotel, restaurant or store workers who were temporarily laid off during the lockdown closures. But there were 759,000 layoffs with no promises of a return, taking the total number of unemployed Americans to 3.7 million and CNN says this is just the beginning. The hopes for non-residents finding jobs are now fast diminishing.


Withdrawing visas from students in the US

In the meantime, US Immigration and Customs Enforcement (ICE), have made a decision to withdraw US visas from foreign students whose courses were moved fully online. Educators fear that this move is a blunt, one-size-fits-all approach to a complex problem, giving international students, particularly those in online programs, few options beyond leaving the country or transferring schools.


Returning Sri Lankans, what will they do?

Today, thousands of Sri Lankans living in developed countries are waiting to return home. Sri Lanka has now become a safe haven, not only because of our track record with COVID-19 but also because prospects are few for those living in these countries. But as the highly educated and often highly skilled overseas returnees find their way back, our policy makers, lawmakers and the businesses at large, will have to see what can be offered to them locally. Will they find a place in our blue chips and conglomerates? Some views expressed by a recent returnee took me by surprise. This young person had no intention of joining our well-established companies because he considered these institutions to be full of 'old men with old ideas'.


Entrepreneurs or start-ups?

So, what will kids like this youngster do? Become entrepreneurs? Maybe, but not all of them can. From what I found, some of them are interested in not only joining start-ups but also spearheading them. For the uninitiated, there is a difference between the two. While entrepreneurs have a financial motive as their end goal, start-ups are more focused on innovation. They prefer to fix their energies on new inventions and generally have a more idealistic and even revolutionary outlook to business.

Someone contemplating a start-up may only have their personal reputation and a winning business plan – and probably some personal real estate as collateral. Most often start-up financing is from non-traditional sources, gained from much research and networking. It is only as the business matures, that start-ups grow into their own. With a proven track record they will gain a stronger foothold and have traditional financing options. An entrepreneurship on the other hand will most often have seed money, from company founders or some sort of traditional financing such as a low interest bank loan to fall upon.

So some of these young people who are returning are not here with a begging bowl – they are in fact thinking of how to make something out of nothing. That being the case, can we do something to help them? Yes, we can start by setting up a proper environment for them to operate in. But therein lies the problem – Sri Lanka is woefully thin on good governance practices and transparency both of which are vital ingredients in a start-up culture.


Questionable business environment in Sri Lanka

Last week a Sunday newspaper reported an issue that exemplified the problems we have in regards to technology driven start-ups. The news covered a group of local restaurateurs who were complaining about foreign app based hailing companies involved in local food delivery, using unethical practices. The restaurateurs claimed that a particular foreign app based company demanded unreasonable commissions, and far worse they implied that the company was into data mining i.e. stealing the restaurateur's data for the company's own benefit by promoting it to competitors. This way the app company dilutes the restaurant's business. This is a serious allegation.

Unfortunately Sri Lanka does not have laws to protect against this kind of situation – leaving local companies vulnerable to such unethical practices. Successive governments have dragged their feet on this matter, and consumer laws in this country are going in the same direction, with no proper protection for anyone, let alone those aspiring for technology start-ups. Our laws are antiquated or non-existent and it is not so much that authorities are unaware of this in some way or the other.

The Central Bank of Sri Lanka in its recent annual report points to a serious situation concerning gig economy platforms such as the foreign app based hailing company. They say gig operators from outside the country who supply app-based delivery and transportation services are impossible to regulate, because, "despite its increasing popularity, the gig economy does not only provide opportunities but also poses challenges with regard to the regulatory environment, collection of government revenue and particularly compiling official statistics."

The annual report records that these gig platforms, which are operating worldwide despite being based in a particular country, are difficult to be controlled by the host country's regulatory environment and taxation system, in the absence of local business registration. In contrast, local platforms are under regulatory scrutiny and are liable to pay local taxes. They indicate that such differences in the applicability of regulation will not ensure a level playing field for local operators.


Protecting data, the oil of the future

Everybody talks of data being the new oil of the future. In a January 2019, report Business Today India quoted India's Reliance Industries Chairman Mukesh Ambani who said that while data is the new wealth, India's data must be controlled and owned by Indian people and not by corporates, especially not global corporations. So is it that Sri Lankan companies have not been gathering big data? Not so, it happens every day – when a customer presents a loyalty card at a supermarket, hospital or a mall.

Recently India took some drastic decisions with regard to Chinese apps. A press release issued by the Indian Government on 29 June said that India banned 59 Chinese mobile applications to counter the threat they posed to the country's 'sovereignty and security'. While we do not have to go to such lengths, we do need to have our laws straightened out to protect our systems.


Start-ups to fuel economic growth

Imagine if Sri Lanka targets 500 to 1,000 start-ups within the next one and a half years with people coming in from the west, in addition to the 200 start-ups that we now have. We can experience a whole new dimension in economic growth with very low investment cost. Envisage the transfer of knowledge to others who have not been overseas nor had the exposure or experience. It could start an entire chain reaction – we could attract our millennials across the globe to come and set up here, leveraging our safe environment. Since we are primarily non-aligned we could have a rainbow of different investors once the start-ups mature, something very relevant in the highly polarised world trade these days – China and its allies versus the rest of the world.

But for now, the big question is what we can do for the Sri Lankan youth who are returning home with innovative ideas. These are individuals who can focus, think for themselves, believe in themselves, and have learnt to work hard and smart. They are capable of going for exponential growth, are persistent; can the policy makers and lawmakers give them opportunity?