We witnessed a serene Poson Poya, in a far more improved security setting in Sri Lanka. Whilst the Sri Lankan life slowly returning to normal, political fronts do not appear to show the same. Has the political power become the people 'pava' (sin) in Sri Lanka? Do we see the much-needed congruence among key people leaders in navigating the nation? Let me share some salient thoughts through my 350th column of Humane Results.

Overview

Poson Poya is associated with the arrival of Buddhism in Sri Lanka. It is widely hailed as the beginning of a new era in Sri Lankan civilisation. It commemorates the occasion of Arahat Mahinda, son of Emperor Asoka of India arriving here. The way he converted King Devanampiyatissa to Buddhism is an amazing story to depict the subtle difference between an 'owner' and a 'servant'.

When referring to the dialogue that took place between the King Devanampiyatissa and Arahat Mahinda, a logical testing of the intelligence of the king can be seen.

"…And are there, besides other mango trees and those trees which are not mango trees, yet other trees?"

"There is this mango tree Sir."

With that insightful answer, Arahat Mahinda has apparently appreciated the king's wisdom in advising him, as a ruler to act as more as a servant of the land than the owner of it.

"O King, mighty as you are, it is well to remember that total ownership of the environment is not yours. You are, but the trustee of the mountains, the rivers, the forests and the oceans which enrich our lives, and it is your bounden duty to hand these down to posterity in the condition in which you inherited them from your forefathers."

Do we see such a mindset among the modern-day managers and administrators, particularly in the governing circles? Much soul-searching is required in the spirit of Poson towards the search of not only being authoritative but authentic.
Power and authority

In typical management context, the term 'power' refers to a capacity that one person has to influence the behaviour of another, so that the second acts in accordance with the first's wishes. It is more a capacity or potential as it may exist but not be used. Probably the most important aspect of power is that it is a function of dependence.

Let's take two persons A and B. The greater B's dependence on A, the greater is A's power in the relationship. Dependence, in turn, is based on alternatives that B perceives and the importance that B places on the alternative(s) that A controls.

Authority is the legitimate power. The typical dictionary defines it as the institutionalised and legal power inherent in a particular job, function, or position that is meant to enable its holder to successfully carry out his or her responsibilities.

It also refers to the power that is delegated formally. It includes a right to command a situation, commit resources, give orders and expect them to be obeyed, it is always accompanied by an equal responsibility for one's actions or a failure to act.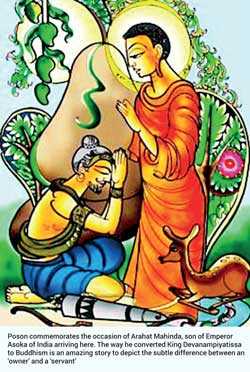 King Devanampiyatissa had the authority vested in his rulership being the head of the State. The advice of Arahat Mahinda was to use that authority with better meaning and broader understanding. When the authority vested in the key public sector positions is not properly used to prevent corruption or to promote commitment, it in fact becomes authority wasted.

Giving excuses in highlighting limitations whilst pointing fingers at one another which is the prevalent political phenomena, signifies the same sad scene.
Authority vs. Authenticity

As we already saw, authority is legitimate power. What about authenticity? It is simply being genuine in one's all words and deeds. There is a degree of principle-centred behaviour implied here. You show your real values in action by being authentic or otherwise. We have plenty of live examples in the political front these days.

How can authority and authenticity meaningfully be related? We can see four possible options. Figure 1 illustrates it in detail.
Based on figure 1, we can describe the four possible scenarios as follows:

1.Exhausting: A clear struggle with both aspects being low is meant here. It directly points to a poor attitude and aptitude. Sad to see some prominent political figures through their utterances reveal their lack of authenticity in 'wasting the authority vested'

2.Exhibiting: This is the common tribe we see in the political circles. Showing the society, a virtuous outlook while being vicious in misusing the vested authority. No political party can absolve itself from this. Gross abuse of power we heard in multiple instances can be summed up in this category. Again, the authority vested is wasted

3.Exerting: Another interesting category of 'people representatives' who attempt to do a genuine job but lacking the required authority. The bountiful backbenchers who occasionally complain about missing the needed authority. One positive aspect is the decency some of them demonstrate in having patience despite being overlooked for deserving positions

4.Excelling: This is the ideal place to be where you have the much-needed authority whilst showing the expected genuineness to the fullest. King Devanampiyatissa demonstrated this in his meaningful dialog with Arahat Mahinda. We had this rare breed in the political circles in the past. Malcolm Cardinal Ranjith aptly demonstrated the appropriate blend of authority and authenticity in his words and deeds in the recent past

It reminds me what was shared with me by my friend Mano about William Gopallawa, the first Buddhist Governor-General and First non-executive President of Ceylon/Sri Lanka. Relating to an incident where he was insulted by a golf caddy in Nuwara Eliya. "The grace of power, is not using it but knowing when not to use it". That is the sure way to ensure that the authority vested is not wasted.
A recent initiative

I was humbly happy to get involved in a recent initiative where we reflected on the 'authenticity and authority' in a deeper sense, in the aftermath of the Easter Sunday tragedy.

"As educationists and professionals, we propose an urgent manifesto for peace, harmony, safety, and security for all Sri Lankans". That is the ethos of the outcome of a series of deliberations of a set of 'likeminded individuals'. It was unity in diversity as we represented all races and religions.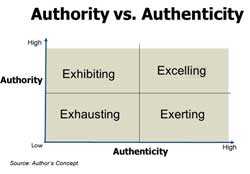 The initial list of proposers included (apart from me), Dr. Harsha Alles (the main initiator), Rev. Fr. Marc Billimoria, Nirmali Wickramasinghe, Prof. Priyanjali de Zoysa, Prof. Aloka Pathirana, Dr. Vijith Kannangara, Nelum Senadira, Nayana Karunaratne, Shea Wickramasingha, Ali Sabri, Mano Sekaram, Udena Wickramasooriya, Ameer Ahamed, Suren Kannangara, Hussain Sadique, Fouzul Hameed, Kumar Nadesan, Reyaz Mihular, Moksevi Prelis, Adel Hashim and many others who endorsed.

Our proposal had two parts, viz, education of children and make Sri Lanka safe and secure.

Educate our children to live in peace and harmony
Develop a policy to prevent fulltime schools that teach religion and/or a specific language only, during the 13 years of a child's education
Whilst enabling the learning of one's own religion, develop a policy that facilitates the learning of other religions and peace studies
Consolidate, enhance and ensure implementation of trilingualism, to facilitate cross-ethnic communication and employability. A link language should be made a compulsory core subject that should be examined at some level
Develop a policy to prevent establishment of new schools branded directly or indirectly by a specific religion/ethnic group. Encourage existing schools branded directly or indirectly by a specific religion/ethnic group to admit a minimum of 10% children of other faiths/ethnic groups to ensure a multi-religious/ethnic school environment
Enact laws to regulate all schools, universities and institutes of education; monitor their sources of external funding; and have a system of authorising/licensing teachers
Make Sri Lanka a safe and secure country
Establish a cyber-intelligence unit that can track and monitor anti-social, extremist, and criminal behaviour or any other threat to national security on the internet
Make citizens better aware that the sole law of the land is the Sri Lankan Law stipulated in the Constitution; and encourage citizens to demand that the rule of law is upheld without fear or favour
Establish a news verification centre where citizens could verify the accuracy of news they are presented with through any medium. Enact new laws to criminalise all forms of extremist content, hate speech, and incitement of violence, in whatever medium it may be including those who facilitate the medium
Bring all religious affairs under a single ministry. Encourage self-regulation of religions
However, establish a religious council under this Ministry to monitor emerging trends that could pose a threat to national security
Political parties should only be based on Policy. No new political parties based on religion or ethnicity should be given registration. Existing political parties based on religion or ethnicity should be required to conform to this policy
At least there is a sense of satisfaction that the sanity prevailed in reaching a consensus of collaboratively committing towards the betterment of the nation leaving aside racial and religious differences.
Way forward

In coinciding with the Poson pondering, there is an interesting thought from John Wesley. "Do all the good you can. By all the means you can. In all the ways you can. In all the places you can. At all the times you can. To all the people you can. As long as ever you can." If we diligently do so, the authority vested will surely not be wasted.



(Prof. Ajantha Dharmasiri can be reached through director@pim.sjp.ac.lk, ajantha@ou.edu or www.ajanthadharmasiri.info.)