They all seem to be singing the same tune, is it a paradigm shift in Sri Lankan politics or a onetime melody to woo the professionals?
---
It has been a forgone conclusion that Sri Lanka's current economic woes have been precipitated by the debt burden the country has to serve in the short term and the negative Balance of Trade. Whilst improving tax collection is a temporary measure to boost up local revenue collection to these challenges, both the state and economists alike, as articulated in many forums, are well aware that the best tonic to withstand this storm and march towards our elusive dream of becoming an industrialised nation is only by significantly propping up our export earnings.


'Sakvithi' model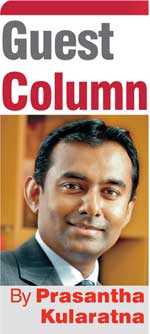 Currently some argue that we are practicing a 'Sakvithi' model, a name that for centuries had signified the mighty power and authority vested on a universal ruler albeit in the recent past coined to denote devouring of capital for consumption after the infamous financial scam committed by its namesake.

The vicious cycle of Sri Lanka going deeper and deeper into a debt trap has been explained with the Government having to borrow for both repayment of existing debt as well as for consumption, since the export income is not capable of meeting the current account deficit of the country. On top of these weak fundamentals, it is also obvious that some significant capital expenditure too needs to be incurred by the state to provide the foundation for economic prosperity by investing in key infrastructure development projects.


A new ploy or a paradigm shift

Whilst the above seems a daunting task, the current political winds of change have shown that structured efforts are being made by some politicians to woo the professionals and intellectuals in the country to participate in a discussion and engage them in formulating an action plan that could be put in place to take the country forward. It is no secret that this new approach brought forward by learned politicians in the calibre of Gotabaya Rajapaksa, Champaka Ranawaka and new entrants like business magnate Dhammika Perera who had suddenly found an interest to build a public persona as a champion of policy changes, have their own hidden agendas.

Yet the writer is of the view that such forums are in fact timely and will serve well in this hour of need, if given a chance to be implemented with wide ranging policy reforms spanning many sectors. The past, however, does not hold much promise for such initiatives as Sri Lanka is notoriously known for ignoring professional advice for sector reforms and policy restructuring with many competent think tanks' recommendations collecting dust in the cabinets lined up in the corridors of many ministries.

At a time when professionals and intellectuals have either decided to take wings to find greener pastures overseas or opted to stay away from politics, other than showing up with their polling card on election day to cast their vote wondering and confused since both alternatives provide a meaningless difference, these initiatives do provide a fresh breath of air to those who still believe in the fortunes of our motherland, those who have opted to stay firmly grounded in spite of their ability to start all over in a foreign land, those who are considered the engine of growth in our country and the legitimate entrepreneurs of our soil who toil and face the innumerable challenges on the face of regular policy inconsistency dished out at them by the bureaucrats.

If these forums provide a fair and square platform to voice their opinion and be counted, it should not take much time to galvanise troops of professionals, intellectuals and entrepreneurs to share their wisdom, experience, knowledge and expertise to script a new chapter for Sri Lanka's economic prosperity in the years to come.


Beware of pitfalls

The path to such fairy tale realisation of our economic potential through the assistance and facilitation of professionals and intellectuals are filled with many pitfalls. Primary of which would be the cohorts who surround such politicians or their inner circle. We are too aware regarding their aspirations to enjoy their fruits of labour by being appointed as a chairman or a board member in the many state-run corporations or to take wings to fill a diplomatic vacancy in a western country. As we had seen post 'Yahapalanaya' era there is always the tendency of those who profess transparency, accountability and work ethic, swaying as times goes by and when they secure office giving credence to the famous maxim of Lord Acton that, 'all power corrupts and absolute power corrupts absolutely'.


There is still hope

Pros and cons notwithstanding, the time has come to actively get engaged in defining and reshaping where our country should progress in the short to medium term. Whether this path would be formulated by 'Eliya' championed by Gotabaya Rajapaksa, 'Mega Minds' initiated by Champaka Ranawaka or forums chaired by straight talk business magnate Dhammika Perera and like-minded groups of entrepreneurs is yet to be seen. The sense of urgency and the need as to why such swift policy changes are necessary today rather than later can be understood when one looks at the precarious position our country is at currently.

The prospects presented by the geo political advantages we enjoy as a country, the massive regional upside we can leverage on at the completion of Port City, gaining the worlds' attention having climbed to as one of the top global destinations for tourism, Government's active engagement to promote and inculcate technology education to both university and vocational training sectors, the planned infrastructure development with highways and industrial parks and creating new industries such as pharmaceutical manufacturing in the country convinces us that some things are moving in the right direction in our country amidst all this chaos and confusion.

Given the delicate nature with which these initiatives should be nurtured to realise its full positive impact to the country to achieve the so called economic independence, there is no better time than today for the professionals, intellectuals and entrepreneurs to take a stand as to with whom they want to march forward in making that difference for the future generations.