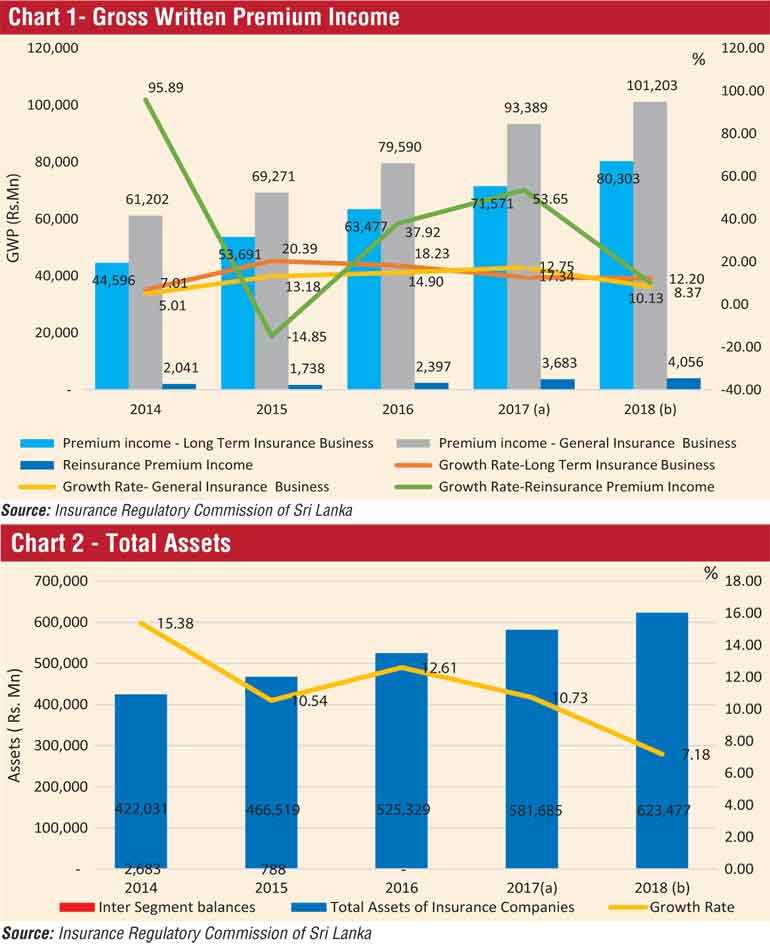 Premium income and growth rate

The Sri Lankan insurance industry was able to achieve a growth of 10.03% in terms of overall Gross Written Premium (GWP) for both long term and general insurance business sectors in 2018. The total GWP income for both sectors was Rs. 181,506 million compared to Rs. 164,960 million in 2017, recording an increase of Rs. 16,546 million.

The long term insurance sector generated GWP amounting to Rs. 80,303 million in 2018, up by 12.20% against the GWP of Rs. 71,571 million generated in 2017. The general insurance sector recorded GWP amounting to Rs. 101,203 million in 2018, posting a growth of 8.37% compared to Rs. 93,389 million recorded in 2017. The reinsurance premium income generated by the National Insurance Trust Fund (NITF) from the compulsory reinsurance cession of general insurance business amounted to Rs. 4,056 million during 2018, recording an increase of 10.13% against the reinsurance premium of Rs. 3,683 million generated in 2017. (Refer chart 1)
Insurance penetration and density

Insurance penetration which is reflected by the insurance premium as a percentage of GDP amounted to 1.26% in 2018. Although insurance penetration had slightly increased in 2018 compared to 1.23%, which was recorded in 2017, it is still low compared to other countries in the Asian region. Penetration of the long term insurance business in 2018 stood at 0.56% (2017: 0.53%) and the penetration of the general insurance business was 0.70% (2017: 0.70%), recording a slight increase in long term insurance business compared to the penetration ratio recorded in 2017.

Level of disposable income has a direct impact on the level of insurance penetration. Certain negative perceptions on insurance and available social security benefits are some of other factors that contribute to the low penetration levels.

Insurance density reflects the insurance premium income per person of the population and has increased to Rs. 8,376 million in 2018 compared to Rs. 7,693 million recorded in 2017, growing by 8.87%.
Total assets

The value of total assets of insurance companies has increased to Rs. 623,477 million in 2018, when compared to Rs. 581,685 million recorded in 2017, reflecting a growth of 7.18%. The assets of Long Term

Insurance Business amounted to Rs. 429,706 million (2017: Rs. 391,890 million) indicating a growth of 9.65% year-on-year. The assets of General Insurance Business amounted to Rs. 190,088 million (2017: Rs. 185,583 million) and recorded a growth of 2.43%.

The national reinsurer, NITF reported assets amounting to Rs. 3,683 (2017: Rs. 4,212) million relating to their reinsurance business and recorded a decline in growth of 12.56% year on year. Further, there was significant reduction in the financial investments relating to the reinsurance business of NITF.
Claims incurred by insurance companies

The claims incurred by insurance companies in both Long Term Insurance Business and General Insurance Business were Rs. 86,803 million (2017: Rs. 74,178 million) showing an increase in total claims amount by 17.01%. The Long Term Insurance claims, including maturity and death benefits, amounted to Rs. 34,337 million (2017: Rs. 26,371 million). The claims incurred in General Insurance Business, including Motor, Fire, Marine and other categories, amounted to Rs. 52,466 million (2017: Rs. 47,807 million). Hence, when compared to 2017, claims for Long Term Insurance and General Insurance Businesses in 2018 have increased by 30.21% and 9.74% respectively. (Refer chart 3)
Profitability of insurance companies

The volatility in the interest rate environment and other economic disturbances prevailed during the year impacted the profitability of the insurance industry and reported total profit before tax of Rs. 37,017 million (2017: Rs. 49,084 million), which includes NITF's profit on other businesses, i.e. crop insurance amounting to Rs.229 million (2017: Rs. 128 million) and reinsurance business amounting to Rs. 1,342 million (2017: Rs. 136 million). The profitability of long term insurance business amounted to Rs. 24,127 million (2017: Rs. 39,349 million), mainly driven by Janashakthi Life with the significant profit earned from the disposal of its subsidiary investment of Janashakthi General.

In 2017, the Commission issued Direction # 16 for the purpose of identification and treatment of One-off Surplus. Accordingly, few major long term insurance companies had transferred the One-off Surplus other than participating business to shareholders' fund for the year ended 31 December 2017 after complying with the requirements stated in the Direction. As a result of One-off Surplus transfer, long term insurers' profitability significantly improved by 67.57% in 2017 to Rs. 39,349 million.

The profitability of general insurance business amounted to Rs. 11,318 million (2017: Rs. 9,469 million) and the general insurance industry grew by 19.52% year on year, despite the fierce competition and price pressure prevailed among industry players.
Dispute resolution and investigations

The IRCSL, under its overall objective of safeguarding the interests of policyholders, inquiries into policyholders' grievances in connection with insurance claims pertaining to life and general insurance policies. The IRCSL also investigates into any other complaints referred to it against any insurer, broker or agent. During 2018, 247 new matters were referred to the Commission. A total of 295 matters (including matters carried forward) were settled/closed during the period. Aggregate value of the claims settled during the period, due to the intervention of the Commission, is around Rs. 38 million.
Insurers

Out of 25insurance companies (Insurers) in operation as at 31 December 2018, 12 are engaged in Long Term (Life) Insurance Business, 11 companies are carrying out only General Insurance Business and two are composite companies (dealing in both Long Term and General Insurance Businesses).
Insurance brokers

65 insurance brokering companies, registered with the Commission, operated in the market and generated a Gross Written Premium (GWP) amounted to Rs. 25,063 million. Accordingly, total GWP generated through insurance brokering business recorded a growth of 16.69% in 2018 when compared to Rs. 21,479 million recorded in 2017. Further, total GWP consists of premium income generated through long term insurance business and general insurance business which accounted for Rs. 655 million and Rs. 24,408 million respectively. (Source: By Insurance Regulatory Commission of Sri Lanka)