---
Life in Lockdown Land 2
In human history, if one cares to look, a pandemic disease is the most predictable of all global catastrophes. It has happened so many times that we have chosen not to remember. Starting from the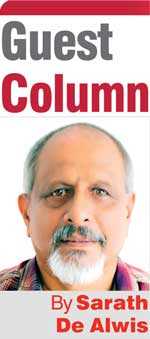 Bubonic plague to the HIV/AIDS pandemic we have a long history of doing too little too late in avoiding mass death by infectious disease.

We remember wars. We don't remember pandemics. Pandemics take more lives, yet we chose to forget pandemics and remember conflict among humans.

There is a reason. Wars have winners and losers. The winner celebrates the war. Losers lament the war. It is all about human pride. Humans don't like to fight viruses. Viruses do not know fear. Viruses cannot be intimidated.

Pandemics always win. Humans lose. We chose not to remember our defeats. Celebrating triumphs is so pleasurable.

Those who claim moral high ground are quick to admonish 'don't politicize the pandemic. Then they proceed to do precisely that.

In Lockdown land, your choices are limited. But sometimes you are treated to some extraordinary revelations. As I sat down to write this column on Thursday at around 7 am, the TV program 'Derana Aruna' showed a sound bite of Dr. Anuruddha Padeniya President of the GMOA. https://www.youtube.com/watch?v=_AQlAac9Yqg

He made a comparative analysis of the service delivery of the Italian health service and ours. Ours was far far superior to that of the Italians he said. Overwhelmed by the sheer numbers of the infected and severely overstretched resources the Italians were no longer treating the aged, the infirm and the terminally ill.

We in Sri Lanka with a moral purity sustained through the millennia would never allow such trespass, compromises of our ethical integrity.

He was flooded with requests from abroad seeking treatment in Srilanka by hundreds of afflicted who were ready and willing to come over.

The Hypocritic hype of Padeniya the healer sent me to orbit. How fortunate are we to live in this land with healers dishing out such early morning hallucinatory hyperbole to make us forget the perils of the pandemic?

Then common sense prevailed. What if the good helmsman of the GMOA was treating us to a heavy dose of brazen balderdash?

www.politifact.com › article › dec › we-started-fact-checking-partners is a website designed for people to factcheck posts on Facebook.

I invite readers to share some information about factchecking during these bleak times of truth manufacturing and made to order science of sycophancy.

This is a coalition of fact-checkers working with Facebook to slow the spread of misinformation.

What the GMOA president stated was far from the truth.

Sooner or later the pandemic will end, and Italy will recover. The Italians should not be allowed to conclude that our premiere professional body of Doctors are made up of a good supply of witchdoctors.

The facts are as follows. The source of the preposterous claim by Dr.Padeniya is a post on Facebook made on March 14, 2020.

"Italy has decided not to treat their elderly for this virus. That, my friends, is socialized healthcare," the post claimed.

The WHO states that on the day of the post, Italy had recorded 17,660 cases of coronavirus with 1,268 deaths.

The number of deaths represented 58% of the 2,199 coronavirus deaths outside China.

At that point, Italy's hospitals were faced with choosing which of the sickest patients should be treated. Prioritizing is compulsion of supply and demand. The selective process tended to exclude the elderly, who experts considered the most vulnerable to COVID-19.

Triage is a common tool used in health care systems. For example, the U.S. Agency for Healthcare Research and Quality promotes an algorithm to divide patients into five groups — most urgent to least urgent, «on the basis of acuity and resource needs.»

But with the exceptional situation presented by the coronavirus in Italy, special guidelines were developed for Italian health care professionals dealing with COVID-19.

It is by learning from the Italian experience that Governor Andrew Cuomo of New York is now struggling to meet the shortfall of ventilators.

The Atlantic magazine has reported that the Italian College of Anesthesia, Analgesia, Resuscitation and Intensive Care had set down new COVID-19 guidelines.

"Informed by the principle of maximizing benefits for the largest number," the guidelines suggest that "the allocation criteria need to guarantee that those patients with the highest chance of therapeutic success will retain access to intensive care. ... It may become necessary to establish an age limit for access to intensive care."

The New York Times, reporting from Rome, quoted Dr. Flavia Petrini, president of the college, as saying: "No one is getting kicked out, but we're offering criteria of priority. These choices are made in normal times, but what's not normal is when you have to assist 600 people all at once."

Now this will not be a conundrum for Dr.Anuruddha Padeniya.

His sanctimonious outpourings need to be taken in context. We are a part of a greater civilization of the subcontinent. When Dr.Laxmi Narayan of the Washington based center for disease dynamics of Yale University warned that India was the next hotspot he was dismissed by host of experts of the Padeniya variety that 'Gavamuthra' was an effective antidote.

Two weeks later 1.3 billion are in lockdown. Our own society has lived in a perennial state of anger and agitation. We live in a society that is ready to sacrifice freedom for some bizarre notion of stability. We live in a state of perennial fear.