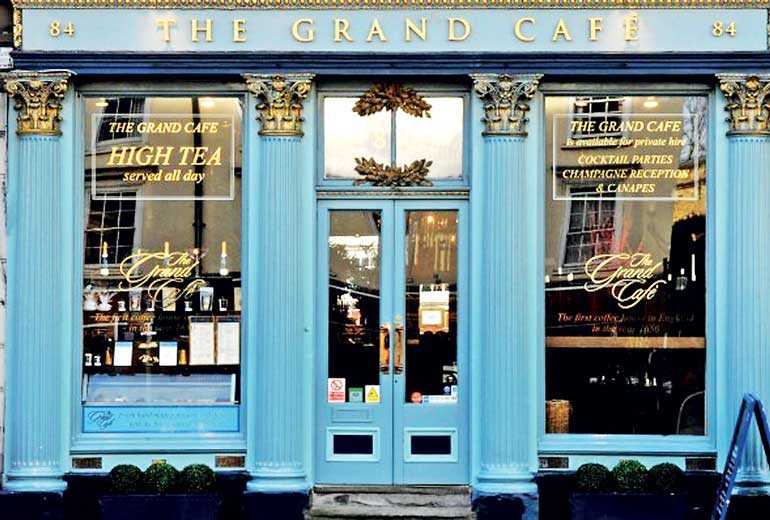 The Grand Cafe at night, High-Street, Oxford.
---
We are living through fascinating times dominated by online conversations with offline taking backstage. From the Arab spring to Yellow vests in France, the online has proven its potential and power – be it destructive or constructive!
A reading on the wall of a Japanese research Institute fascinated me – The fruits of your research are proportional to the number of your conversations with others. I heard from one Sri Lankan research student in Switzerland about his supervisor's advice – Go and find food! Meaning seek places where seminars and workshops are held and get engaged with them – ensure that you spent some time listening and in discussion.

His metaphor is 'find food' as food is usually available in such settings and then strike conversations and network with other researchers and do not think that only listening only to your topic is the thing to do. The message was clearly identifying the value of conversations.

It is known that Steve Jobs really wanted his staff to interact – very much internally though as Apple was notoriously secretive – and have meaningful conversations and that he wanted to extend that to even when visiting washrooms. The story says that he failed to get that final design of the washrooms in the centre approved by his fellow staff! However, the rest of his planned conversation uppers all came into being with offices overlooking the cafeteria, etc.


Conversations that go beyond conversations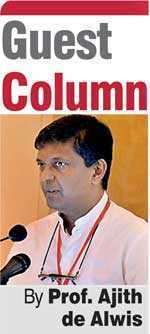 It is important to have conversations that go beyond conversations. While this may not be for all situations, we experience many conversations that should have meaningful structures yet are lacking in such.

A meeting degenerating into just verbal exchanges or carried out in a lacklustre manner only to suit the nominal agenda is unlikely to result in any rich exchange of ideas and overall elevation of knowledge.

Brooks and Jones recently writing to the Harvard Business Review had indicated that questioning a vital part of a conversation is a powerful tool for unlocking value in organisations. Its ability to spur learning and the exchange of ideas and in fuelling innovation and performance improvement had been highlighted. So many possibilities from a mere question in a conversation.

It reminds me of continuous opportunity losses from our experiences every day. For those who value idle chatter anything goes and these idles are not of any value to such people. Ordinary banter rules in Sri Lanka and we spend too much time and energy in impression management.


Coffee and conversation

An interesting story was once narrated by Steven Johnson the author of 'Where Good Ideas Came From – the Natural History of Innovation,' on how the United Kingdom transformed as a result of a coffee house. His presentation is also available as a TED talk and is quite fascinating.

It is known that going back to 16-17th century UK was not really flushing down their faecal matter down the toilet but had those accumulating below their home floors. The contamination of water with sewage and resultant cholera epidemics in Great Britain had been well documented.

People apparently fearing to drink water had recourse to taking alcohol instead and alcohol had become the preferred beverage of choice – morning, lunch and dinner and at more less all times. The fermented drink providing safety at the expense of sanity. He identifies the public becoming quite used to taking depressants and going through the day and alcoholic drinks were the depressants. It is perhaps has to be understood that the good old British of the day must have been perpetually drunk! I wonder whether we really consider or agree alcohol as a depressant considering our unique positioning of alcohol consumption as a global per capita figure.

As per Steven Johnson the appearance of the Grand Café in 1650 in UK's Oxford city has had a significant transformative effect. This has appeared in the main street of Oxford in the heart of University of Oxford and is considered to be the first coffee house in UK.

Hot coffee has changed the nature of conversations and this in turn apparently has led to significant changes. Of course today the coffee has given way to coffee and tea. The availability of coffee had meant the drink is microbiologically safe – the boiling in coffee making helps.

Coffee is a stimulant, unlike alcohol, which is a depressant. When you gather around a table and have this drink, the nature of conversations appear to have changed. The subjects chosen had been issues faced and the discussions had been focused on solutions and means of achievement. A direction had been placed on all conversations. Ideas appeared to have flowed and creativity had blossomed and Oxford had led the change – well the coffeehouses in fact!

When people respond with ideas and take charge for their actions in a constructive way a lot can happen. Positive change had appeared and we witness United Kingdom heralding the first Industrial Revolution in 1711 with the advent of the modified steam engine by James Watt.

The essence of Steven's assessment – the English coffeehouse had been crucial to the development and spread of one of the great intellectual flowerings of the last 500 years what has been termed as the enlightenment. So much from a cup of coffee and a conversation!

Coffeehouses with their architecture of space had really resulted in diverse groups of people engaging in highly stimulated discussions. History has indeed recorded for UK that many an innovation having a coffeehouse somewhere in their genesis.

Fast forward to days after Sputnik and another similar coffee conversation yielded the GPS (Global Positioning System) concept with idea becoming a reality three months later. In a visit to Cambridge I listened to a trend with the current undergraduates – the pub-crawls with beer are changing to coffee drinking! Steven Johnson really presents this Grand Café – which still awaits you down the main street of Oxford perhaps as one of the world's oldest coffee houses – as being pivotal in UK's innovative transformation.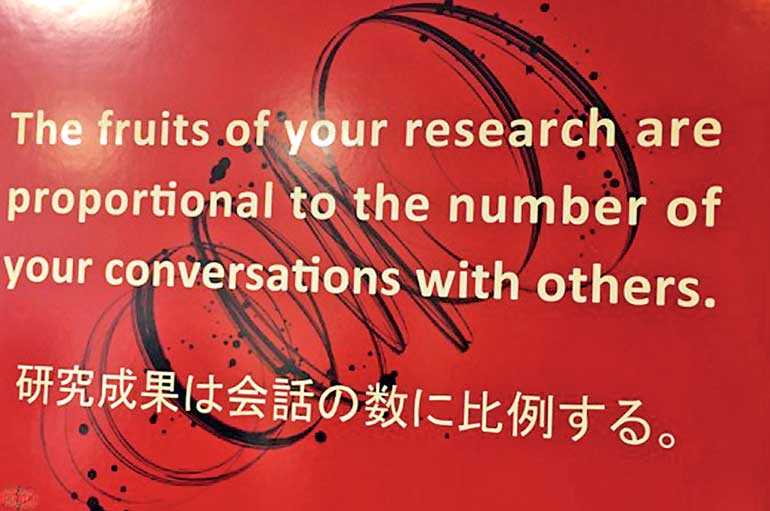 We sell tea and drink spirits!

Coffee and tea had made society sharper and alert from a state of near stupor! When one reads a narrative of that type, it is unavoidable that one compares such a scene with the present and in our context. We sell tea and drink spirits!

I remember one main reason given for biofuels such as bioethanol not becoming a fuel in Sri Lanka – we must satisfy the internal demand for drinking first. Considering the way things are happening, we may have to wait for a long time.

Imagine the coffee house scenario with our kopi kade dramatisation. With or without alcohol, we appear to thrive on gossip or on the trivial. We crave going back in time as 'Good Old Times' are golden! We plan much less for the period in which we have to live.

If a bottle appears on a table, before a group disperses the bottle has to be empty and not the head filled with ideas. The meticulous planning is for the gathering, the subsequent direction usually left to the process of cognitive decline. It is your misfortune that if you miss such a gathering as you will be one of the centres of discussion.

Today it is interesting to observe that almost all becoming constitutional experts and no one really with all those vocal representations could make and iota of difference and only a solid waste of time personally will result. It is questionable the watering holes that are springing up across towns and cities really have a positive effect on our society when compared with coffeehouses of UK.

It is a real pity that we do not have researchers like Allison and John of Harvard, Todd Rogers of Kennedy school of business who research on conversations and identify how one should change. In the absence of real research, one way of comparing to reality may be through the scripts of teledramas that permeate our airwaves and YouTube and then those clearly shows that nothing positive emanates out for uplifting the society.

Steven Johnson has really presented a story from which we can take many a lesson. With tea in our midst and perhaps even more of a better drink than coffee, we appear to be getting enriched with ignorance day by day. It is time for us to sip a green tea and engage in a meaningful conversation! It is even more of a necessity to construct spaces to come together for innovation.