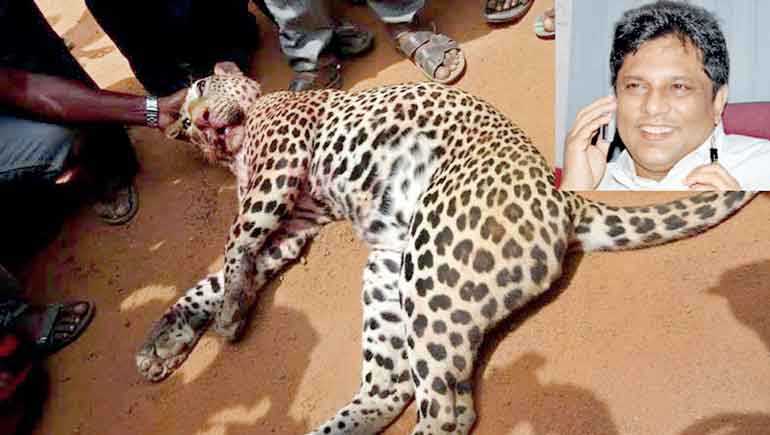 THE L BOARD AT LAST – That the wheels of justice grind slowly but surely has been vouchsafed in half-measure of late. There was the long-drawn-out trial and verdict in the case of a venerable monk behaving venially, which can be interpreted as justice done, in addition to a cynical attribution to other factors weighing in on the case. The mortal sins of mandarins from a previous dispensation however, speak long and loud of justice denied. At a juncture when civil society appears more outraged at the hate death of a marauding leopard on the periphery of civilisation, while hunter-killers still stalk their prey in the corridors of power, one must look more closely at the learning curve of humane democratic-republicanism
I have a confession to make. Animals are among my favourite people – for, as Gerald Durrell might have suggested somewhere in his touching trilogy, they're almost family. So when that poor leopard was clubbed to death on a distant border of our ancient civilisation, it hurt badly. I saw that event through a red haze on social media and so did a good many other human beings to whom death is not an event in life. I'd add, "As Wittgenstein said…" – but you'd probably club me to death, too. So no.

Since we're in peccavi mode, let me also admit that there were not a few moments in which I wished a similar fate would befall the predator's unsmiling assassins. That they, too, would feel the blunt edge of a heavy pole wielded in berserk rage. But then something kicked in – was it my latent humanity? some vestige of early socialisation in a house full of pets? dusty dry dead veneer of this lost spark of divinity? – that brought my tornado of anger to a dwindling drizzle. To remind me that tigers burning bright in the forests of the night are separated from culture (where only humankind is vile) by a collapsed fence on the edge of development's concrete jungle…

But even as the rage against the dying of the light subsided, it was replaced by other sensations as the storm of protests stubbornly refused to abate on Facebook and Twitter. Fat in the fire, the outraged posts and tweets sputtered and threatened to set civil society alight. And before you could say "methinks these good folks do protest too much" backwards in a Veddah-like tongue, the number of tweeps demanding justice for a leopard slain in violent fury exceeded the number of people asking that the same be true for another political animal done to the death.

In broad daylight! Under the watch of a state with a zero civilian casualty track record in its war against terror! Which brings me to my other point about demanding justice for the Leopard of the Leader...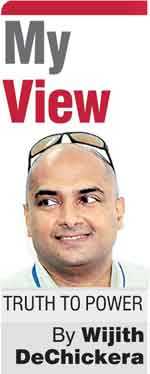 Feasting with panthers

Lasantha was not a feral creature prowling the bounds of a democratic republic waiting to pounce on some poor unsuspecting politico under cover of despotic darkness. Rather, like some bloodhound on the fresh scent of a corrupt set of erstwhile rulers, he would blaze a public trail visible every week to an appreciative but also often antagonistic eye. However much the professional was flawed – he harboured no small political ambitions, held back from critically engaging his sponsors and supporters, was liberal with facts when it suited his penmanship – no man deserves to end his career as it was forcibly ended for him at the hands of a small vulgar mob. (But de mortuis nil nisi bonum? And look it up!)

No one save a handful vociferously protested his brutal killing then. Not many of the tweeps and persistent members of the Can You Spare A Minute For Mr X And Ms Y To Sign This Petition brigade can claim to have issued a clarion call then in the years after his public assassination even after the initial fear and ignoble furore had died down. None favour his lost cause these days. When all is peace without justice for only those on the periphery of civilisation. Time out of mind in an epoch when fat cats lounge and laze like some insolent leopards who have forgotten their purpose in political life while the jackals and hyenas circle the corpse of Good Governance.

Picking at the felons

The rot, however, set in long before the present stink manifested itself in the unpleasant odour of violence with impunity against dissent. Much like a medieval monarch plaintively asking his mindless nobility "Who will rid me of this troublesome priest?" – Henry II vis-à-vis Thomas à Becket – a former president made a public declaration that anyone willing to rid the state of a brace of bothersome newspaper editors would be doing that majesty a personal favour (and never mind lèse majesté!). Least majestic of all, perhaps, are the personal friends under whose beds the late lamented editor lounged to gather his rosebuds while he may. Or the political fiends who liked him for reasons best known to themselves; loved his fearlessness when it gave their gutless ambitions some leg or spine, but left him in a literal ditch on that long last mile.

So let me ask. Why has the Lasantha lobby in government fallen silent since that landmark day – the anniversary of his death – when they came into power? (How inane or even insane!) When will the defence mandarin and the military leaders who asked for and executed the unkindest cut be brought to book by the good guys? (What a laugh.) Where is the same moral high ground adopted by an outraged civil society at the uncivilised slaying of a leopard when it comes to the not at all accidental death of an anarchist at the hands of brutal bureaucrats? (Hopes, both fat and eternal, spring in the human breast…)

Even now it is not too late to rage against the dying of the light.

'Sabbé saththā bhavanthu sukhi-taththā!' Sorry to see lip service being paid to the noble truth of the value of life in a land that has long forgotten the true teachings of the Tathāgata. Since we serve no political club nor carry the standard of any philosophy, the best one can hope for is an injured silence; at worst, a brutal verbal or bodily beating. Shall rest in peace when Lasantha is served as well as the leopard.

Oh, one more thing: happy birthday, Mme Ex-Prez! I dedicate this column's outraged clarion call to you. Can it be that the lady and her ilk do not protest enough that justice has not been served?
(Journalist | Editor-at-large of LMD | Writer #SpeakingTruthToPower)