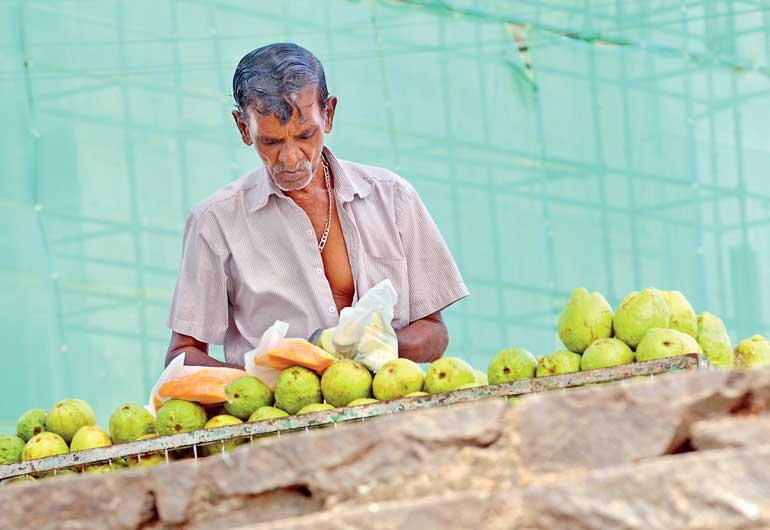 More often than not, the problem in our country is not a dearth of local professionals and experts, but their not being heard and not being consulted or engaged in development initiatives. Many people in our country are still suffering from a craving for things foreign, and as a result, they tend overrate anything foreign. For instance, they add the adjective "rata" (foreign) if a fruit of a crop is markedly bigger than the average, i.e. rata pera (foreign guava), rata del (foreign breadfruit), rata puwak (foreign areca nut) and rata amba (foreign mango) are just a few examples – Pic by Shehan Gunasekara
All successful nations in the world, whether Japan, Korea, Germany, Singapore, USA or Israel, have had a common thread running through them ‒ that is resilient patriotic national consciousness which gave them the identity, spirit, cohesion and momentum to work with one mind to achieve their present greatness.

In Sri Lanka, except for cricket, national consciousness and patriotism are unfortunately rare commodities among most of our politicians, and a vast majority of the people. Most of our politicians pay only lip service to supporting domestic agriculture and local industry and have done precious little to protect or promote these sectors facing formidable threats and challenges in an increasingly competitive globalised environment.

This situation will be further exacerbated if bilateral agreements such as ETCA are rushed into by the government under coercion from partner countries and political exigencies, sounding the death knell for domestic agriculture, local enterprises and industries, particularly SMEs. As the Editor of the Sunday Times (28 February 2016) rightly questioned: "If this Government does not have what it takes to challenge India on a blatant infringement of this country's sovereignty, how on earth does one expect it to challenge India if an economic pact turns out to be one-sided in its implementation?"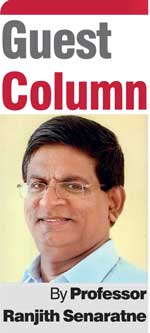 This subject has been dealt with extensively and convincingly based on evidence and facts and figures by several reputable professional bodies such as Sri Lanka Association for Political Economy (SLAPE), Organization of Professional Associations (OPA) of Sri Lanka, Sri Lanka Association for the Advancement of Science (SLASS), Government Medical Officers' Associations (GMOA) and Sri Lankan Engineers' Association (SLEA) and patriotic movements such as Mawbima Lanka Padanama headed by Ariyaseela Wickramanayake and many leading economists, entrepreneurs and learned patriots. Emeritus Professor W.D. Lakshman, Prof. Sumanasiri Liyanage, Dr. L. Gunaruwan, Samantha Kumarasinghe and C.R. de Silva are among others.

As new wave of nationalism and protectionism sweeps the globe, high time to promote and protect local SMEs and industries

Now a new wave of nationalism and protectionism is sweeping the globe, and the election of Donald Trump to power in the USA, Brexit, the emasculation of trade agreements such as NAFTA and TPP by the USA, rising populism, and the widespread rise of trade protectionism in the West are a few examples.

Donald Trump issued a Presidential Executive Order 'Buy American and hire American' on 18 April 2017 to promote local industries and enterprises. Similarly the Indian Cabinet under the premiership of Narendra Modi approved a policy on 24 May 2017 which encourages consumers to 'Buy in India' – a preference for domestically produced goods by the Government and State-owned institutions, and launched a flagship 'Make in India' program, thereby rekindling the patriotic passion in his countrymen. Under this initiative, flow of capital and technology into the domestic manufacturing and services sectors will be substantially increased with a view to strengthening the local industrial base and increasing the local content of Indian goods and services to a minimum threshold value of 50%.

What our country seems to be doing is diametrically opposed to what the champions of open economy and our neighbour are advocating and practicing in their countries. According to the Brand Annual Report 2017 of LMD, Nestlé is ranked No. 1 Food Brand among Sri Lanka's 'Most Valuable Brands' and Milo is ranked Sri Lanka's Most Loved Beverage Brand. I do not know if there is any other country in the world where foreign foods brands have become the most sought-after brand.

Johann Wolfgang von Goethe said: "Things that matter most must never be at the mercy of things that matter least." While it is acceptable that international food brands are available here, we naturally wish to see Sri Lankan food and beverage brands emerging as the most popular food brands in the country to enable the local industry and thereby our country can develop.

It is particularly disturbing to see some of our leading cricketers, actors, and singers appearing in aggressive and vigorous marketing campaigns of some MNCs and wealthy foreign companies through electronic media, promoting foreign products. In the process, consciously or otherwise, they not only make things difficult and hard for the resource-poor local industry who cannot afford such expensive and tantalising ads, but often compromise the health, particularly of the children and youth of the country, as regular consumption of some of products that they promote risk health hazards such as obesity, diabetes, dental decay etc. owing to their being rich in energy compounds, sugar, addictive substances, etc.

There are, however, truly commendable and exemplary exceptions like Arjuna Ranatunga, Captain of the Sri Lankan team that won the World Cricket Cup, and Susanthika Jayasighe, a Silver Medallist in Olympics 2000, who resisted temptation to earn millions by appearing in such advertisements. I vividly remember Susanthika saying during a media conference after she won the Olympic medal that it was mother's breast milk and simple local food items such as rice, green leaves, jack, etc. prepared by her beloved mother gave her the strength and stamina to win at the Olympics.

It is high time that we mobilised and harnessed our celebrated personalities in the sports and entertainment industry, and reputable scientists and professionals in S&T institutions, professional bodies and academia to promote and protect local SMEs and industries.

Formulate polices and strategies to strengthen local industries without discriminating against

our own products

It is most regrettable if not tragic that though our country produces world-class tea, we cannot enjoy a kahata, kirikahata or local tea with sugar to taste in some leading local restaurants as they have on offer only pre-sugared tea or coffee made to a European formula. I recently read a shocking news item that a leading Government hospital in Colombo called for tenders for the canteen to include tea and coffee made in Europe to the exclusion of local tea and coffee.

Furthermore, in most of the leading local supermarkets, products of foreign origin are displayed more prominently at easily accessible locations while their local counterparts are placed on the bottom shelf or at remote locations. Why do we discriminate against our own products? Is that not a shame? Is that not tragic? Can we flourish as a nation with such attitudes?

We are producing the best tea in the world, but now gradually becoming a coffee drinking nation to the detriment of the local tea industry which is very important to the country both economically and socially with two million people depending on it for their livelihood. Moreover, shops with walls fully covered by ads promoting foreign beverages and other foreign products causing visual pollution are not uncommon, and such sights are scarce in the countries that produce them.

Thus when other countries in the world promote and protect their local industries and enterprises through increased funding, protective polices and patriotic movements, we throw our doors wide open to foreign goods and products to inundate our market and "proudly" patronise them over local products. That will lead to the smothering of local industries adding to unemployment, social unrest and trade deficit of the country.

Therefore it is of utmost importance to formulate appropriate national polices and strategies to strengthen local industries and inculcate a deep sense of patriotism and national consciousness particularly in the children and youth of the country through appropriate educational and enlightenment programs.

It has been shown that when one buys a local product, there could be up to three times more benefit to the community than when one buys a foreign product (www.amiba.net/gift-your-community/). So why not give a gift to your community by patronising local products? We have a population of only 21 million, and the domestic market is small. Thus a lack of concern for local industries and craving for foreign products, where is the market for local products? Can we persuade foreigners to buy ours? Under such circumstances, how can our industries survive, let along flourish?

Therefore why do we not launch an apolitical national crusade like India, USA, Japan, Malaysia and many other countries? Cannot we decide, for example, to promote local industries and to encourage patronising local products through a fitting theme, logo, theme song and slogans that touch the hearts and minds of our countrymen and ignite their patriotic passion and arouse national consciousness, from say 2018 to 2020? We could even have competitions at national level in this regard and solicit the support of a suitable TV channel.

It is through such measures that the local industry will have a chance to flourish in a globalised environment. In this regard, our professional bodies, scientific institutions, chambers of commerce and universities should make it a matter of policy to contribute to improving the quality of local products and services through a conscious, concerted and concentrated effort, and thereby enable local industries to secure accreditation and a competitive edge in a globalised environment.


Disregard and

non-engagement of local professionals and entrepreneurs in formulating national policies and strategies

Some of our political leaders are still not free of the colonial hangover. This was evident in the Sri Lanka Economic Forum organised in January, 2016 where business magnate George Soros and Nobel laureate Joseph Stiglitz were guest speakers and the Harvard University's Center for International Development took a lead role in the conference.

It is well and good to invite such high profile institutions and figures to get new insights and global perspectives. However, as pointed out in Business Times on Sunday (7 February 2016) important local professional institutions including Sri Lanka Economic Association (SLEA) representing the crème de la crème of economists of the country who could have made a valuable contribution were conspicuously absent as they had not been invited. A more recent example in this regard is the Meethotamulla garbage disaster where Japanese experts were brought in rather than seek the advice of local experts.

Continuing to knock at others' door is a futile and counter-productive exercise, and we should act to become self-reliant at the earliest possible. Instead of importing fancy theories, transplanting concepts, and bringing in foreign experts, we should develop home-grown technologies and home-spun solutions to our local issues wherever possible. That implies greater investment in R&D for the requisite competency building and capacity enhancement.

Unfortunately R&D expenditure in Sri Lanka is the lowest in the region, a mere 0.16% of GDP as against 0.3% in Nepal, 0.33% in Pakistan, 0.81 % in India and 4% in Korea. Therefore the Government should step up investment in R&D without further delay to enhance the intellectual assets of the country which is badly needed by the local industries and enterprises to be competitive in a knowledge-based global economy.

More often than not, the problem in our country is not a dearth of local professionals and experts, but their not being heard and not being consulted or engaged in development initiatives. This issue has be highlighted time and again by Prof. Sirimevan Colomabage. It is rather ridiculous in such context for the Government to extend invitation to Sri Lankan expatriates to return to motherland and contribute to national development.

I think many people in our country are still suffering from a craving for things foreign, and as a result, they tend overrate anything foreign. For instance, they add the adjective "rata" (foreign) if a fruit of a crop is markedly bigger than the average, i.e. rata pera (foreign guava), rata del (foreign breadfruit), rata puwak (foreign areca nut) and rata amba (foreign mango) are just a few examples.

Late Professor M.A. Pemadasa, University of Ruhuna graphically illustrated this point using the crow and the cuckoo parable. The crow is common and unattractive and its cry is unmelodious. It is looked down upon as a nuisance and a predator of smaller creatures, and is unwelcome to many for lack of appealing qualities. On the other hand, the cuckoo is considered the harbinger of the Avurudu (New Year) season around April every year. It is more attractive than the crow and has a melodious voice, and is thus welcomed by all. This bird, however, does not build its own nest, and lays its eggs often in the nest of the crow, a habit known as brood parasitism.

However, ecologically, the crow is far more valuable than koha; the former serve as a natural scavenger and helps to control the population of small animals including insects, worms, centipedes and other small reptiles, so that the elimination of the crow will tip the balance of the whole ecosystem. Yet, the vitally important role played by the crow in the functioning of the ecosystem is rarely recognised or appreciated.

Late Prof. Pemadasa fittingly likened local experts to the crow and the foreign experts to the cuckoo, as foreign experts are highly rated and recognised and are always welcome while the local experts are mostly unrecognised and unwelcome and at times treated as troublemakers.

With regard to hiring foreign experts, they say: "If you pay peanuts, you get monkeys." Former Deputy Governor of the Central Bank Dr. W.A. Wijewardena once said: "Even you pay millions, you can still get monkeys if you are lucky. Most often its mules."

Elect more educated and competent members to Parliament, recognise competent local professionals

It was reported about two years ago that around 60% of the members in our Parliament have not passed the GCE (A/L) and around 40% have not even passed the GCE (O/L). Thus several members of the Cabinet could be sans GCE (A/L). On the other hand, many countries in Asia have highly qualified and competent ministers with postgraduate qualifications. For instance, the President of Iran has more Cabinet members with Ph.D. degrees from US universities than the President of the USA.

Japan, which was reduced to ashes in 1945 during the Second World War, within 20 years emerged as the second most powerful economic and technological powerhouse in the world by 1965; and Singapore which became independent only in 1965 was a developed country by 2000. Both countries are poorer in natural resources than Sri Lanka, but were blessed with visionary and patriotic leaders who considered people as the greatest asset and took timely steps to develop and harness human resources for national development.

Therefore it is of paramount importance that people elect more educated and competent members with national consciousness to Parliament and that our leaders recognise competent local professionals and harness them to formulate and implement national policy and development programmes.
(The writer is attached to the University of Ruhuna and can be reached via ransen.ru@gmail.com.)