The motivation behind acquiring 5G infrastructure as fast as possible has to do with its salient features, among which the dramatic improvement in speed is remarkable
---
The ongoing battle between the US and the Chinese tech giant Huawei is escalating due to both parties' eagerness to dominate 5G technology, the next major global technological revolution. It will define the future of the World Wide Web, creating a new internet architecture.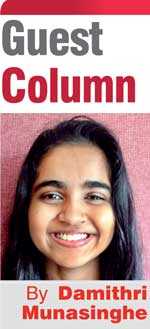 5G is a network which connects millions of Internet of Things (IoT) devices and is expected to transform lives globally. 5G technology operates on millimetre waves, which have limited reach. Hence, the number of devices that are able to connect to a single cell tower is limited and therefore requires a great deal of investments.

Being ready for 5G involves building the required infrastructure, testing, and launching them effectively. Nations are competing against each other to become the global leader in supplying this 5G network. According to the 5G Readiness Index prepared by Analysys Mason, US is tied with China and are in the lead, closely followed by South Korea and Japan.

Amidst the growing trade war between the US and China, the US Government recently blacklisted Huawei, creating chaos around the globe. This blog attempts to highlight the factors that prompted this accelerating tension and in turn discuss how it might affect Sri Lanka.
Causes for the Huawei ban
The decision to outlaw Huawei stemmed from security concerns; the US wanted to avoid the possible threat of cyber espionage due to the firm's alleged close relationship with the Chinese Government. However, although the US blacklisted Huawei on the grounds of security, there has been no public evidence thus far that proves any of the claims made.

With emerging technological advances, increased security risks are inevitable. Implementing new measures to an increased scope of cyber-safety would tackle this issue. For example, France and Germany have agreed to accept Huawei's telecom infrastructure after strengthening their security measures. Despite warnings, the UK has also allowed Huawei's contribution to non-core elements of infrastructure.

Following the US Government's decision to add Huawei to a trade blacklist, making it extremely difficult for the company to do business with the US, Google halted the company's android license, revoking the services of some critical apps like Google Chrome, Gmail, and the Play Store. This has affected Huawei's sales worldwide.
Significance of 5G
The motivation behind acquiring 5G infrastructure as fast as possible has to do with its salient features, among which the dramatic improvement in speed is remarkable. For example, it would take around 26 hours to download a high definition movie using 3G, and just six minutes with 4G. With 5G, it would take only 3.6 seconds. It also has a 1 millisecond latency rate, which enables real time interactivity. Compared to the 4G latency rate, this is 60 to 120 times faster.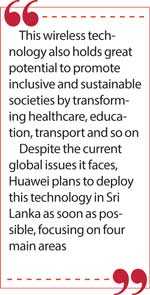 This wireless technology also holds great potential to promote inclusive and sustainable societies by transforming healthcare, education, transport and so on. For instance, the ability to connect autonomous cars with street infrastructure and other cars along with their exact position could save up to 22,000 lives, annually.

Similarly, surgeries could be performed from the other side of the world, with robotic-surgeons controlled in real-time by expert surgeons, assisted by other surgeons simultaneously. Virtual and augmented reality techniques could be included in education with the low latency rate, making it efficient.

Robots would be able to communicate their tasks to each other wirelessly in factories, improving their productivity. In addition to accelerating smart city functions for example, estimates suggest that5Gtechnology can create three million jobs and contribute a staggering $ 500 billion to the GDP of the US.
Sri Lanka's position
This massive breakthrough in technology can herald significant changes in Sri Lanka as well. A few network service providers have already taken initiatives to deploy this technology in the country. In 2018, Huawei and Ericsson joined hands with Dialog Axiata and carried out the first trial of 5G technology in South Asia.

This demonstration showcased the capabilities of 5G using Huawei's technology, setting a foundation for broad band's future evolution. They also teamed up with Sri Lanka Telecom and carried out a field trial of pre-5G LTE technology. Mobitel has also stated that they plan to invest $ 50 million to embark on their 5G network.

Being an active ICT service provider in the island for over 20 years, Huawei has helped Sri Lanka commence commercial operations of 4G-LTE services, making it the first country in South Asia to do so.

Despite the current global issues it faces, Huawei plans to deploy this technology in Sri Lanka as soon as possible, focusing on four main areas: investment in knowledge transfer and human capital development, introduction of latest technologies such as 5G, IoT, AI and cloud, share and facilitate global expertise for ICT developments, and offer smart city solutions.

Therefore, if facilitated with beneficial policies, it could boost the country's GDP as an emerging market in South Asia, create jobs, and increase productivity. This would also act as a platform to drive innovation in the technological backdrop.

However, the high cost, the need for skilled personnel, and security concerns remain challenges in acquiring 5G. Moreover, highly sophisticated infrastructure is required to build up this network. Therefore, making it accessible to rural areas is another challenge that needs to be considered.

In order to reap these benefits while overcoming these challenges, Sri Lanka has to implement a flexible regulatory framework that keeps up with modern developments. Ensuring data privacy and cyber security to meet the expectations of the customer is essential. Encouraging and laying a strong foundation for long-term investments in communication networks will also be beneficial.

By working closely with industries, investors, and regulators the Government will be able to determine how best to deliver real economic benefits. The world economy is at the cusp of fully embracing an internet-based socioeconomic landscape, from the production process to social media. Therefore, it is vital that Sri Lanka prepares itself adequately for these changes and embrace its benefits, while cautiously addressing concerns, rather than blindly shunning the technology due to preconceived biases.

(Damithri Munasinghe is a Project Intern at the Institute of Policy Studies of Sri Lanka (IPS). To talk to the author, email damithri@ips.lk. To view this article online and to share your comments, visit the IPS Blog 'Talking Economics' - www.ips.lk/talkingeconomics/)