This series is based on business leader Dhammika Perera's recently revealed 'Economic Growth Strategy and Action Plan to increase GDP Per Capita from $ 4,000 to $ 12,000'. The document outlines goals and action plans for 23 ministries and today's column focuses on the Ministry of Social Development


Goals
No poverty.
Zero hunger.
Gender equality.
Decent work and economic growth.
Reducing inequality.
Social transfers

Social transfers are non-contributory, in the sense that the recipients are not required to pay for them through premiums or specific taxes. Social assistance will be provided by public and civic bodies to those living in poverty or in danger of falling into poverty, e.g. non-contributory pensions, child benefits, school feedings, disability allowances and agricultural inputs.

Currently in Sri Lanka, the total value of social transfers as per the European Union (EU) definition, is Rs. 106 billion. Therefore, there is no precision poverty reduction program but only assistance for survival in the backdrop of an increasing number of families in poverty.

Action plan

1. Allocate an additional budget of Rs. 100 billion with an annual 10% increment for social transfers and social development.

There are 1.5 million families under the current Samurdhi scheme. "Samurdhi 2" will be initiated for all families who cannot afford adequate living standards under the current Samurdhi scheme, focusing on the provision of education under the precision poverty reduction scheme to support them to move out of poverty.

2. Complete eradication of poverty through the precision poverty reduction program as the second phase of development projects under the Department of Samurdhi.

a. Identify 50 indicators that would assist in poverty reduction, such as stable income, access to healthcare, nutrition, safe homes, literacy, etc.

b. Geo-tag people below the poverty line and provide precision poverty alleviation.

c. Geo-tag differently-abled citizens with blindness, deafness, impaired movement and poor mental health and provide them with necessary technical assistance.

d. Geo-tag suicide survivors and maintain their profiles with reasons for attempting suicide. Identify the top causes and areas of attempted suicides in order to reduce the suicide rate by 50%.

Suicide hotline callers to be answered by a suicide survivor to better manage callers' feelings.

e. Geo-tag kidney patients and identify affected areas, including those prone to Chronic Kidney Disease (CKD) to construct deep-well (bore well) facilities with proper filtration. Already certain villages are equipped with the above mentioned water purification systems, e.g. Saddiyawara project by Hayleys PLC.

Introduce soil health cards for agricultural purposes to reduce excess usage of fertiliser by 20%.

f. Geo-tag cancer patients and assign retired qualified doctors to provide necessary emotional and mental health advice, as there are 23,000 cancer patients per annum in Sri Lanka.

g. Maintain a database that categorises differently-abled people and hire professionals to advise, support, and monitor their progress.

h. Child protection facilities:

i. Reduce incidents of wilful neglect and abandonment of infants by introducing "baby hatches" where mothers can leave their babies anonymously.

ii. Introduce fast-track courts that specialise in child rape cases.

3. Women's protection

a. Establish a women's helpline.

To speak to a trained helpliner and receive support over the phone. The Helpline is run by women, for women and are able to assist callers with a variety of concerns and offer empathy, support, information and encouragement. It is also possible to make an appointment to speak to a counsellor or lawyer.

b. Establish a Sexual Assault Care Centre (SACC) to provide survivors with crucial services to help them deal with their trauma and make decisions about their next steps.

i. Drop-in centre – will provide a safe space for these survivors to immediately consult an on-site social worker and receive counselling, without any prior appointment.

ii. Helpline support – speak to a trained volunteer and receive support through the phone. In addition, an appointment can be made to see a social worker or counsellor for further help.

iii. Befriender Service – Trained befrienders will accompany these survivors to the police, the hospital or to the court to report and follow their sexual assault case, providing information and emotional support through the various legal and medical processes. A Befriender can be requested by contacting helpline or via email.

iv. Counselling and Case Management – Many sexual assault survivors find it helpful to talk to a counsellor. They will provide follow-up care counselling to victims of sexual assault. All support is provided on a strictly confidential basis. The first three counselling sessions are free. The cost of counselling from the fourth onwards is 1% of the survivor's monthly salary per session, at a minimum charge of Rs. 50 per session for those who are not working.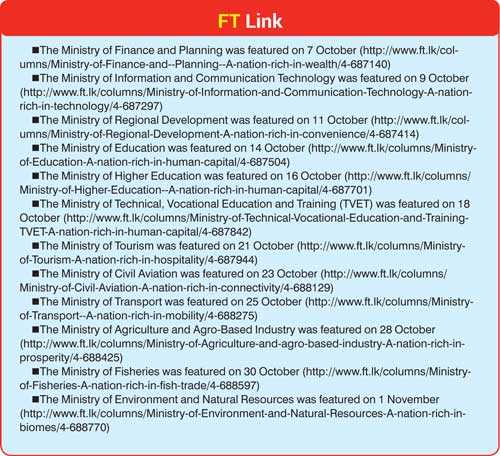 v. Legal advice – An appointment can be made via phone with an experienced lawyer to explore the legal options available for these survivors.

c. Help anaemic women and girls across Sri Lanka through the usage of a digital haemoglobin-meter to test for anaemia, give IFA (Iron and Folic Acid) tablets to treat, and counsel beneficiaries on lifestyle measures to increase iron levels in the body, and on foods rich in iron, protein and vitamin C. Anaemia is an iron deficiency in blood. During pregnancy, it can cause deaths of mothers and infants, still births etc. In India estimates of economic losses from iron deficiency is 6% of GDP. (Source: Horton and Ross, 2003)

4. Senior citizens

Create a one-stop online portal for all senior citizens in the country. The portal will provide the following services:

a. Online training videos and courses for aged care providers.

b. Information on Government-approved elders' homes.

c. Information on local volunteering opportunities.

d. A dedicated job section for senior citizens to be employed with an income.

5. Prisoner rehabilitation and crime reduction (refer to forthcoming column on Ministry of Justice and Prisoner Reforms).

6. Drug prevention

a. Establish an official YouTube channel to spread awareness on substance abuse and mental health services.

b. Introduce a free app that empowers health care practitioners to provide effective, evidence-based care for opioid use disorders when providing medication-assisted treatment (MAT).

c. Publish an online magazine for parents addressing teenage drug abuse and effects of alcohol and rehabilitation. Articles could cover the following areas;

i. Addiction and how to overpower this chronic illness

ii. Hidden signs of drug addiction

iii. Going to rehab and how each day leads to personal improvement

iv. Why Fentanyl is threatening Sri Lanka

v. Why ignoring mental health and addiction can be a very costly mistake

vi. Teens and cannabis

7. Child protection

a. Protection of street children.
Sri Lanka's efforts of precision poverty reduction to focus mainly on education and skill development, income generation, employment creation and provision of access to basic needs with a special focus on enhancing the social protection system.
Establish dedicated day-care centres for street children and provide education opportunities through these centres.

b. Introduce five types of biscuits for the five days of the week which can be obtained free of charge by producing the coupon provided under the precision poverty reduction program for school children who cannot afford breakfast. This is also to be made available to purchase through markets.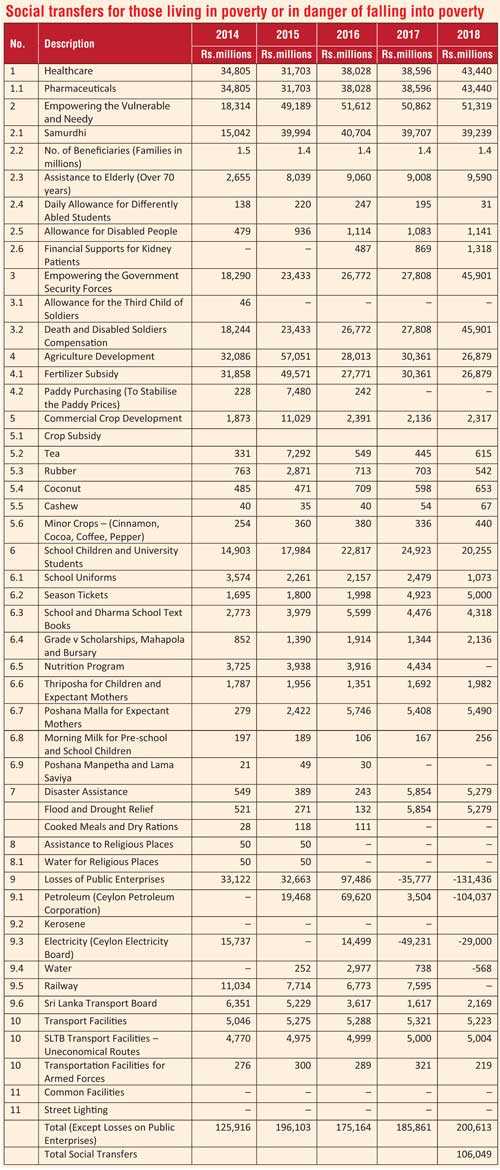 c. Geo-tag the 5,000 children who do not attend school and increase the income of their families through help desks under the precision poverty reduction program, so that these children are able to go to school. Thereby reducing the number of students who do not attend school from 5,000 to 0.

d. Decrease school dropouts from 30,000 to 0 through precision poverty reduction and implementation of required social development initiatives.

e. Increase opportunities for physical activities in pre-schools and mainstream schools to make healthy living more accessible for students. Parents play an important role in helping their young children spend at least 2 - 3 hours everyday, outdoors during daytime.

i. Increase the minimum daily time for physical activities for full-day pre-school programs to an hour daily, of which half-hour is to be conducted outdoors daily.

ii. Provide pre-school teachers with educational resources for outdoor classroom lessons.

iii. Increase opportunities for unstructured play in mainstream schools beyond formal curriculum time.

iv. School facilities and sports equipment to be made available to students during recess and/or after school.

f. Encourage families to have Active and Healthy Weekends through schools and community.

Initiate entertainment activities in parks, recreational centres and open spaces in every district to encourage parent-child bonding through physical activity.

g. Provide services to Children with Disabilities (CWD) in regular schools by;

i. Assessment and screening of CWD

ii. Functionalise all State and District Resource Centres

iii. Providing in-service teacher training on inclusive education

iv. Incorporate resource rooms in schools as per need

v. Ensuring the availability of aids and appliances as per need

vi. Co-ordination of Child Development Centres with multi-disciplinary trained professionals established by Ministry of Health.

8. Organising the unregulated sectors

a. Brand, uplift and dignify the three-wheeler community. Utilise training videos and other means for this purpose.

b. Establish a free online three-wheel booking portal and a queue management system.

c. Street food vendors.

i. Introduce soft loan schemes to support their businesses.

ii. Provide vocational training and capacity building to street vendors' through training videos to increase their income.

iii. Introduce a mobile application with information of street food vendors including location and directions via Google Maps, to attract and inform local and for
Addresses of shops and stalls will be available in Sinhala, Tamil and English for users' convenience if they choose to travel via taxis or other modes of public transport.
9. Develop a resource centre for the differently-abled in each district with necessary equipment for screening and therapy of differently-abled persons.

10. Run free online courses to support parenting and child-care.

11. Create an online Government portal with information to support and enrich the family unit, which includes:

a. Pre marriage counselling

b. Maintaining a healthy marriage

c. Financial management

d. Managing divorce

e. Family planning

12. Reduce divorce cases.

Introduce a marriage preparation program with online videos, to help lay the foundation for marriage, and equip couples with practical skills on conflict resolution and strengthening communication.