This series is based on business leader Dhammika Perera's recently revealed 'Economic Growth Strategy and Action Plan to increase GDP Per Capita from $ 4,000 to $ 12,000'. The document outlines goals and action plans for 23 ministries and today's column focuses on the Ministry of Ports and Shipping
Goals
Increase total capacity of Colombo port to 21.1 million TEUs.
Develop cruise destination hubs.
Improve efficiency in the ports.


Action plan

1. Colombo Port development

The Port currently accommodates 7.5 million Twenty-foot Equivalent Units (TEUs).

a. New South Port quay length is 4.8 km, with 1.3 km currently fully occupied by Colombo International Container Terminals (LTD).

b. Three terminals to be built in the remaining 3.5 km area within 3 years. As a result, an additional capacity of 7 million TEUs can be created.

c. Breakwaters and two terminals of the proposed North Port, of quay length 3.3 km, will be built within 6 years. As a result, a capacity of 6.6 million TEUs can be created.

d. As a result of these developments, the total capacity of Colombo Port can be increased to 21.1 million TEUs.

2. Hambantota Port development

Awaiting the new proposal for the Hambantota Port development.

3. Charge 0% corporate tax and 0% dividend tax from international companies who establish their head offices in the country.

4. Develop cruise destination hubs in Colombo, Galle, Hambantota and Trincomalee. Cruise routes are Colombo-Galle-Hambantota-Trincomalee-Kankasanthurai.

5. Develop a passenger terminal with adequate berthing space (where ships are anchored) including a modern building with sufficient passenger space. The preferred location for this development is on the Bandaranaike Quay (once the container freight stations activities have been relocated to the South Harbour).

6. Establish a National Shipping Council to implement, monitor and review a unified shipping strategy, which would incorporate the following:

a. Enhance Sri Lanka's attractiveness to shipping business.

b. Facilitate access to capital and financing.

c. Promote innovation and sustainable growth of ancillary maritime services. (Support activities: refuelling, resupplying with perishables, e.g. food, water, etc.).

7. Promote Sri Lankan shipbuilding engineering capabilities to other Government bodies and international buyers such as cruise operators.

8. Promote employment of Sri Lankan seafarers:
Develop and promote Sri Lanka as a premier global naval hub and an international maritime centre to advance and safeguard Sri Lanka's strategic maritime interests
a. Fund apprenticeships, specialisations and seafarers' up-skilling.
b. Improve seafarer employment security, conditions and opportunities.

9. Develop a Maritime Education and Training blueprint.

10. Alleviate the current port-road congestion, by: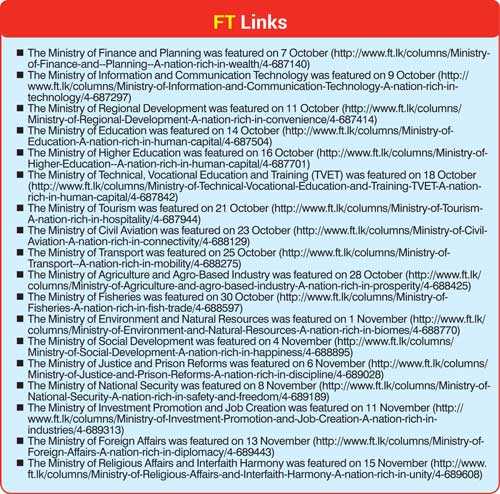 a. Optimising the gate process: automation of the gate process will substantially reduce waiting time for trucks. Additionally, a flexible gate system, which enables most gates to function as entry or exit gates when substantial truck inflows or outflows occur, could further reduce waiting time for trucks.

b. Widening of the port access road: the port access road to be widened from 4 to 6 lanes to increase capacity. The section underneath the Aluthmawatha road cross-over will be widened to a 6-lane road.

c. Signalling should improve the use of the six lanes, for example two lanes for the gates and one lane for inter-terminal traffic.

d. Ensuring sufficient space at gated in ramps that end near Fort to align trucks.



e. Eliminating cross over traffic at ramps near Ingurukade junction through an overpass.

11. Digitalise the following processes to improve efficiency in the Port:

a. Terminal handling at Jaya Container Terminal (JCT) Port Community Systems.

b. Gate processes.

c. Warehouse management.

d. Warehouse cargo clearing.

e. Cargo import and export.

f. Costs and revenue management systems.

12. Digitalise import duty payments to improve the flow of goods.

13. Introduce scanning facilities to inspect containers, to reduce physical inspections while maintaining an acceptable level of risk.

14. Increase the depth in the Prince Vijaya Quay (PVQ) basin to allow deeper draft grain and cement carriers, with a draft of up to 13 m.

15. Introduce a rail-track reservation at the Port of Colombo with extension to South Port to enable direct rail handling near the terminals, particularly to accommodate newly developed inland dry ports.