This new series is based on business leader Dhammika Perera's recently revealed ' Economic Growth Strategy and Action Plan to increase GDP Per Capita from $ 4,000 to $ 12,000'. The document outlines goals and action plans for 23 ministries and today's column focuses on the Ministry of Information and Communication Technology. On Monday the Ministry of Finance and Planning was featured (http://www.ft.lk/columns/Ministry-of-Finance-and-Planning-A-nation-rich-in-wealth/4-687140)
GOALS
Increase ICT revenue from $ 1.2 billion to $ 5 billion by 2025.
Increase ICT jobs from 80,000 employees to 400,000 employees by 2025.
Transform developed Sri Lanka to a Smart Sri Lanka in 2030.


ACTION PLAN
Sri Lanka is currently at the stage of shifting from an emerging market to a developed market and Smart Solutions are seen as the key towards growth. This developed market-goal is to be reached by 2030

and external resources are essential to transform developed Sri Lanka into a Smart Sri Lanka in further three years. The focus areas are:
1. Smart Security
2. Smart Education
3. Smart Health
4. Smart Agriculture
5. Smart Transport
6. Smart Tourism
7. Smart Sports
8. Smart Utilities
9. Smart Finance
10. Smart Infrastructure
VISION
To make Sri Lanka among the top 10 happiest countries in the world.
MISSION
To develop smart services for people's happiness.
Technology enabler
AI (Artificial Intelligence)-driven unified ICT platform for all public services.
1. Smart Security
a. Implement unique digital biometric identification for people under investigation by the police.
b. Set up CCTV cameras in all major public and private establishments with facial recognition technology.
c. Share criminal databases with world security agencies. Also utilise facial recognition at airports to be alerted regarding any potential terrorists trying to enter the Country.
d. Explore real-time facial recognition through smart glasses for the police.
e. Use data science to monitor social media activities and predict potential criminal acts.
2. Smart Education
a. Online video-based classes for all school subjects in Sinhalese, Tamil and English for teaching and E-learning.
b. All new classrooms to be developed as Smart Classrooms to provide wider access to students.
c. Create a unified online platform with all available job opportunities and these to be matched with peoples' skills, preferences and locations.
3. Smart Health
a. Introduce a "Digital Health Hub" (DHH) which will be available both online and via a mobile app. DHH can be accessed with the Digital National Identity Card. Services of the DHH include:
i. Access to patient's health data history for the past 10 years.
ii. View time slots available for scans and doctors' appointments at all hospitals and clinics.
iii. Alerts on scheduled appointments.
b. Provide tele-diagnosis services for patients to overcome problems related to hospital reach, affordability, waiting time and availability of space.
c. Diagnose the stage of cancer and recommend treatments through health record analytics. d. Geo-tag patients through the Dengue App to predict the direction and the rate of increase to proactively tackle the spread.
4. Smart Agriculture
i. Farmer crop profiling and monitoring.
ii. Seven-day weather forecast.
iii. Climate-based advisory and climate-smart irrigated agriculture programme.
iv. Fertiliser application recommendation.
v. Crop stage monitoring.
vi. Geo-tagging and mapping of plots.
vii. Area surveys to guarantee minimum price of crops for farmers.
viii. Harvest predictions.
ix. Pest disease and advisory (timely crop advisory).
x. End-to-end traceability from nursery to trade.
xi. Mobile crop advisory app for farmers.
xii. Complete mapping of crops in Sri Lanka through satellite imagery to understand the extent of cultivation and estimate production.
xiii. Algorithm-based matchmaking between suppliers and buyers.
xiv. Reduce agriculture wastage by predicting crop yields across the country and providing optimal storage solutions.
5. Smart Transport
1. Introduce a mobile app for public transport, through which the general public can access real-time locations of buses and trains.
2. Implement a smart time and queue management system for three-wheelers and taxies to minimise waiting time for passengers.
3. Provide a platform with real-time information on available parking spots and collect parking charges with a 10% discount for online payments.
4. Increase landing capacity at airports using ultra high definition cameras and an integrated data platform that would minimise idle time and increase runway capacity.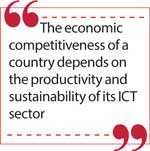 5. Introduce a platform to file road watch and traffic complaints. Complaints can be filed against all vehicles, including Government vehicles, for breaking road rules and indisciplined parking.
6. Introduce a smart traffic system to automate traffic lights according to the flow of traffic.
7. Geo-tag locations with the highest record of face-to-face accidents and provide engineering solutions coupled with advisory signage and notifications.
8. Introduce handheld spot fine systems.
9. Introduce discreet traffic light and road cameras to monitor adherence to road rules.
10. Integrate all E-transport applications into an all-in-one mobile app.
11. Introduce an electronic payment system for public transport fare collection, with special day or week passes for tourists.
12. Create and upload awareness videos on road rules.
6 Smart Tourism
a. Develop an analytics platform to get visibility of daily hotel occupancy and future bookings across the country to manage associated services for tourists.
b. Digitalise all physical assets (like sites, monuments, temples, etc.) and provide important information about these to tourists under one platform.
c. Introduce augmented reality for tourism to obtain information about tourist sites.
d. Develop a platform to create itinerary for tourists based on their dates, preferences, places they want to visit and connect with service providers to provide a seamless experience.
7. Smart Sports
a. Develop a platform to digitalise all sports records and manage each player directly from school level.
b. Use AI to choose winning combinations of players to represent the sport at National and International level.
c. Use smart wearables among high calibre players and track their vital statistics during practice sessions and matches to predict future performances.
d. Use AI to predict rate of attendance at events and optimise ticket pricing and sales to improve monetisation of sports.
e. Provide online video-based training and courses for coaches.
8. Smart Utilities
a. Digitalise records of all utility services provided to citizens and link them under one platform with the Digital National Identity Card, which includes the following services:
E-identity
Security and safety
E-governance
Interoperability services (E-land register, etc.)
Mobility services (intelligent transportation system, mobile parking, border queue management, etc.)
Healthcare
E-education
Business and Finance (E-tax, E-business register, etc.)
b. Preventive maintenance by forecasting the breakdown of machinery involved in production of utilities using IoT sensors.
c. Allow online payments for all utilities or any other services provided, through one website. All these payments could be enabled through digital wallets integration.
9. Smart Finance
a. Monitor tax payments and transactions using AI and automate of alerts in case of any inconsistencies.
b. Digitalise all Government banking processes with paperless banking, opening FDs online, etc.
c. Remove hurdles for payment gateways, minimise transaction costs for payments and popularise mobile wallets.
d. Enable mobile and online payment for all public services, income tax filing, etc.
10. Smart Infrastructure
a. Initiate a programme to install fibre optic cables to bring high speed broadband connectivity in rural areas to create local employment opportunities and drive socio-economic growth in the area. This will enable Government services such as Tele-medicine, Tele-education, E-health, E-entertainment, etc.
b. Use Blockchain to digitalise all property records and each transaction to ascertain property rights.
c. Develop Smart IT parks in free trade zones with best in-class architecture to attract FDIs and best companies focused on ICT start-ups and outsourcing.
d. Introduce a real-time sewage and drainage management system.
Targets for the Private sector
Four-fold increase in ICT revenue from $ 1.2 billion to $ 5 billion by 2025.
Five-fold increase in ICT jobs from 80,000 employees to 400,000 employees by 2025.
Provide 30.2 million Sq.ft. in office buildings and IT Parks to accommodate the additional 320,000 employees.
0% corporate tax guaranteed for the next 25 years for office buildings and IT parks through the BOI.
Target for 2030 will be $ 10 billion with a total of 800,000 employees.
Enabling steps
1. Eliminate all taxes related to internet data.
2. Introduce a child-friendly limited screen time internet package with parental controls for children of ages three years and above. This will include services such as:
a. Improve hand-eye coordination
b. Access to a wealth of information
c. Enhance language skills
d. Enhance problem solving
e. Access high quality content
3. Improve mathematics, ICT and the English language beginning from primary education.
4. Introduce an online portal excluding data charges, which contains instructional videos for all school subjects.
5. Introduce IT and AI courses from Grade 9.
6. Offer IT and AI courses with diplomas and certifications at technical and vocational institutes (in future, 40% of students will enter vocational training institutes).
7. Offer IT and AI bachelor degrees, masters programmes and PhDs at all universities (in future, 50% of students will qualify for universities).
a. Develop courses in high demand in collaboration with top ranked universities in the world at all Government and private universities.
b. Adapt and deploy open source simulation packages like ORCAD, Silab, MATLAB, AUTOCAD, etc.
8. Improve the ranking of Sri Lanka in the Ease of Doing Business index from 100th to 50th position.
9. Improve the ranking of Sri Lanka in the Global Competitiveness Index from 85th to 45th position.
10. Introduce 0% corporate tax, 0% VAT and 0% dividend tax on information service activities and infrastructure guaranteed for 25 years. (IT parks, any type of BPO, KPO, provision of infrastructure for hosting, data processing services and related activities, web portals, news syndicates and news agency activities furnishing news, pictures and features to the media, computer-based telephone information services, information search services on a contract or fee basis and news clipping services, press clipping services and other digital services)
11. Introduce 0% custom duty and 0% PAL on imports of computers and other hardware units guaranteed for the next 10 years.
12. Invite the top 100 multi-national information technology companies such as IBM, Intel and Microsoft to setup their global delivery centres in Sri Lanka.
13. Introduce 0% corporate tax, 0% VAT and 0% dividend tax on establishment of headquarters of non-resident corporations in Sri Lanka guaranteed for the next 25 years.
14. Establish global delivery centres of Sri Lankan companies across the world.
15. Provide subsidised cloud infrastructure to various start-ups to support them during the early stages of the company.
16. Create a unified online platform with all available job opportunities and these to be matched with people's skills, preferences and locations.