This series is based on business leader Dhammika Perera's recently revealed 'Economic Growth Strategy and Action Plan to increase GDP Per Capita from $ 4,000 to $ 12,000'. The document outlines goals and action plans for 23 ministries and today's column focuses on the Ministry of Foreign Affairs
Goals
Improve Sri Lanka's rank in the Ease of Doing Business Index from 100 to 50 by 2022.
Improve Sri Lanka's rank in the Global Competitiveness Index from 85 to 45 by 2022.
Uphold Sri Lanka's sovereignty by promoting a peaceful regional environment.
Establish a strong link with Sri Lankans in foreign land.
38 embassies in Non-Commonwealth countries.
13 High Commissions in Commonwealth countries.
13 Consulate Generals.
2 permanent missions to the United Nations.
Action plan

1. Evaluate all Sri Lankan Embassies and High Commissions on the basis of:

a. Diplomatic importance, impact and geopolitical support.

b. Bilateral trade, economic, cultural and social benefits.

c. Consular services for expatriates, number of foreign tourists, revenue generated by the missions and maintenance cost of each mission.

d. Enhance and improve services of existing missions.

e. Establish new missions and shut down unproductive missions.

2. Introduce mandatory Ambassador Executive Training Program (AETP) for aspiring diplomats.

a. Political appointment-based officials to follow AETP.

b. Courses included in the program:

i. Diplomatic protocol and etiquette.

ii. United Nations system.

iii. Emotional intelligence.

iv. Future foresight.

v. Public speaking and media handling affairs.

vi. Consular and humanitarian diplomacy.

vii. Leadership.
Effective implementation of policies poses sovereignty, regional engagement and most importantly connection of Sri Lankans both near and far
c. Improve the diploma course in international relations to one year at BCIS and ensure that it is mandatory for all aspiring diplomats.
d. Introduce Key Performance Indicators (KPIs) for Ambassadors. Main KPIs include:

i. Value of Foreign Direct Investments brought to Sri Lanka.

ii. Number of foreign companies brought to Sri Lanka.

iii. Number of tourists and visitors brought to Sri Lanka.

iv. Number of export opportunities created for Sri Lanka.

v. Media value generated in the country of operation to increase awareness of Sri Lanka's nation brand.

e. Ensure mandatory language courses are followed by diplomats. Fluency is expected in the following languages:

i. Chinese

ii. Hindi

iii. Spanish

iv. Arabic

v. French

vi. Russian

3. Organise "Get to Know Sri Lanka" program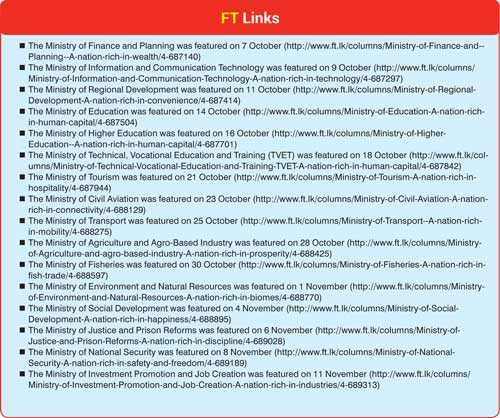 a. An engagement program for diasporic youth (between the ages of 18 to 30)

of Sri Lankan origin, that would introduce them to Sri Lanka and promote awareness about different facets of Sri Lankan history and traditions.

b. Introduce an online platform for migrant workers to regulate overseas employment, through which workers can find authorised recruiting agents, employers and project exporters. The platform will also provide all necessary documents and guidance for migrant workers.

4. Initiate a "Youth Ambassador" program for Sri Lankan university students studying abroad:

a. To promote Sri Lankan culture and tourism.

b. To provide accurate news, especially in a tense situation.

c. To foster relationships among youth from different countries.

Relevant embassies to train selected students using video material and workshops.

5. Initiate programs with decision makers, think tanks, academia, media and civil society organisations.

a. Organise diplomatic leadership incubators.

b. Organise policy test labs.

c. Conduct simulation rooms.

6. Introduce a friendly borders policy to accelerate regional coordination and economic cooperation with bordering countries in the neighbourhood to improve multilateral cooperation.

7. Strengthen connections with foreign countries through foreign economic forums such as ASEAN summit, etc.

8. To attract foreign investors:

a. Introduce a quarterly magazine with information on the economy, opportunities in different sectors and initiatives by the Government to improve ranking in the Ease of Doing Business Index from 100 to 50; and in the Global Competitiveness Index from 85 to 45, by 2022.

b. Design a yearly handbook with information on the economy, taxes, incentives and regulations, sector information; information technology; energy and power, etc.

9. Establish a unit consisting of experts in forming policies in relation to the foreign investment industry to focus on foreign policy research, geopolitical issues and national capacity building.

10. Maintain a strong connection especially between front-line law-enforcement and security agencies in countries from ASEAN, Commonwealth, etc. in order to strengthen international counterterrorism efforts.

11. Initiate a promotional program, "Sri Lanka, My Second Home", where foreigners with investments of $ 120,000 and monthly income of $ 2,400 would receive the following benefits:

a. Duty free allowance for vehicles.

b. Concessionary packages for residences.

c. Improved access for families and children below 21 years of age.

d. A social visit pass.

12. Promote Sri Lanka's political, economic and strategic interests by:

a. Enhancing bilateral relations.

b. Preparing status reports on various issues raised at meetings/discussions.

c. Discussing issues during bilateral visits and meetings in addition to during international meetings.

d. Raising issues during visits undertaken by undersecretaries.

e. Enhancing relations with other countries through outreach programs.

13. Cultivate Sri Lanka's international profile in the multilateral system by enhancing cooperation with United Nations (UN) agencies and other regional and international bodies.