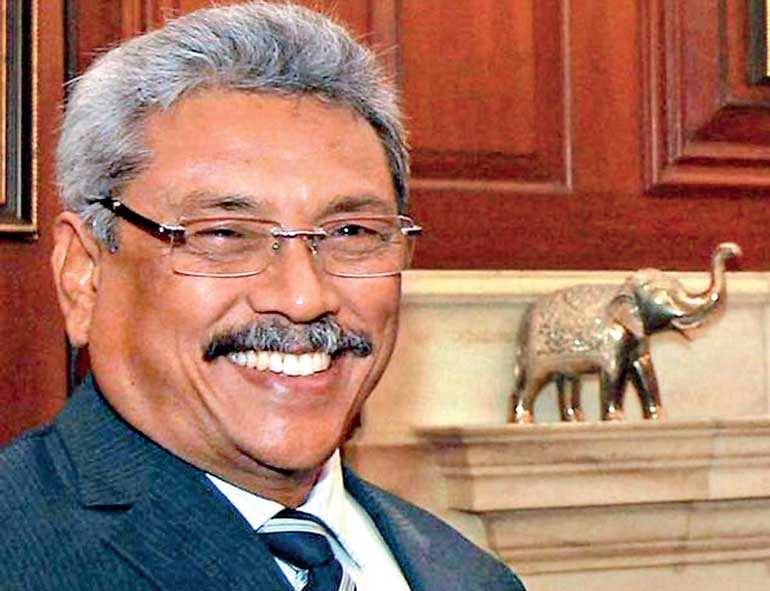 GOTABAYA RAJAPAKSA – grim reaper, gremlin reinvented or grossly represented?
---
NO OFFENCE, BUT THE QUESTION BEGS ITSELF. In a piece titled 'Who is afraid of Gotabaya (sic) Rajapaksa?' Daily FT contributor Sarath de Alwis made a cogent argument as to why he was not reassured by Basil's brief about his brother's "inherent jollity and geniality". He debunked the Rajapaksa potentate's propaganda about GR's "inherent compassion and benevolence" as being nothing more than "Orwellian doublethink". Shall we forbear to mention the forte of this courageous columnist's analysis – from his "monstrous ego" to "militarised managerial skills"?
Be that as it may, Gota has his champions as much as his challengers. In his blog, Malinda Seneviratne posted a plethora of reasons as to why the "politically intelligent thing to do, then, is … laugh out loud, and look elsewhere for political leadership". En route, our wordy blogger managed to traduce every other presidential contender – save that the last laugh is on us. In that article headlined 'So who is afraid of Gotabaya and why?' he shows us why we would have done well to have been afraid of everyone from JR to Premadasa senior to Ranil; while concealing the darker side of the bête noire he's ostensibly defending. Could it be dissembling?

In such an ambivalent milieu, would it be presumptuous to essay my own suspicions? Here's hoping and trusting that a perhaps simplistic SWOT analysis would suffice for my four readers: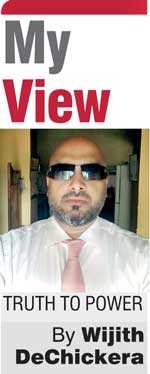 Strengths
A clear sharp focus
An attitude of 'can do'
The tenacity of a bulldog
That daring drive to achieve
A proven track record in doings
Weaknesses
Myopia, tunnel vision
An approach of 'just do it'
The terrifying bite of a boxer
That drivenness which desolates
A chequered career under a cloud
Opportunities
To reinvent himself as a democrat
To prove that the past is purely prologue
To deliver Sri Lanka as a Singapore or Malaysia
To manage under guidance the US-China-SL nexus
To rise above politicisation and restore law AND order
Threats
To return Sri Lanka to the Dark Age
To undermine the development of our republican polity
To drive the nation in the direction of a Myanmar rather than a Malaysia
To compromise the sovereignty of Sri Lanka in the face of contesting imperialisms
To revert to militarisation and rule through law BY order leading to authoritarianism
Need I say more? I'm afraid, remember – I've confessed to it upfront! Because during his tenure, editors and cartoonists were killed or abducted in broad daylight for less. Of course, we still rage against the dying of the light. For one of those assassinated was my boss first and then friend, and the other an albeit unacquainted colleague. (When they came for the journalists, there was no one left…)
A brief aside

Speaking of friends, some strongman bureaucrats of the past have friends in the highest of places at present. A former president is a solicitous brother. An incumbent prime minister has an uncanny affinity with the former defence secretary under a once adversarial regime. The world's mightiest superpower at present has exhibited a remarkably tolerant attitude towards an (er, erstwhile?) citizen. No offence, but being paranoid helps! With friends like these, who needs enemies? We tremble because of the ease of one-day passports and favours from unseen hands.

We cower in fear and loathing for a gamut of reasons. First: the sheer gravitas of the man's personality, temperament, character – whether virtual or real. For powerful bureaucrats as much as bumptious politicians are creations of myth as much as correlations of fact. Then, there's a not negligible but largely neglected demographic of our country's post-war milieu that's still reeling from the PTSD of ignored transitional justice agendas. Dare essay that this is because of those likeminded stakeholders in a totalitarian state which tolerates 'guests' but blatantly privileges 'hosts' militated against true national reconciliation. And last but by no means least, I'm afraid when the dust has settled on the presidential takedowns, there won't be a single politico who pointed fingers at GR in craven opportunism now to defend those of us who spoke truth to power then.

To be fair, the likes of entrenched Minister Mangala Samaraweera have lashed out at embattled ex-Opposition Leader Mahinda Rajapaksa for foisting such a fearsome candidate on a fearful civil society at such a fateful juncture in our island's destiny. To which crown prince and putative future contender MP Namal Rajapaksa has taken cudgels, urging the former to cease and desist from fear-mongering. If only rabble rousing were the problem – and not the very real issue of impunity for a spectrum of alleged criminal activities, we could all rest easy. The civil libertarians among us and those free media with unhampered powers of recall cannot sleep at night as long as Mangala can't forget and Mahinda can't remember. Forbid it that one day, some of us may ask: "Who is Namal?"
Back to a res

Conventional wisdom: It was the machine he created, not the man himself that did those things.

Devil's advocate: He was part of – if not the paterfamilias of – the movement that empowered it.

Word play: The tiger cannot change its stripes, nor such a sword be beaten into a ploughshare.

As far back as the last three months of the late great conflict we were pleased to call a 'civil' war, a few bold editorialists had the gumption to challenge the praxis of the then government as regards its 'scorched-earth tactics'. The response then was a propaganda piece that came to be known as 'zero civilian casualties'. Even today, there's little doubt about the thundering authority of the former – even if the trifling authenticity of the latter lies open to interrogation.

So, what's the verdict? Much of civil society would plead that the jury is still out. Many magistrates have recused themselves from hearing his litany of cases, so it would appear that in most allegations against him – at least locally – he's home free. Most defenders of the faith would admit that even they sense a certain je ne se quoi about the man, his machine, that movement he spearheads which has no name. Not even his apologists – read that blog once more – would commend him without a certain reservation, a fatal hesitancy.

So yes, let me confess: it is I, it is me; I'm afraid of Gotabaya Rajapaksa, that's who. Not because of who he was or what he has done. But who he is and what he is becoming. And what good he can do is outweighed, overcast and overshadowed by the evil thing that this way comes.
Afterword: 'time heals all wounds'

Of course, after due reflection, we may all be changed in the twinkling of an eye. I dare say that we all remember the UNP's brutal crackdown on the insurgent youth of Sri Lanka in 1987-9; and if I was a Sinhalese revolutionary at the end of that decade, I'd fear Batalanda. Now, Ranil simply stirs up apathy wherever he goes.

Similarly, if I had been a Tamil rebel in the first decade of the 2000s, the SLFP-led PA, and later the UPFA, would have struck terror into my trembling heart in the same breath as I tried to blow up its then mandarins. But now, Maithripala Sirisena is a paper tiger that has been defanged by an independent Judiciary, and stands to be declawed by the court of public opinion if he carries on the way he has of late.

I wish that for all those elites as much as hoi polloi who wish fervently for a benevolent tyrant, there were a handful of cautious optimists who convincingly located such a blessed streak in a less controversial candidate. Maybe Mangala would make a better despot if perhaps he was willing to part company with the cabal that keeps him in power at present? But if it is to be Gotabaya – and in our democracy, republicanism still relies on constitutions and the people's will as expressed at the poll – one can only hope that there has been grace for mercy, and a desire for peace with justice in the fullness of time and with the attendant amendment of life.

Time heals all wounds, but it also wounds all heels. MS has had his comeuppance, and RW may soon face the music of his peers and heirs.

It remains to be seen if GR – in the run-up to the day of reckoning – can successfully navigate the gauntlet of an ambivalent business community, the critical engagement of the free media, and the disapprobation of civil society that still has a conscience, as well as a spine.
(Journalist | Editor-at-large of LMD | Writer #SpeakingTruthToPower)