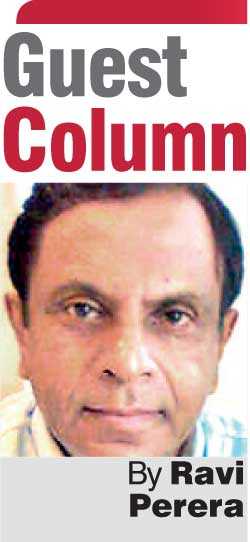 Driving along Marine Drive, especially on a wet rainy day, is a depressing experience.It was early last Sunday evening; the rain swayed wildly to the strong gusts from a restless sea, visibility was dangerously low, motorcyclists and tuk-tuks zigzagged recklessly; adding to the misery, not a single street light was on along the entire stretch from Kollupitiya to Bambalapitiya!

Once touted as a Colombo showpiece, the Marine Drive has become yet another testament to an unrealised potential, a repeating theme in our sad country. Flanking the strikingly blue waters of the Indian Ocean, dotted with sandy beaches fringed with waving palm trees, defined by a colonial era rail-line on which an occasional train chugs along noisily like a creature from a bygone era, this is a setting many cities can only dream of.

What nature gifted, a colonial government developed, we have mismanaged, seems to be the only explanation possible as to why in this day and age, street lights do not work on a major road situated right in the middle of our Capital City. Surely, you don't need the Mayor's intervention to repair whatever is not working. There must be several layers of authority below the Mayor, to attend to these things.

Public service salaries are paid to engineers, supervisors, inspectors, electricians so on, to ensure that Colombo can claim to be a hub city, commercially as well as politically. It is difficult to demand respect from the world, when Colombo is in darkness at night and under water when it rains.

In many cities, such settings as the Marine Drive, have been developed into thriving commercial/entertainment areas. Marinas are specially designed on city seafronts to encourage the well-heeled to come in with their yachts and small boats. Hotels, theme parks, restaurants are brought in, pavements widened, promenades created, space allocated for easy parking. Tourism has become the main stay of many a city now.

For many years now we have had master plans for the city, developed with assistance from recognised foreign agencies. There are offers of credit from international sources for such city developments. But nothing moves, or moves only at snail pace.

Perhaps, the paralysis of our enormous bureaucracy, to the extent where it cannot even change an electric bulb without a complex, time consuming and ultimately self-defeating process, points to a much larger problem. In most government organisations, political power overrides the administrative authority in place. If a politician is having a meeting, all efforts will be made to ensure proper lighting at the venue. Marine Drive cannot claim political value, although in terms of economic potential and value adding to the overall enhancement of the city, it is of vital importance.

Decades of politicisation has reduced our public service to a mere parody. It is a service that no longer can attract good quality cadets. Those who wish to join today's public sector do not think in terms of the challenges, excitement or the satisfaction that their future career holds. It is the very opposite they look for; an unchallenging culture, unchanging methods, minimal work and the dreariness of routine. They are rewarded for not taking initiative. Dodging work and avoiding responsibility have become the hallmark of a promising public service career!

The public servant cannot be condemned wholly for this, they find themselves in a service where efficiency goes unrecognised and initiative is frowned upon. Even to purchase a few bulbs, there is an incredible amount of red-tape to endure. Such a system, built on universal suspicion, bordering on paranoia, gives no pride in their work, provides no ideals to guide them, ensuring only endless checks and paper work. If they look for guidance to their political bosses, they look in vain. Politics in this country marches to a different drum.

Soon the young recruit to the service realises that he needs different skills; these have very little to do with serving the public. An eye for changing political winds and the fawning of the politicians are skills much valued, and a proven way to a smooth career advancement; the very opposite of the work ethic of developed societies.

Our public servants are strongly supportive of promotions based on simple seniority, not performance, even going to the courts to ensure automatic career advancement. As a result, most senior positions in the service are held, not by the competent, but by men who have simply ossified in office. They are also thrilled by the guarantee of a life time pension that the public sector carries (which incidentally, is one of the country's largest financial burdens) and look forward to bonuses like a duty free car or scholarships overseas, that public servants often are rewarded with.

This is the average public servant, a man looking for a care free ride. But there are many in government employment who go beyond these mundane benefits, actively seeking inducements and bribes to do what they are expected to do and sometimes even what they are not expected to do. It is an accepted fact that in the perception of the general public, our public service is by and large, corrupt. It is obvious that to such a public service, the fact that in the dark night, in pouring rain, the Marine Drive is unlit, is a matter of complete indifference. They are not designed to react to such things. On the other hand, if a politician were to ask them to keep the road lights working, they will jump to it.

But the politician will not give that order. A well-lit Marine Drive will not bring him any votes. He has more important things to occupy his mind; using public funds for political advantage, raking in commissions and kickbacks from public projects, family consolidation and succession in public life.

Life is good, a luxury life in Colombo, first class air travel all over the world to exchange 'ideas' with foreign leaders, even for a common cold a plush hospital in Singapore, all paid for by the people. They need to occasionally dazzle their devoted followers; make high sounding speeches, refer to Latimer House principles (you don't have to live it!), drop hints about close connections with international figures, allude to fluctuating interest rates on the dollar; the Marine Drive recedes into insignificance. It seems the country is trapped between a corrupt and failed political establishment and a much diminished and demoralised public service.

Only a leadership that can break the mould and point to a completely new path will deliver.

Meanwhile, the Marine Drive will have to remain a promise, unfulfilled.