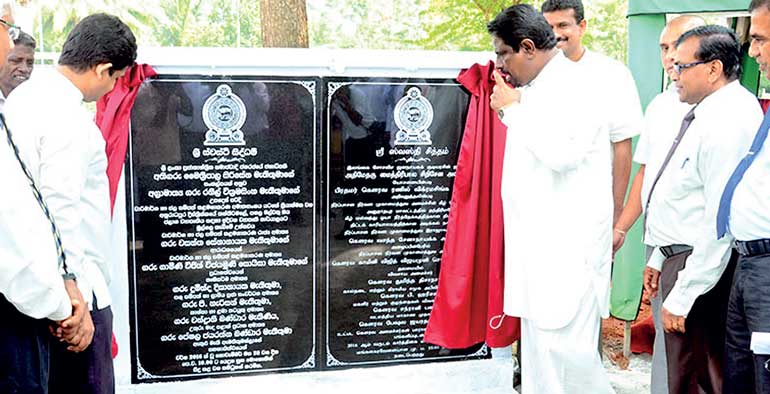 The Lower Malwathu Oya project initially planned during the 1960s to supply additional water to Mannar has now been modified to satisfy the priests of Thanthirimale; the proposal needs to be modified to achieve the required benefit at the lowest cost
During end of July, Minister of Irrigation and Water Resources Management Palitha Range Bandara inaugurated the first phase of the Lower Malwathu Oya Project at the proposed location of the reservoir at Kappachchi near Thanthirimale in the North Central Province. The location is near boarder between Anuradhapura and Vavuniya Districts.


The project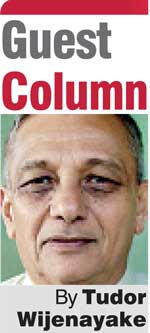 The proposed project envisages construction of a 3,590 metre long earth dam across Malwathu Oya, creating a 209 MCM (million cubic meters) or 185,000 acre-feet capacity reservoir and approximately 7,000 hectares would get submerged under stored water. The dam will include a radial gated spillway, left bank and right bank river sluices and a powerhouse capable of producing 4.28 GWH Hydro power energy annually. It is claimed once constructed, the Lower Malwathu Oya reservoir will be the third largest in the country.

The dam located near ancient Thanthirimale temple is expected to provide domestic water to the town and canal systems in new settlement area. The project would create 2,000 acres of new irrigable lands just downstream of the reservoir, including 675 acres for paddy to be occupied by the displaced population. In addition, 2.0 MCM of domestic water would be issued annually for the new settlers. Improved agricultural activities, livestock development and infrastructure development are anticipated.

Along with the Malwathu Oya project, Thanthirimale town will also be developed as a tourist zone. Accordingly, the project will set up a museum adjacent to the Thanthirimale temple, children's parks and safari parks.

The Minister informed the people at the inauguration, prior to commencement of construction, persons who lose lands due to the project will be resettled in other areas and their problems would be solved; already solutions have been reached after discussions with people.

The construction of the Malwathu Oya reservoir is expected to commence in the first quarter of 2018 and the total cost of the project is estimated at Rs. 13 billion.

Water in the proposed reservoir would be released through the river sluice back to Malwathu Oya, would continue over 24km, while collecting inflows from number of streams from Vauniya region and diverted at Thekkama Anicut, (the current diversion location to Yoda Wewa). From the reconstructed Thekkama Anicut 500 Cusec (cubic feet per second) and 250 Cusec would be released to Right and Left bank canals respectively of 27 km total length conveying water to irrigate 24,450 acres and 6,230 acres under existing Giant's tank and Akitamuruppu tank respectively. The tanks in Mannar, as the Giant tank, Agathimuruppu tank and Viyadikulam tank, would receive water throughout the year.


Malwathu Oya – History

Malwathu Oya basin was among regions that supported the original civilisation in Sri Lanka, at the time Prince Vijaya landed near the river estuary. The landing was not by chance, the location was part of the ancient trade route with pearls being found in the nearby sea. With the arrival of Vijaya habitation increased and continued along Malwathu Oya reaching Anuradhapura. Some of the minor tanks in the area would have been the creations of Naga technology, finally leading to Yodha Wewa.

Prior to the arrival of Vijaya, Naga occupied the country along with Raksha, so called due to their worshipping of Nagas and Rakshas. The Naga community, supposed have mastered the technology of dam building, is indicated by the rock carved snake heads at irrigation structures. Part of Malwathu Oya was diverted by Thekkama Anicut located near Paraiyanalankulam Police Station on Medawachchiya-Mannar road. The diverted water reach Yodha Wewa through a 13km long canal.


Malwathu Oya – Physical

The river ranked as the second longest in the country (164km or 102 miles) could be divided into four parts, first section originating and collecting water around Ritigala mountains near Habarana and feed ancient Nachchaduwa tank south of Anuradhapura. The second section, outflow from Nachchaduwa pass between Anuradhapura commercial city and the sacred city towards north-west to east of Thantirimale, collecting rain waters from Mahakanadarawa tank east of Mihintale up to Medawachchiya region. The third section collects rain waters from Medawachchiya to Vauniya with number of streams joining the main river beyond the proposed reservoir. The last section from Thekkama diversion, the river is referred to as Aruvi Aru and joins the sea at Arippu.


Thanthirimale temple

Located 40 kms north-west of Anuradhapura, the temple, built during the third century BC had been lost to the jungles. It is claimed when the Jaya Sri Maha Bodhi was brought from India to Sri Lanka, on the way to Anuradhapura, the sapling was kept overnight at Thanthirimale. Rediscovered in the 1960s the temple was re-established by Buddhist monks. The temple and surrounding area is renowned for its many caves, inscriptions, carvings and ruins of monastic residences.

During the LTTE war army established a camp nearby and encouraged people to take up occupation and cultivations for security purposes and 81 small lakes are reconstructed. Older survey maps show Thanthirimale being within the Wilpattu Wildlife Sanctuary, but in current maps the sanctuary boarders have been withdrawn.


Thekkama Anicut

In 1860 Sir James Emerson Tennent wrote, "At Taikum, the immense causeway of cut granite, two hundred and fifty yards in length, and upwards of fifteen feet high, by which it was attempted to divert the waters of the river into the canal, that was designed to supply the Giants' Tank." Even today Malwathu Oya water is transferred through the ancient canal system renovated by the British. The Lower Malwathu Oya project proposes to raise the anicut and improve the ancient canal with a concrete lined canal capable of transferring greater quantity of water to Yodha Wewa.

Under the proposal right and left bank canals originating from Thekkama Anicut will convey 500 and 250 Cusecs of water to irrigate 24,450 acres and 6,230 acres under existing Giant's tank and Akitamuruppu tank respectively.



Yodha Wewa

One of the tanks built by King Dhatusena (459-477) by damming and diverting water from the Malwathu Oya, known as the Manawatu Wewa in the ancient times. Today tank has a storage capacity of 30,500 acre ft or 37.6 MCM with water spreading over area 4,550 acres or 1,841 ha. The tank is capable of irrigating 27,000 acres or 10,927 ha with water being transferred to numerous minor irrigation tanks. The shallow tank goes practically dry during the dry season.


Proposed Reservoir

Proposed Malwathu Oya Reservoir will be located across the river at Kappachchi near Thanthirimale, will inundate lands from Anuradhapura and Vavuniya Districts. This project envisages construction of a 3,590 M long earth dam creating a 209 MCM capacity reservoir, spillway with radial gates, river sluices on left and right bank, power house and canal systems to new settlement area.

But the question remains will there be sufficient water to fill for proposed storage, also is the proposed large capacity necessary? See Table 1 for a comparison between the proposed tank and others.

The table shows proposed Malwathu Oya reservoir will contain over 5.5 times the storage of Yodha Wewa, which is expected to supplement a grossly excessive volume. The new tank will cover 7,000 ha or 17,000 acres of forest and will uproot nearly 600 families who will be settled in 2,000 acres of new irrigable lands and 675 acres of paddy lands just downstream of the reservoir. Is inundating 17,000 acres of forests to generate 2,000 acres of new irrigable lands worthwhile? Mannar does not have additional lands for development under Yodha Wewa.


Power generation

The project's hydro power plant proposes generation of 4.28 GWH Hydro power energy annually, amounting to around 1MW power plant. Generally CEB refuses to get involved in power plants less than 10 MW capacity and are allowed for the private sector. The plant capacity is so small and generating power for few months of the year at a distant location will not be worthwhile even for the private sector due to capacity inadequacy and overheads.


Contract

Although the politicians officially commenced the project, the finalisation of the feasibility study awaits finalising of EIA studies by the Mahaweli Consultancy Bureau and review by the Irrigation Ministry. A Joint Cabinet Memorandum forwarded by the Ministry of Agriculture and the Ministry of Irrigation was approved by the Cabinet of Ministers to award the contract to China CAMC Engineering Co. Ltd. with funding from Chinese EXIM Bank and will cost Rs. 13 billion.

Earlier too in 2009 an agreement to implement the project had been signed between the Irrigation Ministry and China CAMC Engineering Company Ltd. (CAMCE) with Cabinet approval as an Engineering, Procurement and Construction (EPC) contract.

Normally, World Bank or ADB would agree to fund a project only after assessing the feasibility of the project in detail. However, Chinese EXIM bank would fund projects, settlement of the loan a matter between the two countries.


Availability of water

Will there be sufficient water to fill the proposed reservoir? Malwathu Oya is divided into four sections as shown above and only water from first two sections be available for storage. But first sector upstream of Anuradhapura is stored under Nachchaduwa Wewa and only the spilled water would be available.

Nachchaduwa Wewa located south of Anuradhapura city was built by King Mahasen (276-303) to supply water to the city and to safeguard the city from floods. The lake commands a watershed covering 583 km2 (226 mi2) also receives water from Kala Wewa through Jaya Ganga. Nachchaduwa Tank releases water to Tissa Wewa and Nuwara Wewa in Anuradhapura town, also paddy fields in the area. While excess water from paddy fields end up in Malwathu Oya large volumes are available only when Nachchaduwa spills over.


Rainfall

The catchment area of Malwathu Oya especially north of Anuradhapura are located in the dry zone receiving less than 1,500 mm annually. But Mannar receives only 1,000mm a year.


Overflowing Anuradhapura tanks

A common feature in Anuradhapura during the past few decades from October to January was the overflowing city tanks, which may have fooled Engineers to assume availability of large volume of collected rain water. Normally by June Yala paddy cultivation is over and paddy cultivators do not require water. But over the past decades Anuradhapura tanks were kept filled supposed to be for the use of Poson pilgrims in June. But the stored water originated from Mahaveli diverted from Polgolla via Bowatenna via Kala Wewa. Thus when Maha rains arrived in October/November tanks were already full, resulting in overflows.

However, this year during Poson, Anuradhapura tanks were empty and only drinking water was available. The reason was, in addition to the drought, on 8 January the President inaugurated the filling of Moragahakanda Reservoir. But water in Amban Ganga was mostly diverted waters from Polgolla, depriving Kala Wewa and beyond. Similarly in the future, the new reservoir cannot depend on over-flow waters from Anuradhapura tanks.


Beyond Anuradhapura

Water to Malwathu Oya beyond Anuradhapura commences from spillover waters from Mahakanadarawa Wewa, a large reservoir built during the Anuradhapura kingdom by damming the Kanadara Oya the main tributary of Malwathu Oya. This reservoir has a capacity is 36,250 acre feet (44.7 MCM). But the available water is insufficient for local irrigation and the tank is expected to receive water from Moragahakanda project (after 2025), through trans-basin canal and only run-off would be available.

Between Anuradhapura and Thanthirimale number of branch streams join Malwathu Oya. But these streams supply waters to numerous minor tanks used by local farmers, thereby only excess and flood waters would feed the main river. Thus the inflow of water to the proposed reservoir will not be sufficient to fill the large reservoir.


Paddy cultivation in Mannar

Travellers to Mannar a few kilometres after Madu junction would meet paddy lands to left and after passing Yodha Wewa paddy fields on both sides, with only occasional housing. The region is devoid of hills and higher grounds are occupied by housing with over 80% of the land covered with cultivations. Since ancient times most people lived in two areas north and south of Mannar highway in Manthai and Musali regions based on agriculture.

Farmers in Mannar have been extremely conscious of water usage and have used rains to the maximum. Last March when the country was undergoing severe drought, farmers in Mannar harvested a bumper crop. Then Yodha Wewa was completely dry, but the little flow of water into the lake was directed towards canals feeding paddy fields. Details in ww.ft.lk/article/601680/Drought--Driest-Mannar-produces-best-paddy-harvest.

According to the Department of Statistics in 2015/2016 Mannar District's paddy cultivation is 38,073 acres under major irrigation schemes, 7,996 acres under minor schemes and 133 acres rain-fed, showing most cultivations under irrigated conditions. But the district's population in 2012 was only 99,051, giving an acre of paddy for every two persons.


Does Yodha Wewa need so much water?

Yodha Wewa with 37.6 MCM capacity supplements rains for cultivation of nearly 25,000 acres of paddy during Maha. Availability of additional water would assure farmers of cultivation of both Maha and Yala seasons. The proposed renovation of Thekkama anicut and concrete lined canals would improve water supply to Yodhawewa. Thus additional requirement of water from Lower Malwathuoya, without considering water through better canal, would be the capacity of Yodhawewa or another 37 MCM. But the capacity of Lower Malwathuoya stand at 5.5 times, is highly excessive.

As shown above the supply of water from Section 1, before Anuradhapura would be very much lower due to reduced water release from Kala Wewa. In addition water from section 2 cannot be expected to be substantial due water usage by local small tanks. As such the proposed reservoir may not receive sufficient water to fill. As shown above, the proposed power plant cannot justify the expenditure and running costs.

The proposed reservoir expects to inundate 17,500 acres of jungle and deliver irrigation water to 2,000 acres of which 675 acres for paddy cultivation. When 17,500 acres are cleared, growing grass with available water would attract elephants from nearby jungles would create another Minneriya and attract tourists. However, elephants from Wilpattu need to cross roads leading to Thanthirimale to reach water and grass, increasing elephant-human conflict.

The improvement of Thanthirimale town would have blessings of the temple priests and result exploding population into nearby Wilpattu Forest Reserve, creating a situation similar to the western side where Muslims were alleged to have been settled, which created an uproar.

The proposed award of the contract to the Chinese CAMC Engineering Company Ltd. is not clear and has not been finalised, also problems highlighted above would certain to be exposed during environmental approval stage. Also the Archaeological Evaluation Report of the project is presently being reviewed.


Modifications

The Lower Malwathu Oya project initially planned during the 1960s to supply additional water to Mannar has now been modified to satisfy the priests of Thanthirimale. The proposal needs to be modified to achieve the required benefit at the lowest cost. Thus reconstruction of Thekkama anicut with concrete lined canals supplying water to Yodha Wewa would be essential. But Lower Malwathu Oya dam need redesigning as a smaller reservoir delivering essential storage for Yodha Wewa and satisfy requirements of Thanthirimale town.