Google it. Go for a lecture or attend a seminar, mostly one will notice the first picture that appears or explains logistics would be a ship, an airplane, truck or railway connecting two places via transport networks. Ask a managing director what logistics is, he will direct you to the shipping department, transport manager, freight forwarder or warehouse supervisor.

In many parts of the world, especially the developing world, where exports and international trade are essential components of development, the word logistics is totally misunderstood and confined to a mere small component such as shipping or transport of a logistics activity. This results in lower focus by the government, top managements of companies leading to productivity deficiencies across supply chains. Most freight forwarding companies just adopt the name logistics 'to uplift status or to glorify perception' without understanding the proper meaning and the deliverable of logistics management.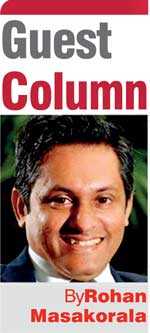 Ships, airplanes, trucks and rail, are modes of transportation, within national and international borders. Then come trade facilitation institutions that provide regulatory services such as customs, ports and airports for transport connectivity. Combining these two is the transport eco-system. They play a very important role in achieving efficiencies for logistics services providing national and global connectivity but that is not logistics management.

In a broader description, logistics services are a combination of multiple networks, services, technologies that connects the dots between supply chains and value chains that arise from raw materials to production to consumption. If one studies the World Bank Logistics Performance Index (LPI), you will notice that Singapore being the number one maritime capital of the world and holding the best airport position in the world, stands at seventh position in the LPI index; whereas Germany, Sweden, Austria, Japan all stand ahead of Singapore in the global LPI rankings. This indicates that there is a more complex and hidden reason and meaning behind best logistics practices.

In today's complex national and international trade and commerce networks, supply chains as well as value chains require advanced technology, skill and knowledgeable workforce with proper know-how to offer solutions to global customers. Advanced nations invest in big expenditure on R&D. They analyse, break open product cycles, delivery cycles, customer behaviour, using advanced data techniques moving towards artificial intelligence for better outcome. This results in advanced designs, solutions and customer friendly delivery modes. Today, top logistics companies of the world such as, FedEx, DHL, McLane, UPS, etc., are turning commerce into e-commerce through software platforms. The logistics strategy of these advanced countries and service providers is way beyond physical transportation of goods. Careful strategising, planning and constantly innovating to reduce costs, increase speed to give a new value addition to connect global trade are the focus to be ahead of competition. As a result, Germany has become the number one country in Logistics Performance Index. It is not a secret that it is one of the most advanced economies of the world that uses technology and automation to be ahead of the curve in logistics management.

In the global scale, where international trade is connected through multi modes of transportation, many get confused and link logistics as a transportation subsidiary. On the contrary, logistics is much broader than transportation. While transportation focuses on the 'movement' of goods from one place to the other, logistics refers to the whole 'flow' management which includes not only transportation, but also includes manufacturing, storage, handling, inventory, packaging, transformation using technology, human resources – in some sense, and many other things to fast-track commerce with less waste and higher productivity.

If countries want to connect into the global supply chain, the policy makers and regulators along with the national workforce should understand the concepts of logistics beyond transportation. Whether one is running a factory, office, supplying raw material or providing a service logistics management has to be done skilfully. Every element of the value or the supply chain needs to be managed with proper planning, documentation, processes, etc. to ensure a smooth logistics chain to minimise waste and cost and to bring down unit costs of production of both goods and services.

Most logisticians are good mathematicians, statisticians who are well trained for data analytics to support both the top management and the lower management of organisations. As such logistics is a subject that needs professionals who could see the bird's eye view to solve complex problems in the global supply chains.

Part of the secret of Alibaba's or Amazon's single day sales exceeding annual sales of many companies is none other than technology-based logistics management, which carefully plans out sourcing to delivery on a customer friendly e-commerce logistics platform. Successful companies around the world use massive logistical improvements to reduce day-to-day operational costs but increase sales through increasing scale and volume.

Therefore, it is important that corporate leaders understand that logistics is a specialised field of its own way beyond shipping, warehousing, courier services, road/rail transportation and air freight. It's about managing all operations within and externally of the product or services from sourcing to destination. If logistics is properly understood, companies will adopt more technology and allocate more resources on human capital development to handle such technologies. Most companies invest on technology, automation or equipment by just following others, but do not train staff with proper know-how to obtain maximum logistical benefits through such investments.

After all what is the use of the most advanced phone if one does not know its features and how to operate the same to better manage day to day operations or if one does not know the functions of a excel sheet but is given an advanced ERP system to innovate, the result may be wasted capital.

In my opinion, future of digital logistics is at the cusp of the 5th industrial revolution. Companies and countries who are left behind will find it extremely difficult to connect to global supply chains and value chains if the modern logistics industry is not understood but is kept as a fancy transportation tool.
(The writer is an economist by profession and the CEO of the Shippers' Academy Colombo which provides services to companies to enhance logistics capabilities, reduce cost and provide expert advice for streamlining processes and systems. He is also the chairman of the Advisory committee on logistics of the Export Development Board.)

(Note: In compiling this article, internet related information and contents have been used.)