What we are witnessing now is a bloody spike in politically-motivated violence due to lethal partisanship by the President of this country – Pic by Shehan Gunasekara
---
Democide is a term proposed by R.J. Rummel, in 1944, who defined it as "the intentional killing of an unarmed or disarmed person by government agents acting in their authoritative capacity and pursuant to government policy or high command".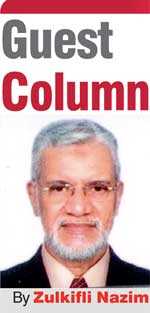 What we are witnessing now is a bloody spike in politically-motivated violence due to lethal partisanship by the President of this country.

It is reported that more than 200 cyclists with destructive weapons in their hands like machetes, swords and sledgehammers were moving about during curfew hours, causing unprecedented destruction, arson and causing violent mayhem.

The people of this country witnessed the Al-Jazeera footage where some policemen were found happy and smiling when all around them, the buildings were set ablaze and the whole area resembled an inferno – a place of pain and turmoil.

Namal Kumara, the Army deserter, who is now the President's Advisor – the so called Anti-Corruption Force Operations Director – had been seen leading the attacks in certain areas travelling in a Defender vehicle.

What happened to the Emergency laws and the duties of those responsible in preventing such senseless attacks? What we saw was absolute democide in action.

Is President Maithripala Sirisena promoting State terrorism? It appears that he is hell bent on encouraging and implementing both democide and genocide.

Generally speaking, genocide does not necessarily mean the immediate destruction of a nation, except when accomplished by mass killings of all members of a nation. It is intended rather to signify a coordinated plan of different actions aiming at the destruction of essential foundations of the life of national groups, with the aim of annihilating the groups themselves.

Genocide is horrible, an abomination of our species, totally disgraceful and unacceptable. And at the core there is no doubt as to what this evil is genocide and the massacre of the helpless we are witnessing in this pogrom – an organised persecution of an ethnic group, is essentially planned by our despotic, cruel and oppressive politicians.

The objectives of such a plan would be disintegration of the political and social institutions, of culture, language, national feelings, religion, and the economic existence of national groups, and the destruction of the personal security, liberty, health, dignity, and even the lives of the individuals belonging to such groups.

To permanently eradicate and eliminate this evil of our time, from our beloved Sri Lanka, it is imperative that all good people, all citizens and all communities, gather together and work fervently and with passionate ardour to eradicate, this obscenity.

We have a narcissistic President whose actions could be referred to as political dissent. Political dissent refers to any expression designed to convey dissatisfaction with or opposition to the policies of a governing body.

Yes indeed, the loud and persistent outcry of all to install Field Marshall Sarath Fonseka to the position of Minister of Law and order shows an extreme dissatisfaction and opposition of the President.

It is this expression that has taken the form from vocal disagreement to civil disobedience to the use of violence.

Civil disobedience and violence are already in motion.

In addition, it is disheartening to see tyrannical politicians and their collaborators and partners in crimes have brazenly unleashed intimidations targeting the Muslim community – using abuse, revilement, vilification and slanderous defamation in public places, government hospitals and even children in schools are not spared by these treacherous scum – the brutal, fascistic politicians.

Violent political metaphors such as 'fighting for our future' will increase general support against political violence among people with aggressive personalities.

It will become an absolute necessity for communities to resort to defending themselves, if the Government does not do its duty of providing freedom from fear and protecting people from Sri Lanka's most beastly and barbarous political factions.

We would intervene at this juncture and state that self-defence groups are not the answer and can store up all kinds of problems for the future, for the individual, communities and the country.We as citizens of this country, irrespective of race, religion, caste or creed are unified in every aspect and protective of each other. We are indeed horrified at the total inaction of those in power.

Why should we have a President who knew enough about the impending massacre that took place on a Holy Easter Sunday? He could have stepped in to save lives, but passed up countless opportunities to intervene.The aftermath of the Easter Sunday nightmare, was controlled and curbed by the intervention of His Eminence Malcolm Cardinal Ranjith, together with other religious leaders and the security forces, who joined hands subsequently and were able to curb any escalation of havoc in the country – Not the President.

Why should we tolerate the meaningless charade of a hair-brained President?

Why should we support ministerial incompetence, lethal arrogance and inefficiency?

Why should we have a Constitution and a Government with a Prime Minister if it is helpless?

The Prime Minister and the Parliament were and are held hostage by the President who has made everything dormant, inoperative and inactive, so much so that the Prime Minister and his Government were even unable to fulfil the duties of the most important law and order.

Taking all these into account, our analysis of the decision-making ability of our President Maithripala Sirisena yields a chilling narrative of self-serving caution and flaccid will – and countless missed opportunities to mitigate colossal crimes, because of his joining hands with those who were and are responsible for such crimes.

All these go to prove beyond any doubt that the country and its Parliament became dysfunctional because of the separation of powers afforded under the executive presidency and this makes all the more essential that this position be abolished forever and ever and the powers be vested in the parliament for our country to have peace, the people to live in harmony and working with each other to create a better future.
[The writer counts over 50 years in the insurance industry and is an Associate of the Chartered Insurance Institute (London) and also holds the title of Chartered Insurance Practitioner; as well as an Associate of the Insurance Institute of India. He can be reached via email at zul523@sltnet.lk.]