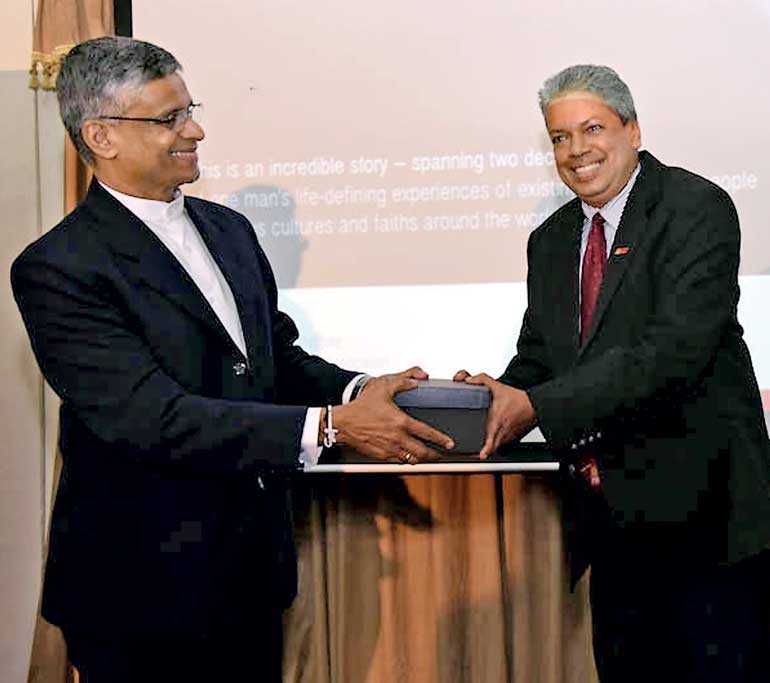 Author Deepal Sooriyaarachchi (left) presents the copy of his latest book 'Living Together' to Postgraduate Institute of Management (PIM), University of Sri Jayewardenepura, Board of Management Director and Chairman Prof. Ajantha Dharmasiri at the launch
It was a memorable evening with a mega gathering for a meaningfully different reason. It was not just another book launch with ego-boosting speeches about the author. It was also not an event where a popular politician coming late and preaching about economic expansions or development directions.

Perhaps, the first of its kind happened in Sri Lanka where an inter-religious, intellectual, insightful and interactional experience took place based on a brilliant book titled 'Living Together'. Today's column is a sharing of the essence of that engaged evening happened at the Postgraduate Institute of Management (PIM) with the ample presence of preachers and professionals alike.


Overview



Scientists say that the universe is over 13.8 billion years old. A human being may life maximum up to 100 years except for a few occasionally exceeding individuals. In essence, we are "spiritual beings" having a "human" existence. We would have been an energy form before we were born and we might again be another energy form after we pass away.

Multiple religions have multiple interpretations of what happens during pre-birth, live and post-death. The fact remains that it should be something common where different "labelling" give different meaning to perhaps the same reality.

Spirituality is different to being religious. You can devotedly visit all the religious places in the world but if you do not demonstrate values in your action, you are not spiritual yet. Being spiritual is essentially maintaining three connections. They are: connecting to self, to others and to the universe (higher being).

In moving beyond religious boundaries towards having a meaningful dialogue about you and others can provide multiple benefits. It will make you to be a better practitioner of your own religion at the same time, to be a better perceiver of what the other's religion is all about. Such an approach is only possible with one being humane in respecting others and understanding the similarities as well as differences. Sad to see how badly we lack this empathic approach in the modern-day society where the superiority and dominance have paved way for confusions leading to conflicts.

In such a context, having an engaging dialogue among practitioners of different religions who are like minded in moving beyond the "ritualistic rivalry" towards an "enriching encounter of truth" as a caring community is of utmost importance. Deepal Sooriyaarachchi has captured a collection of his authentic experiences of being a partner of an inter-religious dialogue. 'Living Together' is the apt title given to that volume of valued thought sharing.


'Living Together' in a nutshell

According to Deepal, it all began with meeting "right person at the right time". As he describes: "After attending a funeral of a distant aunt of mine I stayed with her children – my cousins – for a few more days. This gave me an opportunity to visit the nearby Rockhill Hermitage situated close to Kandy. There I met Ven. Olande Ananda, a Buddhist monk from Holland. The casual visit was, for me, a new beginning. It was the start of a lifelong engagement in Buddhist meditation."

Ven. Olande Ananda was one of the members of the inter-religious dialogue that shaped the attitude and aptitude of many lives.

As Deepal further reminiscences: "When the Dialogue group was meeting in Sri Lanka it was just after the Black July of '83 which saw communal riots in here. A politically-motivated program that went out of hand causing so much destruction and pain. I saw some of it first-hand in Colombo and this calamity made me realise the urgency with which the world should move towards understanding each other. Religion being one of the strongest self-identifications it is a main cause of division of society. It is not the religions per se that causes these conflicts but the various manifestations and interpretations of them in the hands of the followers. It was this understanding that drew me into the Dialogue process at the beginning."

As the compilation of the experiences loudly say, "More I approach the faith of my neighbour from his/her point of view I can feel for him/her, a feeling that goes beyond intellectual understanding."

"One of the most important teachings of Buddha is where he compared his teachings and the practice of it to the use of a raft to cross the waters, and his advice was not to carry the raft because it helped to cross the river," observes Deepal. "I still know I need the raft but the Dialogue experience taught me the dangers of carrying the raft around, moreover trying to own it."

'Living Together,' in my view involves three inter-related interactions, viz. going together, growing together and glowing together. Deepal in his book has attempted to capture the evidences of all three engagements.


Going together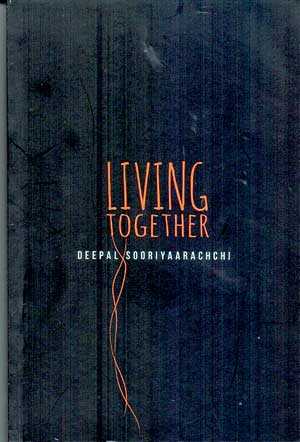 A journey of a thousand miles starts with one step. The initiator of the inter-religious dialogue where Deepal was a member, was Reinhard Von Kirchbach (13 May 1913-20 March 1998). He was a pastor of the Lutheran Church in Germany.

As Deepal observes, Reinhard would have felt that it was his inner calling to explore this particular idea of an inter-religious dialogue. He was influenced also greatly by the French philosopher, Jesuit priest Teilhard de Chardin, who promoted the idea that the evolution is a directional process where creation unfolds in cosmic changes.

"It is through this understanding only we can reach the new way of living that is needed for the complex, over-crowded, over-informed world of today," observes Deepal. This in Reinhard's words is "at the same time, it is imperative to listen to the life voice of one's fellow being, to perceive his vocation and his message, to comprehend it and not to close one's mind to the foreign life horizon and its implications."

As shared in the book, Reinhard's initial sketches of his passionate project speak volumes of his lofty ideals:

"We have been living for quite a long time on this earth in a kind of a coexistence of which we are now more or less aware. This coexistence is essentially characterised by three features – one, a scarcely or superficially questioned, naturally presupposed dominance of one's own position, two, an only very blurred perception of other positions, and three, the inability to identify oneself as being part of the 'single mankind' on this earth."

"With respect to the specifically religious domain and to "weltanschauung" (a comprehensive view of the world and human life) we are still at the start," observes Reinhard. His noble initiative paved way for several key practitioners representing all major religions in getting together in search of true value of life.


Growing together

According to Deepal, to understand Reinhard's initial thinking, the following lines he had written in the original project proposal are useful:

"I beg you

To be with me

A place

Where the fire can dwell

I beg you

Not to retreat

When the fire is burning us

I beg you

Not to retreat

When the fire is burning us

I beg you

To wait with me

In the fire

For one another"

In fact, the fire ignited by Reinhard continues to ignite the inter-religious interaction. It has paved way not only to go and grow together, but to glow together as well.


Glowing together

The reflections representing all major religions at the book launch revealed the realms of "glowing". There was a clear coherence in their messages where all spoke of the beauty of a multi-religious society as opposed to a mono-religious society. This confirms the trials and triumphs of the dialogue community, the way the book reveals:

"In the years which followed he met the same fairly constant group of Hindus, Buddhists, Christians and Muslims and occasionally Jews, too, at fourteen of these gatherings in Europe and six countries in Asia. They lived together, meditated and took part in the religious life of the faiths of others; they talked, studied, celebrated, worked and relaxed. In so doing, these partners in Dialogue, men and women, exposed themselves to painful as well as encouraging proceedings."

Of course, it takes courage to participate in rituals of another religion, and it needs more courage to move beyond to understand and to appreciate the diversity. Deepal poetically captures this rich reality:

"We walk on the

land of truth

with the shoes of ignorance

covering our feet.

so we do not

feel the Truth

that is always under our feet

remove the shoes and

and you will feel the Truth

which sometimes

hard and full of thorns

and sometimes stinking and full of mud

Still the beauty remains beyond of what that is TRUTH"

Way forward

One may wonder how relevant the "living together dialogue" is for busy business executives. In fact, Deepal as a young business executive had join the group at the tender age of 24. It reminds me of what Jim Collins shared in his book, 'Good to Great'. Great leaders demonstrate professional will and personal humility representing a strong value base. In current turbulent times, decision makers have to demonstrate synergy in uplifting ethical behaviour on all fronts. Moving beyond mere religious rituals towards a broad understanding of multi-faceted truth will undoubtedly shape managers, administrators and leaders alike as better human beings.

(Prof. Ajantha S. Dharmasiri can be reached through director@pim.sjp.ac.lk, ajantha@ou.edu or www.ajanthadharmasiri.info)