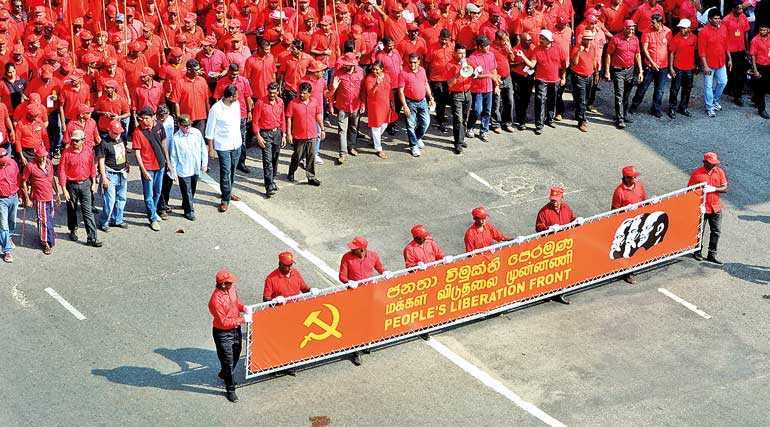 Although the traditional vote banks of the two contending factions, the UNP and SLFP cut across communal and religious boundaries, they lack the sincerity and honesty to treat all communities equally. This is where JVP can rise to fill the vacuum – Pic by Shehan Gunasekara
As Sri Lanka moves toward a political show down between the UNP and SLFP/SLPP traditional political rivals, there is a third force with great potential strength emerging as a decider in any final outcome, provided that force remains united.

By this I refer to the combined strength of JVP, TNA and SLMC/ACPC parties. There is certainly no common program or policy that brings them together at the moment, but the current constitutional crisis that has derailed the functioning of democracy in the country, and the role these three have played so far in preventing the realisation of a constitutional coup engineered by an erratic president, must have made them realise that in their unity lies the survival of democracy, justice and peace and prosperity of this paradise island. It is worth exploring the possibilities for a closer alliance among these three groups and provide a third alternative for a beleaguered electoral public.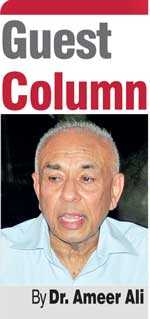 A common economic program must be worked out that would provide a solid foundation to such an alliance. Some lessons from the past can become useful in designing such a program. The tradition of cooperative movement is still not dead among the Jaffna farmers. The cooperative movement can be revived and reintroduced on national level as a means of not only bringing together the toilers of this country but also adding a human face to the current predatory market economy. The tradition of market gardening and cottage industries in the Jaffna peninsula and peasant farming handicraft industries in Sinhalese villages can be linked through the cooperative movement.

Also, the linguistic link between the Tamils and Muslims must be strengthened further but without its religious parochialism. The Muslims and Hindus should work hard to move away from their foreign injected religious zealotry. If this can be achieved there can be common ground between the two communities for some form of political devolution, particularly in the Eastern Province.

The JVP of today is not the JVP of 1970s. It has grown out of its initial revolutionary political delinquency and evolved into a matured national democratic political party looking for support across all ethnic and religious communities. It is essentially patriotic in outlook but pragmatic in approach.

Although the JVP's vote bank is based chiefly in the Sinhalese electorates, it is trying hard and with some success, to reach out to the Tamil and Muslim voters also. With a manifesto that prioritises solutions to minority grievances and the nation's economic woes JVP could present an alternative platform attractive enough for disgruntled Tamil and Muslim voters who have so far seen no tangible benefits from backing their ethnic parties. Obviously, there are enough hurdles to overcome.

First of all, TNA and its Tamil rivals, including Wigneswaran's yet to be formalised new party, have to accept the reality and realise that bargaining with either of the two main Sinhalese dominated parties without the support of Muslims and a critical Sinhalese mass is not going to yield them any substantial outcome for their demands. The international pressure they hope for is a mirage. They can forget about India ever coming to their assistance in time of crisis.

Likewise, Muslims also must realise that both SLMC under Hakeem and ACPC under Bathiudeen are only a coterie of self-motivated individuals conveniently operating as political parties without any coherent philosophy or program. Because these two groups are primarily Muslim focused they lack a national vision and their leaders rarely express their parties' views on national issues. Their only program so far seems to be winning maximum personal benefits from the ruling power. In fact at the last elections only one from the two groups, the MP from Eravur, contested under SLMC ticket and won. All others entered the Parliament either through the UNP or through backdoor.

Their informal alliance with the Yahapalana Government could not protect the Muslim community from recurring episodes of racially-motivated violence. It only goes to prove that the strategy of party-hopping by Muslim MPs in return for personal favours imperils the life and survival of ordinary Muslims, particularly in the current environment of simmering ethno-nationalism.

This being the case both minorities need a critical quantum of Sinhalese voice that speaks for everyone irrespective of language, religious or ethnic differences. The two national parties have developed the art of addressing the Sinhalese and Tamil audiences with forked tongue. What they say to the Sinhalese is not what they say to the Tamils and Muslims. This is why the minorities need a Sinhalese voice that tells their side of the story to the Sinhalese masses also.

An attempt to do this was undertaken by the leftists in the 1950s and 1960s and particularly by the Lanka Sama Samajists. But Tamils and Muslims never supported them. While the former chose to go behind their own ethnic parties, the latter alienated the Tamils and alternated between UNP and SLFP in search of preferential treatment. Both have reached a dead end at the moment. Time has come to rethink their strategies.

Although the traditional vote banks of the two contending factions, the UNP and SLFP cut across communal and religious boundaries, they lack the sincerity and honesty to treat all communities equally. This is where JVP can rise to fill the vacuum.

Unlike the leftists of yesteryear, today's JVP has a rural Sinhalese Buddhist base. The voice that speaks on behalf of all Sri Lankans including the minorities from such a base has a greater chance of receiving acceptance than the one that comes from an urban milieu. If the minorities can realise this fact and forge a closer alliance with the JVP, their prospects for a peaceful and prosperous future would look promising.

The strength of that informal but formidable alliance has already been demonstrated in the current constitutional drama. A formal coalition among them may lead to a Third Way in Sri Lanka's hackneyed bi-party politics.

(The writer is attached to the School of Business and Governance, Murdoch University, Western Australia.)