In some instances, as in the case of aspirant Sajith Premadasa, he has openly and repeatedly said he will contest the Presidency although his party has not selected him and neither has he asked for the nomination from the party. The political party he belongs to and of which he is the Deputy Leader, seems inconsequential to him
---
"Whatever anyone says, I will contest the Presidency" – Sajith Premadasa
Are presidential candidates chosen through a democratic process?
Aspirant Sajith Premadasa has openly and repeatedly said he will contest the Presidency whatever anyone says. His party has not selected him and neither has he asked for the nomination from the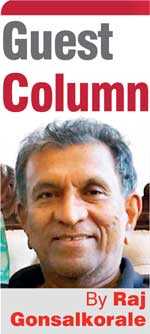 party. One could interpret that he may contest whether or not his party gives him the nomination. His strategy might be to put enough pressure on his party hierarchy to nominate him, and getting the nomination by virtual stealth.

So much for democracy within his party and the culture of democracy in the country!

Sri Lankans vote periodically at different levels of political governance. This is a very positive characteristic of democracy in Sri Lanka, and many countries in the world where citizens do not have such a right would be envious of this democratic right Sri Lankans have. This is an unconditional expression of something very positive in the country's democracy. Local governments change, provincial councils change and the national Parliament changes and the President of the country changes, or they all have the potential to change when citizens vote.

We need to question though, particularly after 71 years of independence, whether this practice of voting has advanced the wider meaning of democracy beyond changing a government or any other governance body. We say that the supreme power is vested in the people and exercised by them directly or indirectly through a system of representation usually involving periodically held free elections, but one has to question whether such supreme power does exist, and if so, with whom?

In particular, in between voting times, do these supreme lot of people have any supremacy or power over the representatives they have sent to the different governance chambers? Is there a process of consultation?

In its broader meaning, democracy does or should also mean that decision making happens after discussions and arrival at some consensus. A democratic decision involves consultation with and consent of all those who are affected by that decision. Admittedly, this is easily said than done when it comes to decision making by governments on policy matters. The party political system acts as a barrier to such consensual decision making and overall, while those opposed to a party in power presents their arguments, criticisms and even constrictive suggestions, these are often ignored and considered posture making to gain some political mileage.

When it comes to selecting Presidential candidates, the party membership of the political parties has no say in whose is chosen. At best, at a convention of the party, a ritualistic show of hands may be done to demonstrate the 'democratic' nature of the selection.

In some instances, as in the case of aspirant Sajith Premadasa, he has openly and repeatedly said he will contest the Presidency although his party has not selected him and neither has he asked for the nomination from the party. The political party he belongs to and of which he is the Deputy Leader, seems inconsequential to him. One could justifiably ask why he remains in the party that is of no consequence for him.

In the case of Gotabaya Rajapaksa, former President Mahinda Rajapaksa basically made the decision although some consultations reportedly took place amongst party seniors. A process for his party to have a say in his being selected as the candidate has not been very apparent.

Broadly, Sri Lanka does not have a system in place for consulting the rank and file of party membership on party candidatures at any level of political governance. More than ability and strategic thinking and being across community issues, money, connections, particularly family connections, and who one knows rather than what one knows, seem to be the criteria that gets a person a nomination.

If the country is to move closer to the broader definition of democracy where decision making involves consultation with and consent of all those who are affected by that decision, the party system as it exists today will have to change as it is rigid and polarising and decisions are based on party lines and not the broader interest of the community.

No doubt the processes of consultations have been encouraged and practiced by some leaders, although the general dictum that alternate points of view expressed are demonstrations of opposition to the governance entity still seems to prevail. You are either with us or against us seems to be the pervading principle.

The candidates at the next Presidential election, and thereafter at the next general election, have an opportunity to express their views about what they think about the broader definition of democracy and how, over time, the country could move towards the objectives of that broader definition. They could talk about changes to the political culture and methodology of selecting candidates. They could also initiate a discussion on how governance should be about what is right and not what is politically expedient. They could express their views about political party priorities and imperatives, and the country's priorities. They could explain their point of view about which is more important, the State or the government. They have the chance to make a new beginning.

Some may be of the opinion that these are esoteric 'good to have things', understood and appreciated by a few, and they are abstruse to most people. This might well be true, although if this is indeed the privilege of a few, and the majority are content with the status quo, then the semi authoritarianism of the status quo should be accepted as what is best for the country.

Why is there a reference to semi authoritarianism here? Authoritarianism is defined as a form of government characterised by strong central power and limited political freedoms. Under an authoritarian regime, individual freedoms are subordinate to the state, and there is no constitutional accountability.

It follows that semi authoritarianism will have somewhat diluted, to a lesser or greater degree, versions of this definition.

As discussed, the democracy in Sri Lanka is by and large limited to the periodic vote when the master become the servant, only for the role to change rapidly after the election. There is strong central power with very limited sharing of power with other governance entities. There is basically no one amongst politicians at any of these levels to whom one can make a complaint and get any local issue addressed. There is no electoral representation of voters in a geographic area as the system in place elects political parties or independent groups to govern the political institution. Effective individual freedom is expressed only at the time of voting and not after.

While individual freedoms have not been curtailed, and since the advent of the current government, restored to a greater degree than during the previous government, the expression of effective political freedom to influence policy development and implementation has not materialised and not available to citizens as the system in place does not afford such an opportunity.

It is time to talk about changing the systems of governance and processes in place to elect representatives who will directly or indirectly exercise the supreme power vested in the people, not only through periodically held free elections, but also in between elections. Currently, the representatives assume supreme powers once they are elected, based on the assumption that being elected, by any means, gives them the authority to exercise such supreme powers.

The current methodology of selecting candidates dilutes the accountability they have as they do not go through a process within their respective political parties. The political party is just a vehicle to get them from point A to point B. They take the stand that they are accountable to the people once they are voted in. This accountability is tested only at a future election, and it is common knowledge they are not always re-elected on the basis of passing the test of accountability.

This system has resulted in an ever widening gap between the elected and the electors, and a loss of confidence in the political process and political institutions. If this trend continues, it may not be long before the country moves from semi authoritarianism to authoritarianism.