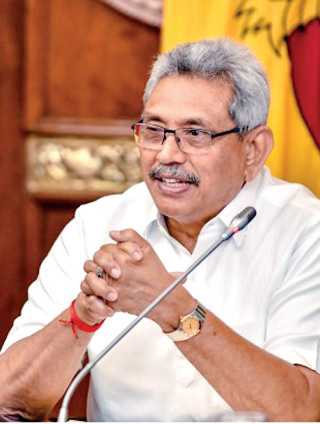 Delivering the President's plan and aspirations is a more difficult and a bigger challenge than managing a global multinational. However we do not see management arrangements that match up to the challenge and unless this is rectified the President will in due course be a very disappointed man
---
Pursuing and accomplishing the President's objectives and aspirations is a huge and complex task.

Stirring exhortations calling for commitment to deliver his plans is like rattling stones in a tin. They only produce noise. Unless he creates a good management structure supported by good processes he is not likely to achieve all his plans and aspirations. At best it will be like a patchwork quilt of many colours. Some achieved, others partly to varying degrees and some not at all.


Good management

Any well-managed major private sector corporation pays considerable attention to developing and using the most appropriate management systems. The best managed companies are the major global multinational corporations.

I have worked for two global multinationals, Shell Petroleum, and was on the Main Board in UK of Reckitt Benckiser, which is a top 100 company. I also worked seven years for the Government of Sri Lanka in various roles as a Chairman, a Director and Senior Advisor. Combining these two pieces of experience which encompass the chaos of our public sector and the orderliness of the multinationals, I thought it will be interesting to reflect on the challenge of implementing the President's plans and aspirations.


Conclusion

To illustrate the magnitude of the challenge I will start with a conclusion. Delivering the President's plan and aspirations is a more difficult and a bigger challenge than managing a global multinational. However we do not see management arrangements that match up to the challenge and unless this is rectified the President will in due course be a very disappointed man.


Multinationals

They manufacture and market the same range of products in every country. The variables from country to country (and they are significant) is the competition which can be different, the channels of distribution will be different and of course the language and culture will be different in the different countries. However, notwithstanding all of that, in some ways it is a case of doing the same thing in many different countries.


In comparison

In Sri Lanka there is no such comfort. The State-Owned Enterprises which the President wants to rejuvenate (and not sell off to the private sector) are all very different. The sectors which are managed by the State such as health, power, water roads and major infrastructure are all so different.

I know from my experience working for the Government that generally ministers have had no business experience. They have not won elections because of their proven track record in business. They have been appointed because of their proven track record in politics. Pursuing the President's plans with ministers with no business experience is a daunting challenge.

The tasks assigned to the State ministers are wide ranging, including batiks and brass and electric fences. The State ministers, with a few exceptions, have come up the ladder of Local Government politics and are babes in the wood when it comes to developing and pursuing business-oriented activities.



The challenge

The President is an action man. He wants results.

At present that is an aspiration. The question is, what is the best business model to get the results he wants? The answer arguably is to look at how the multinationals run their businesses although our activities are very different and to adopt the key features of the multinational model. There are three key features in the multinational model.


Individual responsibility

The most significant feature of the multinational business model is that the responsibility for making plans and implementing them vests in one person, the chief executive of the organisation. This concept of individual responsibility percolates down through the whole organisation.

There are some crucial subtleties that gives strength to this concept of individual responsibility. The chief executive derives his absolute authority only when he sits in committee with his management team. The logic of this checks and balance approach is that he makes his decision after being exposed to the views of his direct reports who constitute the management committee. After that it is his decision, no votes, no questions. The chief executive's direct reports follow the same pattern of individual responsibility when sitting in committee with their direct reports. This concept of individual responsibility percolates right through the organisation.


Process oriented

Multinationals are very process-oriented businesses. There is a process for everything. For example, there is a process for evaluating the performance of an individual, for calculating the return on capital expenditure, compiling a marketing plan, developing an advertising plan, for the annual business plan, etc. Everybody in the individual businesses around the world follows the same processes.

The processes are just good business processes and there is no magic about them and any good management consultancy could set them up for any business.


Monitoring

Rigorous monitoring is another key part of the management model. The basic working process is to quantify and calendarise all activity that can be quantified. There is therefore a calendarised plan for sales, marketing expenditure, all elements of fixed costs, capital expenditure, cash flows, etc. There is a timetable for all periodic review activity, like risk analysis, human resources, etc.

All activity is monitored and reviewed weekly.

This makes the managing of a business a well-structured exercise. As a Group Director I would talk to all the chief executives of the various businesses once a week. We will both be looking at the same thing on the computer screen. If performance was falling behind budgets I would ask the person to send me an email within a week setting out how he was going to resolve the problems to back on track.


Adopting the multinational model

The three prongs of the multinational model can easily be adopted in all the State-owned business enterprises. The concepts can also be adopted in managing infrastructure projects. All activity can just as easily be calendarised and the financials can also be calendarised with major infrastructure projects. I might add that this was done very successfully when we had a monitoring unit during a previous regime.

The huge collection of activities handed over the State ministers can also be brought into this process in a two stage manner. They must identify what they wished to do to develop their area of responsibility. For example, the State minister responsible for batiks must after discussion decide upon what specific activities will be carried out to develop batiks. All such plans .can be formed into a project with a series of calendarised activities.


The President has tried

He will be particularly disappointed as he has taken many steps to create what he believes is a good model. He put in place a management recruitment process for staffing the State-Owned Enterprises and recruited many from the private sector. He took away from ministers what they looked forward to when appointed which was to making new appointments to pay political debts and to appoint relations.

The President said 'thou shall not remove any that I have appointed'. What a killjoy, they would have said, and probably bleated that it was unfair to take away this joy. But he was firm and has not retracted. This has been a curse in the past with all governments. Regardless of whether they were good or bad persons, incumbents were removed when new ministers were appointed. I know this game well, I was removed five times during my spell of seven years working free for the Government!

He has created State ministers with responsibility to perform specific tasks and he has made financial provision to support the State ministers. These are all tokens of good intentions.


What is missing?

The crucial piece that is missing are the three prongs, a move away from group responsibility to individual responsibility, good standard management processes across the board, and a robust monitoring system.