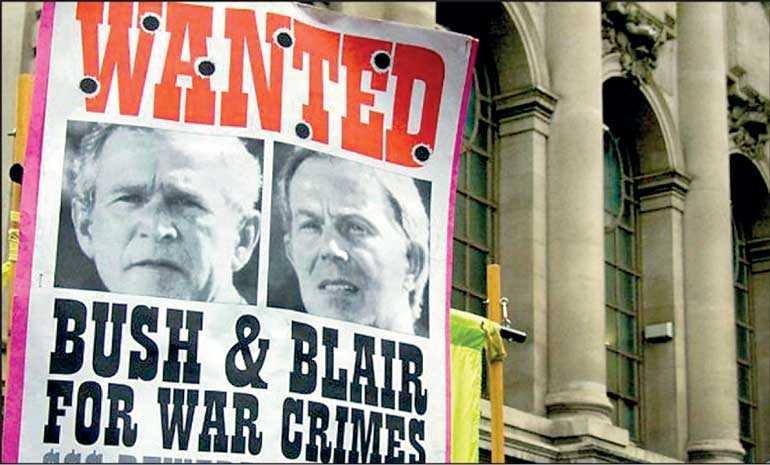 Bush and Blair branded as war criminals
---
Did Britain write ICC report on its own war crimes?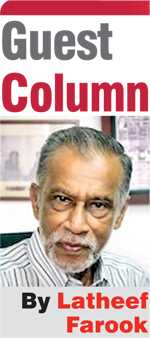 Netherlands-based International Criminal Court, ICC, has announced on 9 December 2020, its decision to close the preliminary examination into war crimes by British troops in Iraq between 2003 and 2009.

United States and Britain, backed by Jewish lobbies in the west, invaded Iraq in 2003 – an almost developed country, accusing its tyrant Saddam Hussein of manufacturing weapons of mass destruction.

This was proved false. However, US and UK sold this lie to hoodwink the world to invade and destroy Iraq to plunder its oil wealth and gold resources. Destruction of Iraq also ensured the security of Israel – an entity planted by Britain and US to destabilise Middle East.

During the invasion the entire country was bombed and destroyed. Modern infrastructure built with oil wealth virtually wiped off. Millions of people were slaughtered and others driven to refugee camps where most of them still languish in appalling condition. Gulf Sheikhs and other tyrants such as Egypt's late Hosni Mubarak were active partners in the war crimes.

Both US and Britain have committed war crimes. In view of the growing international pressure the ICC, created in 1998 to investigate and prosecute those responsible for genocide and war crimes, started probing into British war crimes.

In the context of war crimes committed by British forces in Iraq, the UK has not secretly shielded its high-ranking personnel from accountability, but done so in a blatant and aggressive manner. It has attacked those representing Iraqi victims and witnesses with the aim of destroying the evidentiary value of their testimonies in an unprecedented approach that it continues to pursue across a range of cases even today.

Its report confirmed that members of the British armed forces committed war crimes of wilful killing, torture, inhuman/cruel treatment, outrages upon personal dignity, and rape and/or other forms of sexual violence Further, it found that "several levels of institutional civilian supervisory and military command failures contributed to the commission of crimes against detainees by UK soldiers in Iraq".

In a 184-page report, ICC prosecutor Fatou Bensouda's office laid out the findings of its preliminary examination and announced the case would now be closed and no full-scale investigation would be launched.

As a result, the ICC has failed to break the cycle of states shielding their own and getting away with war crimes. Created as a criminal court to close the impunity gap and hold responsible high-ranking officials to account, the ICC has let the British off the hook.

Bensouda admitted that this was not simply a case of a few 'bad apples', but stemmed from institutional failings, saying, "[My office] further found that several levels of institutional civilian supervisory and military command failures contributed to the commission of crimes against detainees by UK soldiers in Iraq."

This decision reinforces longstanding double standards in international justice and shows once again that powerful actors can get away with systematic torture. It fails to close the impunity gap for which the ICC was created.

States will take the decision as a confirmation that an appearance of justice is all that it is required to neutralise an ICC criminal investigation and get away with war crimes and torture at the highest levels. At the end of Fatou Bensouda's time in office, the ICC took a sharp turn in the wrong direction.
In this regard Craig Murray, an author, broadcaster and human rights activist, British ambassador to Uzbekistan from August 2002 to October 2004, rector of the University of Dundee from 2007 to 2010, had this to say in an article: The International Criminal Court's detailed report on alleged UK war crimes in Iraq is shocking, but what is truly shocking is the appalling picture that clearly emerges of the attitudes of the ICC towards a Western power.
The decision of the ICC to close down its investigation into war crimes committed by the British in Iraq is the last straw in any hope that the ICC will ever be anything more than an instrument of victors' justice. I have read the entire 184-page report which closes down the investigation, and it is truly shocking. It is shocking in the outlining of British war crimes, but what really shocked me is the truly appalling picture that clearly emerges of the attitudes of the International Criminal Court.

I suspect that not only could it have been drafted by the UK government, it is very likely it was so drafted. I cannot think of anyone else, not even the current US government at time of writing, who would consider that paragraph a fair or reasonable explanation of the origins of the Iraq war.

This criticism applies to the entire document. It is written entirely in the preferred language of the invaders. Everything is seen through the British military lens.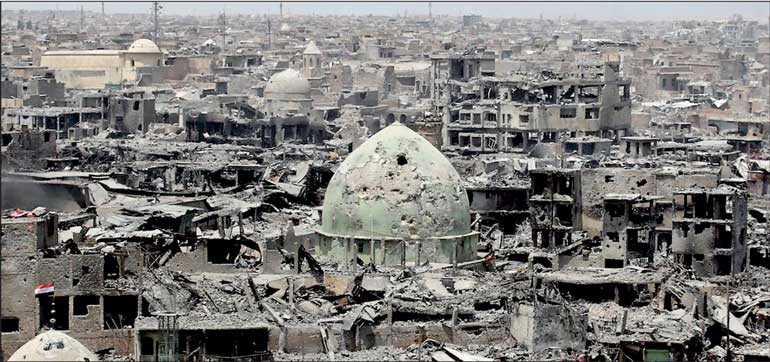 Destruction of Baghdad
---