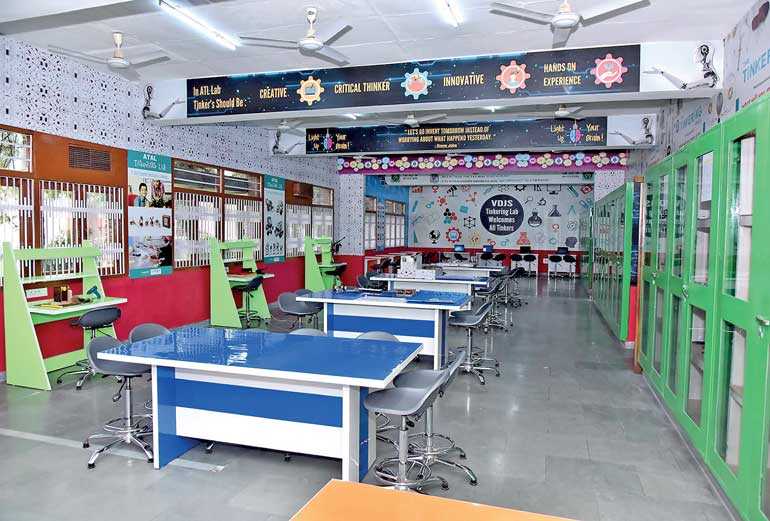 In India, as per the Atal Innovation mission, they have set themselves a task of developing one million neoteric innovators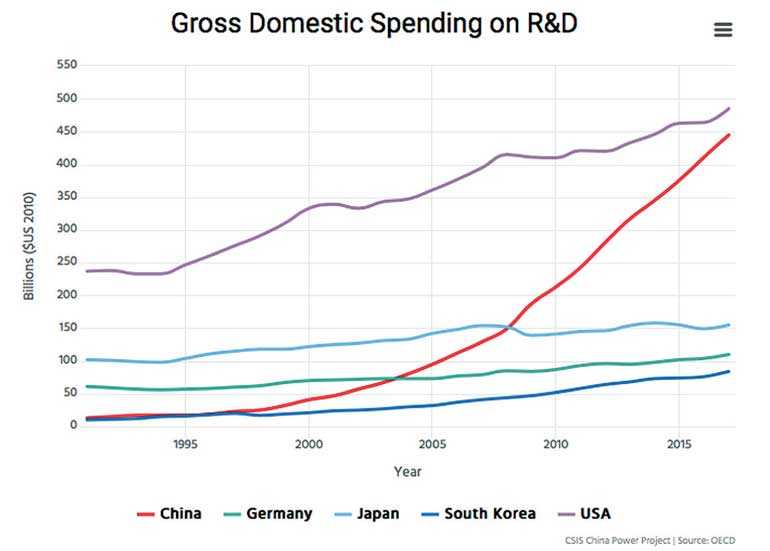 It is perhaps important to highlight the need for seriously considering an aspect that we need to embrace and embed if we are ever to transform our economy from a dependent deprived status to a one worthy of emulation. The aspect in question is innovation!

Why highlight now is because we are living through a period of intense tussle to provide a new leadership to the nation. At least some may be scouring the papers for some additional ideas! With 35 potential heads of state in the fray, the rest of us are constantly subjected to an array of exotic promises but I do not hear much of this concept as the pathway.

Considering the number and the diversity of options extended and with the resulting confusion generated, I am sure Alice would have been much more comfortable in the wonderland than we are today in this resplendent isle.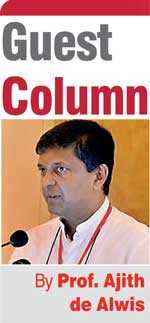 One striking feature is that no one really is doing any serious maths on any of these proposals. Even if one says that one is going to strike off loans, there is no mention of the actual commitment over quantity and many such examples are quite easy to identify.

Statements of this nature, randomly thrown in, without numbers, are really no help in decision-making and actually hide the truth. Maybe putting numbers in aiding the general thought process may be someone else's task or by the other groups but none appears to take the debate to that level – a level of excellence that we should be happy to seek out.

Are we ever ready to make a KPI of making the rupee a stronger currency in five years? Japan changed its entire economy by embracing quality after the war and did so in style in a span of five years even confounding their principal mentor – Deming! Hence so much is surely possible in five years.

Anyway at this stage what we witness and hear are proposals being dished out at seriously high decibel levels and it looks like after 71 long years of independence we are ready to endure another similar disappointing episode of democracy in action.

Producing scientific discoveries and technological advances result in reshaping the world. Such endeavours are essential for meaningful growth and we have witnessed this over and over again in different parts of the world. The economies where such events take place really are the dynamic economies. We have two challenges if that elusive economic development is to be sought in this manner.
Core competence

Generating a crop of individuals and organisations with forging new pathways with or without partnerships as the principal mindset is the first. I would relate to cloning and emulating Elon Musk and 3M in this first step. Remember Peter Drucker the management guru clearly indicated innovation is the core competence that an organisation should have.

The second step is transforming the background culture to a supportive and a believe-in-oneself eco-system. I know that I am asking a lot, but a truly distinctive change cannot come by simple sissy initiatives of little or no meaning. A definite destruction is likely to happen when only falsehoods are uttered without an iota of sincerity.

We see neighbouring India seriously priming innovation for growth with all the intentions of heralding a new India. Anyway Modi India has identified to uplift India to be among the top 25 countries in the Global Innovation Index. This year they have jumped up five places to be placed at 52nd.

In India, as per the Atal Innovation mission, they have set themselves a task of developing one million neoteric innovators. The Government of India has setup the Atal Innovation mission with Niti Aayog, which is the policy think tank of the Government. As the mechanism of achieving this end, Atal tinkering labs are being established in school areas across India and this process is driven by the India STEM foundation. The expectation is to create an environment of scientific temperament, innovation, spirit of curiosity and creativity amongst Indian students. This process is top-driven and resources have been allocated. Multiple programs in supporting innovation are taking place in India.

The other global super power China has almost established now as one of the top intellectual property applicants. They have systematically nurtured innovation. It is simply mind-boggling from our economic and institutional position to understand that today's China is spending $ 442.7 billion on R&D, coming second only to USA. Compare this number with Sri Lanka where the primary allocation for Science and Technology is Rs. 4.1 billion. Here I am indicating the relevant ministry allocation but that is the prime allocation for this sector. You may remember to what I once related that value as equivalent to if you are used to reading this column!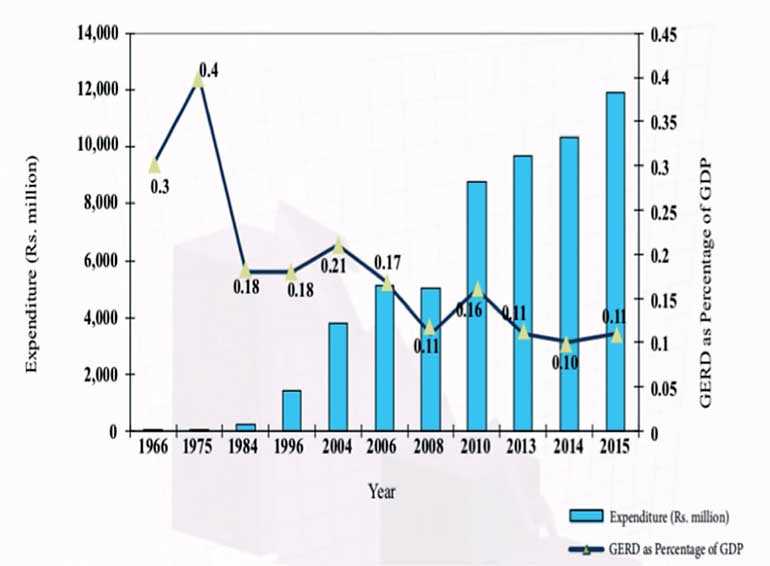 A knowledge economy

In parallel with innovation a knowledge economy, an innovation economy as concepts have surfaced. It must be admitted that we do hear the words and the desired economic condition quite a few times from many presentations. However another confusing aspect is whether we decide on what should be done with the proper understating of the words such as invention and innovation and the corresponding value chains.

One cannot have a knowledge economy when all what you do pushes aside knowledge, especially scientific knowledge. There is no strong drive to be a knowledge generator. One may be able to list out a long list of quite disruptive events that took place in recent Sri Lanka may be spanning the last decade and relate all of them to unscientific decision making. Here scientists too may be held seriously accountable for not directing correctly as blame cannot be placed only on a particular group of people.

This list is being readied for a more analytical publication. One significant investment necessary is in research and development. Considering that one has heard knowledge economy and its imminent arrival here, one is excused if one is to air frustration over the continuous reduction in R&D allocation as a percentage of GDP.
R&D is the backbone of innovation

R&D is the backbone of innovation and this belief and the understanding is seriously missing. The picture of R&D allocations over the years indicates the story of action over statements. There has to be a significant shift in investment if we are to remedy this mistake, which we have fuelled for so long. This is no recommendation for simply pumping money but recommended with the proviso that means to ensure that return on these investments too are implemented. We must understand that at present our economic capacity to innovation had been seriously undermined due to unimaginative policies so far.

We have a world record making public sector and there are plenty of State owned enterprises (SOEs). We speak and hear of SOEs with significant losses and thus definitely draining the State coffers. However when examining their titles and mandates it is actually surprising to think that they make losses. In fact scientifically thinking and performing almost all should be making money. It is equally difficult to understand how so many years of loss making have continued and with no end in sight.

All these point to a lack of an innovative approach in problem solving. We can benefit from multiple ways of innovating and that understanding awaits. Ending for this week again Peter Drucker comes to my mind – Only three things happen naturally in organisations – friction, confusion and underperformance. Everything else requires leadership. We are in search of one now! One who passionately believes in innovation as well!