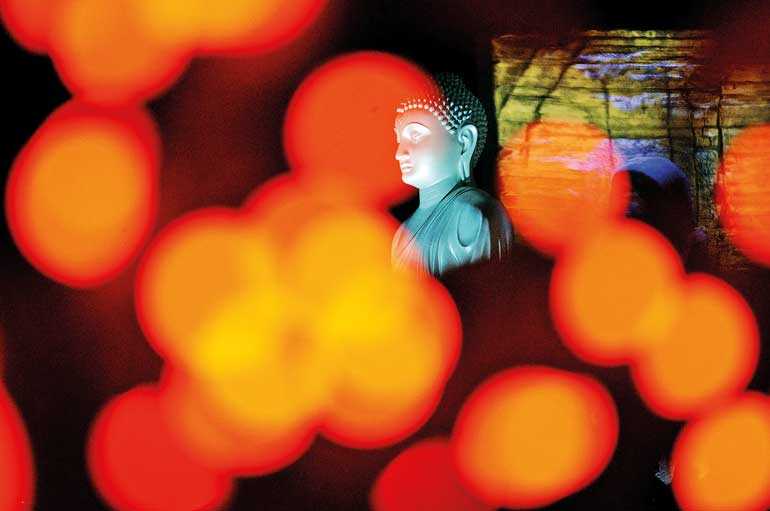 The Buddha said: "Not by birth is one an outcast; not by birth is one a Brahman. By deed one becomes an outcast, by deed one becomes a Brahman." The Buddha welcomed many an outcast, ordained them and accepted them as equals to the bhikkus with the origin of high castes of Brahmana and Kshastriya. That was a revolution at that time – Pic by Shehan Gunasekara
Recently Reginald Cooray, the Governor of the Northern Provincial Council, was appointed Governor of the Central Provincial Council. However within a day the appointment was cancelled and he was reappointed Governor of the Northern Provincial Council. It was reported that this happened due to the pressure of the prelates of Kandy to remove him from the post since he was a non-Kandyan and because of his caste.

The Buddha has refused the concept of caste which was deep-rooted in Indian society at that time. In Uragavagga of Sutta Nipata of Khuddaka Nikaya, there is a discourse of the Buddha called Aggikabharadvaja Sutta or as popularly known Vasala Sutta. When Aggikabharadvaja told the Buddha who was approaching him, "Stay there, you shaveling, stay there you wretched monk, stay there you outcast," the Buddha explained to him the ways one can become an outcast.

Finally the Buddha said: "Not by birth is one an outcast; not by birth is one a Brahman. By deed one becomes an outcast, by deed one becomes a Brahman." The Buddha welcomed many an outcast, ordained them and accepted them as equals to the bhikkus with the origin of high castes of Brahmana and Kshastriya. That was a revolution at that time.


A betrayal of Buddhism



After the decline of Buddhism during the Kandyan era and the country lost higher level of ordination – Upasampada – which was coming from the teacher to the pupil, then King Kirthi Sri Rajasingha following the persuasion of Weliwita Sri Saranankara Thera invited the King of Siam for revival of Upasampada in Sri Lanka. This was accepted and in the year 1753 Upasampada was re-established in Kandy by Siamese monk Upali Thero.

A decade later in 1764 a Bhikku from a caste down in the hierarchy tried to worship the king. Then the king ordered not to ordain persons from the castes down in the hierarchy. Hence in that year it was established that only persons from Govigama caste would be ordained. This situation created displeasure and outrage among the members of the other castes.

In the year 1800 the Amarapura Nikaya was established in Balapitiya of the South by Walitota Sri Gnanawimalatisssa Thera of Salagama caste. Ramanna Nikaya was established in 1864. Amarapura Nikaya is having several sub Nikayas and the basis of their division is the caste.

Therefore the basic structure of Buddhism in this country is against Buddhism. This is disgraceful, to say the least. However we continue to carry on this disgracefulness and on top of that there are bhikkhus who actively promote racism. This is nothing else but a betrayal of Buddhism.


Evident in Sri Lankan politics too

This is evident in Sri Lankan politics as well. All the Presidents and the Prime Ministers of Sri Lanka were Sinhala Buddhists. All of them belonged to Govigama caste with the only exception of Ranasinghe Premadasa.

We had two Sri Lankan Governor Generals and one of them, Oliver Goonetilleke, was a Sinhala Govigama but a Christian. We did not have any of the females coming to the helm independent of their family backgrounds. S.W.R.D. Bandaranaike and J.R. Jayewardene were Christians and later became Buddhists. This is the Sinhala, Buddhist, Govigama, male hegemony of Sri Lanka.

The Dudley Senanayake Government in 1960 was defeated in its first Throne Speech and there was a chance for the Opposition Leader C.P. De Silva of Salagama caste to form a government. However it was reported that Governor General Oliver Goonetilleke decided to dissolve the Parliament and call for general election since he did not want a person of Salagama caste to become the Prime Minister of the country.

The speech made by President Ranasinghe Premadasa at Pattirippuwa of Kandy soon after taking oaths was a kneeling down of the empty, arrogant and non-Buddhist bhikkhus of Kandy.


Caste system in Sri Lanka

The caste system is prevalent among Sri Lankan Sinhalese, Sri Lankan Tamils and Tamils of Indian origin. The British brought the plantation workers from the lowest of the caste hierarchy of South India. However the managerial levels were from the higher castes.

In early 20th century what was important was caste and not race. Ponnabalam Ramanathan who retired as Solicitor General of Ceylon in 1906 and who was a Tamil Vellala was brought in to contest the 1911 Legislative Council election against Sinhala Karava Dr. Marcus Fernando by Sinhala Govigama leaders to fill the seat of educated Ceylonese. Ramanathan won with the support of Govigama Sinhala and Vellala Tamil-educated Ceylonese.

Ananda Coomaraswamy in his 'Mediaeval Sinhalese Art' written in 1956 identified 26 castes as indicated in the 'Janawamsa' in the 15th century. In Govigama caste there were several hierarchical sub-castes.

There was a unique position of Salagama caste since it was associated with the cinnamon industry, and from the mudali to the cinnamon peeler were belonging to the same Salagama caste but there were hierarchical sub castes. Salagama and Karava claim that they are of Brahmin origins of South India but when they oppose the Northern Tamils they forget their origin although Karava is having their equals Karayar in the North.

In Sri Lanka 74.9% are Sinhalese, 11.1% are Tamils and 9.3% are Muslims. Also 70.1% are Buddhists, 12.6% are Hindus, 9.7% follow Islam and 7.6% are Christians. Sinhala Buddhists are around 70%. If it is considered that 50% of the Sinhalese belong to Govigama caste 35% of the population belongs to Sinhala Buddhist Govigama. Similarly Sinhala Buddhist Govigama male percentage of the population is 17% and they yield the power.


Caste system in India

In India there are severe caste differences. People of low caste are not allowed to enter the kovils. There was a belief that they should not be touched. During the independence struggle Indian leaders challenged this concept. What is the background of the leaders of independent India?

In India the percentage of Hindus is 79.8%, Muslims 14.2%, Christians 2.3% and Sikhs 1.7%. There are various ethnic groups and the people who speak Hindi amounts to 41%; Bengali 8.1%; Telugu 7.1%; Marathi 6.9%; Tamil 5.9%; Gujarati 4.4%; Kannada 3.6%; Malayalam 3.2%; and Punjabi 2.8%.

There are seven out of 15 Prime Ministers of India who came from the states where Hindi was not the mother tongue. They were Morarji Desai (Gujarati Hindu), Gulzarilal Nanda (Punjabi Hindu), I.K. Gujral (Punjabi Hindu), Narasimha Rao (Telugu Hindu of Telangana), Deve Gowda (Karnataka Kannada Hindu), Manmohan Singh (Punjabi Sikh) and Narendra Modi (Gujarati Hindu). Jawaharlal Nehru, Lal Bahadur Shastri, Charan Singh, Indira Gandhi, Rajiv Gandhi, V.P. Singh, Chandra Shekhar and Atal Bihari Vajpayee were the Prime Ministers from Hindi-speaking states.

All the Indian Presidents other than Rajendra Prasad, Shankar Dayal Sharma and current President Ram Nath Kovind were from the states where Hindi was not the mother tongue. They were Sarvepalli Radhakrishnan (Telugu Hindu), Zakir Husain (Telangana Muslim), V.V. Giri (Telugu Hindu), Fakhruddin Ali Ahmed (Delhi Muslim), Sanjiva Reddy (Telugu Hindu), Zail Singh (Punjabi Sikh), R. Venkataraman (Tamil Hindu of Tamil Nadu), K.R. Narayanan (Kerala Malayalam Hindu of Paravan caste), Abdul Kalam (Tamil Muslim of Tamil Nadu), Pratibha Patil (Marathi Hindu – first female President) and Pranab Mukarji (Bengali Hindu).

Current President Ram Nath Kovind belongs to the "untouchable" Dalit caste and was born in a mud hut in Uttar Pradesh. The caste of K.R. Narayanan also was considered low caste. Tamil Nadu produced two Presidents of India where they have only 5.9% of population.

There were one Telugu Prime Minister and three Telugu Presidents with 7.1% of the population of Telugus. There were three Muslim Presidents and Muslims amount only 14.2% of the population. There were two Prime Ministers from Gujarat and they amounts 4.4% of the population.

There were one Sikh Punjabi President, one Sikh Punjabi Prime Minister and two non-Sikh Panjabi Prime Ministers. Sikhs were only 1.7% of the population and Punjabis 2.8%. Bengalis and Marathis produced one President each where they have 8.1% and 6.9% of the population respectively. Southern Karnataka produced one Prime Minister with 3.6% of population. What a colourful combination? What a great nation? India, I bow down to thee with profound respect.

Mahathma Gandhi once said: "A nation's greatness is measured by how it treats its weakest members." We may ask ourselves are we marching towards greatness. My answer is this: Let alone greatness, we should at least have basics.