---
In a Sunday newspaper on 5 January a news item titled 'Mega projects on hold until August budget,' 'Drop in revenue after tax reductions prevents spending on major constructions,' was not a development-friendly headline.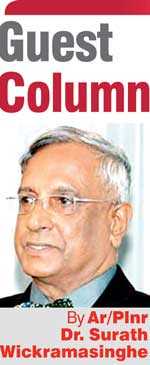 It may be accurate or inaccurate. However, if it is accurate, the decision of probably the Government is untimely at a time when the construction industry, both consultants and contractors, big and small, are finding it near impossible to pay the wages of their staff.

There are many projects already under construction, schools, hospitals, public buildings, roads, etc., if these projects are to stop work at this stage, it will be like the Port City. When you recommence the projects, the price variations, remobilisation costs, consultants/contractor's agreements being violated and penalties thereof are some of the liabilities the Government will be confronted with. Thereafter, to get the projects back on track will be a massive effort.

One option would be to continue with the work already under construction by giving the contractors comfort to hold on until August 2020 by allocating essential payments or part payments. The Chamber of Construction Industry (CCI), could come up with a formula to get over this crisis, after consultation with the consultants and contractors. At the same time, the commencement of new work could be differed until August 2020.

Alternatively, the private sector should be activated by offering special incentives besides the tax relief already given by the Government. If so, I am optimistic that this package with the appropriate publicity will boost the confidence of the private/foreign investors to commence on work already in the pipeline, and also on new projects. The Government has more to gain at this stage in offering incentives to trigger development. It happens all the time in many countries including Sri Lanka, to keep the national economy moving and giving a positive signal to the local and international business community to invest in Sri Lanka.
(The writer is an architect and planner.)