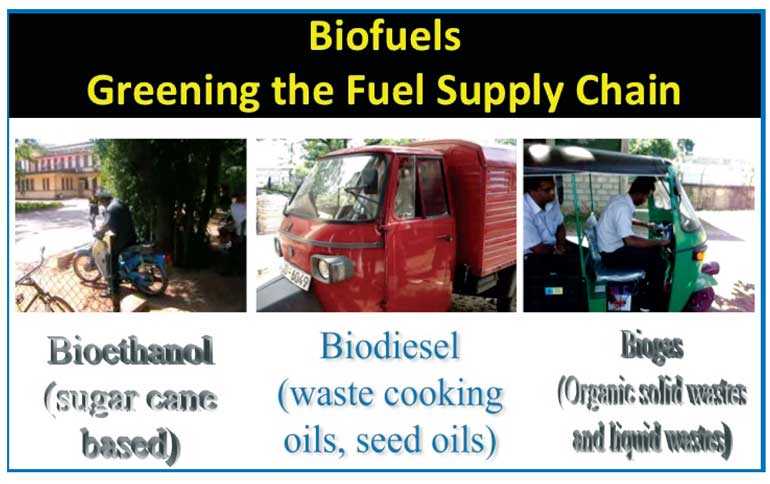 I walk pass many cars parked in multiple places in multiple ways during the course of a working day. It is not that uncommon to witness and hear of parked vehicles with someone asleep inside with the engine humming to power the air conditioner. May not be quite cosy but definitely much more comfortable than the hot sun outside.

For how many hours per day and how many vehicles across Sri Lanka may this be happening? One wonders about the amount of fuel spent in providing this experience. You may also observe many members of a family sitting inside a car or a van in this manner too while someone is out shopping. Sadly, efficiency has never being our forte in resource management and this is just one simple example.


The nation's predicament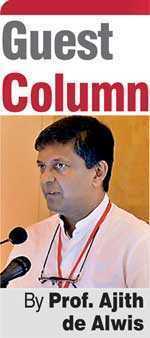 Our transport sector is powered at present by imported fuels and one observes the reaction of society as a whole when fuel prices are pushed upwards. I pose the question to myself, do we really understand the nation's predicament as per imported fuel?

There was a time when the fuel bill was almost equal or even more than the income from inward remittances from Middle East. Those who, instead of moving into a restroom spend time inside a car with engines on to get the comfort of the vehicle air-conditioner, are display a state of ignorance and a state of mindlessness.

However, you ask the same question again. The person inside the car is one person and he or she may not exactly be in a position to take a decision to impact the nation. Then you ask the question, those who celebrate lowering prices but make no serious attempt to make use of the breathing space gained to ensure that the next time around when the fuel prices go up – which is the case more likely to be, as we have been for ever burning a scarce resource – have they taken any steps to make our nation a more resilient in this direction? My answer is simply no!


Our lack of resilience

When you see the news in the papers these days, our lack of resilience is clearly seen with all sorts of threats of strike action over the fuel bill, institutions such as CPC and CEB crying out over unpaid bills and huge debts and then the threat of no fish and thereby protein on our plates, due to kerosene going up.

We have no worries over enjoying the subsidy and at times even concoct different schemes to enhance the profit margins even more. This is a scenario that is unsustainable and one day we should know the day of reckoning is surely to come. Perhaps we are now seeing the writing on the wall with the new fuel pricing policy being accepted and thereby having to factor in the possibility of price hikes quite frequently.

We should also know that political skulduggery between nations that produce and consume oil in large quantities can distort prices too and we the poor small nations only experience in a manner similar to the effect on grass when the elephants dance.

Do we have any remedies? Definitely there should be national plans and roadmaps to ensure movement is managed but in a green and a more alternative fashion. It is time that we seriously think and act on having an alternative to the mainstream.

The concept mentioned in the last budget over electrification of the fleet is a statement in the right direction though action is still awaited. I do remember when the fuel prices were skyrocketing in the 2005/06 era there was much interest and even trying to legalise kassipu to obtain biofuels.

The enthusiasm was quite high and I had the opportunity to coin the wording of 'Do not drink but blend!' (http://www.ft.lk/columns/dont-drink-but-blend/4-119767). Of course this is not a sole option that can power the entire transport fleet but most certainly an option that can serve the economy as well as health in a useful way.


Switching to biofuel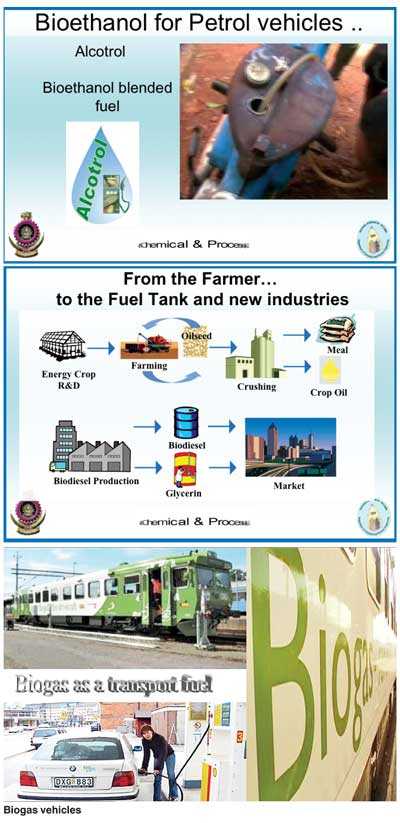 The biofuel policies were completed and the Department of Chemical and Process Engineering of University of Moratuwa was even commissioned by the Sustainable Energy Authority to develop the legal framework to support the switch to biofuels.

We duly developed the regulations with one member who had the chemical engineering background plus a law degree and biofuel experience in United States. We also worked hard on demonstrating the technical feasibility of various fuel options to free the fleet from having to depend on fuel from outside. It was technical research on demonstrating the possibility of self-reliance.

One should consider the impact of channelling even 3% of fuel bill to the country's interior. The fuel bills in 2016/7 are in the range of $ 3-4 billion and if one saves that amount, one would see this amount being spent on the internal economy as alcohol, seeds and waste are all internally processed to produce these fuels.

The figure indicates the three modes of transport demonstrated. The bike is powered by fuel ethanol sourced from Pelwatte distillery and processed to support the engine. The diesel three-wheeler was powered by waste vegetable oil from a restaurant. The same vehicle was also powered by rubber seed oil.

The other three-wheeler originally to run from LPG was powered by biomethane derived from canteen waste and plant leaves. They all ran quite well. What was not shown was the possibility of algae-derived biodiesel, which too is feasible, and a better option for biodiesel than seed based when you factor in the land constraints.

At the same time I know that our Chancellor late Dr. Ray Wijewardene ran his Toyota car with lower grade coconut oil while his other car REVA (Ray's Electric Vehicle Auto) was powered by electricity from biomass. Two of our staff members Dr. Sanja and Dr. Marliya even came up with innovations and modular constructions to produce biodiesel and applied for patents for which they still await.

To cap all these, using biofuel even the then President/Finance Minister was driven to Parliament to deliver the Budget speech, an impactful push for local fuels – which we termed as Alcotrol – by Ariyaseela Wickramanayeke!


Be more proactive

A few of us may have seen the possibilities and even enjoyed doing these. This is where the national decision-making process should be more proactive. When the world prices dropped and the pressure disappeared, these results and studies became confined to racks and cupboards. Staff members of course can seek promotions and some are no more in this country having migrated elsewhere.

I know of those who learnt biogas in Sri Lanka, being in the country at one time, becoming global ambassadors in renewable energy. We have also written about the world's first renewable energy based village that came up in Sri Lanka, which was quite successfully operated for some time, now defunct and not many even remember about it.

Why is an important question; I really would like to know an answer to this state of stalled progress in Sri Lanka even though we always faced the basic problem of cost and demand. If you resolve the problem of energy one should understand you basically solve many an issue. We appear, however, to shy away from any possible solutions and almost all the time have no serious desire to pursue an alternate pathway with the hope that if pursued with vigour that road may actually deliver us to the solution.

We certainly know the effort and the determination shown by Brazil after the 1973 oil crisis in trying to wean them away from petrol, which they succeeded through pioneering indigenous efforts. Today they have even demonstrated green aviation fuels in the same way and is a country proudly producing planes – Ipanema. As I write this column however their truckers are on strike and the nation is in a quandary over rising diesel prices.

It appears that the root of all-evil, unbridled corruption has taken serious inroads in this society too overtaking indigenous innovation and activities that may have propelled them to come to the current seventh economy status of the world. In Europe you may pump biogas to your vehicle from a service station – waste is at their service.


National priorities

Transport sector is undergoing many changes. Yet the fundamentals such as the value of public transport have not changed. The economic case for rail over road too has not changed. Moving passengers to these formats of transport and then speeding up electrification on one side and green fuels on the other should be important national priorities.

When a nation engages in this type of activities, there are much more benefits than simply finding alternative to fuels as the innovating psyche of individuals and institutions too are rekindled.