LARGER IN THE AFTERLIFE: In his life's work, the flamboyant journalist cut a swathe through the pretensions of many a political establishment. In death, it may have seemed that his egregious killers cut the carpet from under his feet. If appearances are anything to go by though, it seems that the grass is greener on the other side… a groundswell that has been there for a decade is slowly but surely giving rise to a realignment of stars, in a political movement calling for justice to be done in a murder that was seen around the planetary firmament – Pic by Ruwan Walpola
---
Why are they all here? The mournful friends and grief-stricken family. That sly fox of a phoenix-like politico. Those happy humbugs. These hysterical hyenas with their hopeful platitudes. Their hypocrisy hamstrung only by the disbelieving silence of a few die-hards stunned into aggrieved silence by their presence.



But who am I to judge? I who have been here but twice in 10 years. The first time when a few faithful believers in good governance voted for the democratic-republicans we thought would end a culture of political violence and impunity by bringing the perpetrators to book. (We were all so very wrong.) The second time today (your yesterday, dear reader). Because even when faith is dead, hope springs eternal.

And the greatest of the cardinal virtues is charity. So I shall willingly suspend disbelief in the motives and machinations of the usual suspects who haunt his graveside every year on the 8th of January. For I, too, am a skeleton at this morbid feast. Less sinned against than sinning as far as Lasantha Wickrematunge goes, and he went quite far. Come, let us lean together – we straw folk – headpiece empty.
Stop the clock – don't seek him there
This is a personal reflection. Don't look for big ideas here. As a former colleague said at this year's memorial, these – and an hour well spent lighting a candle against the continuing darkness – are 'small acts of resistance'. Even the agnostics among us feel they could count for something in the end. We gathered – we few, we unhappy few bound together by a common grief over a shared sorrow – for a plethora of reasons. They span a spectrum from collegiality and friendship to gratitude for getting us started on the road to dusty death. He was my first boss.

Some may feel it is time to stop the clock. Worse things than one man's death – the swatting of a gadfly in the side of an egregious regime – have happened to the people of our island race. Say those who have never lost a loved one? I used to think, facing the futility of trust in a seemingly trustworthy government, that it was time to let the dead bury their own dead. I would not go! never mourn again! not entrust my rage and grief to the cynosure of petty politicos like carrion by the corpse!

Let me say though, that today – all your yesterdays – I'm glad I came. There is a candle burning bright in a few that does not need to be lighted by trembling hands passing a guttering, sputtering flame to place among the flowers on the freshly trimmed grass over old soil. And it was worth a time and a half – if only to hear his princely poet of a friend say pointedly that even a few well-favoured men were welcome to let the mask fall. A blow! A palpable hit against the fat bellies of governors grown obese on the obscene complacence of being ensconced in power again!

He is not here – in a sense, he never was
And through it all – the rage, guilt, silence, tears wrung out and flung on a ground as thirsty as that which drained him of his life and the media of its lifeblood for a decade – the man smiled down (and through or beyond us). That iconic image of Lasantha, larger than life in death, was gone locked away behind the sealed offices of the Leader. But even in a miniature portrait of the original, the charming cheerful personality beamed at his friends and family and frenemies, the chief of whom – equally charismatic – has always been conspicuously MIA. This is but one dichotomy in the life of an independent editor who quite scurrilously befriended the salt of the earth and the scum of the earth. Often and in one case unusually embodied in one other person.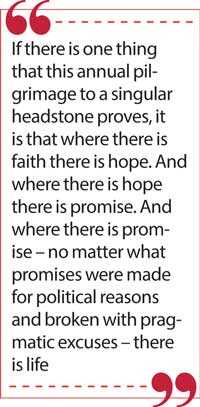 But we had not come to bury that Caesar again. The voters of 8 January 2015 did that by voting with their feet, heart, passion. Here we were to suspend for one brief moment in time all that we knew or suspected about one loveable character – boss, bully, braggart, bastion of investigative journalism, bulwark against the fall of night, best friend, buddy, brother-in-arms – and hope for the best while fearing not the worst but that nothing would happen. That we'd be waiting for justice for eternity. As his brother said via the dead man's niece, ten years can seem like a long time to solve just one crime.
And he is gone but not quite gone
If there is one thing that this annual pilgrimage to a singular headstone proves, it is that where there is faith there is hope. And where there is hope there is promise. And where there is promise – no matter what promises were made for political reasons and broken with pragmatic excuses – there is life. Today, yesterday, I heard it whistling softly through the leaves on the shade-giving tree under which I sheltered to be safe from the media circus I feared it would be. But rather than a travesty (oh, judgmental me!), it was a trial by fire… a rekindling of faith in the indomitability of spirit that this late great slain editor of ours epitomised.

He is as silent as the grave. But his voice – speaking up, out and over the tumult this truth to power – has been amplified by a growing base of genuine regret, sustained empathy and shared concern for others of his ilk. It has come to encompass stakeholders in truth and justice as far and wide as the diplomatic corps and the concerned gravediggers who gladly pointed the way to where the press's bleeding heart still lies…

So in this sign we shall conquer, I now think or feel. Not the agency of good men remnant in government or the instrumentality of widows in the larger diaspora of Sri Lankans bereaved by war and criminal minds and a culture of corruption. But small acts of resistance against well-favoured persons and fat-cats complicit in a conspiracy of silence. And though – as another editorialist has essayed – 'he never had his day in court', the verdict is slowly but surely looking like it will be delivered by a jury of his peers, pals and a people grown weary of impunity.

(Be that as it may – as LW would say – we do not rest on our spades. Shovel that dirt back in. Don't presume to bring the bodies back up again. The last time I swung by this way, the government of yore collapsed – quite coincidentally, of course. This time, like a watcher of dark skies who sees a new planet that swims into his ken, I sense a realigning of political stars in a larger firmament of which Sri Lanka has many lights in constellation. Watch this space. While he still smiles from far away)
(Journalist | Editor-at-large of LMD | Writer #SpeakingTruthToPower)