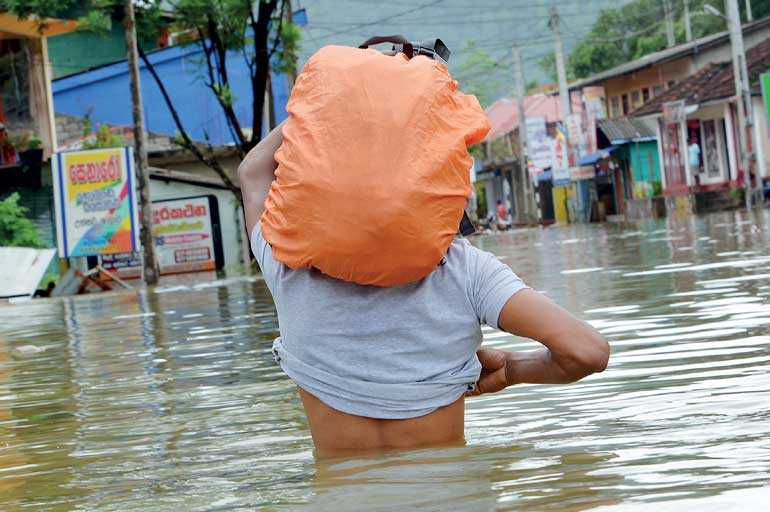 The Yahapalana Government has been singularly unfortunate in having to face many natural and manmade disasters during their regime.Almost every year many citizens have to undergo the consequences of floods in certain parts of the country whereas there has been droughts in other parts of our relatively small country.

In addition, manmade disasters like the Salawa Ammunition dump blast and the Meethotamulla garbage mountain collapse causing serious damages to both people and property have been calamitous.

It is ironical that unusual weather patterns probably due to the phenomenon of climate change has resulted in excessive precipitation causing serious flooding mainly in the so-called wet zone of the country.


Twomajor causes of floods

In my opinion there have been two major causes of floods perhaps dueto unwanted human activities. It is said that the flooding of the large rivers such as the Kelani Ganga, KaluGanga and NilwalaGanga have been further exacerbated by legal and illegal sand mining affecting the river banks of these large rivers.Furthermore, the areas around the river banks which were unexploited earlier and thereby absorb some of the overflow has been developed and inhabited.

The second cause of the flooding has been in and around cities and towns due to unplanned and illegal development projects, once again preventing free flow of water to areas which were available previously for absorption of the overflow which used to flow into large tracts of land which were not built upon and created large unbuilt areas to absorb the overflow.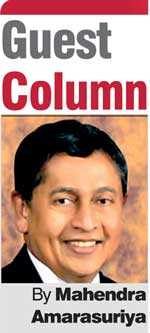 The present Government and previous governments appears to have accepted these situations as afait accompli and done very little about a permanent solution for these problems which are repeated every year.Huge sums of money have been provided for flood relief and rehabilitation of the people affected by the floods.

I was pleasantly surprised that two politicians,namely,VajiraAbeywardena from the south and Sajith Premadasa, the Deputy Leader of the UNP, who have now articulated the need for providing permanent solutions to the annual flooding phenomenon.

One of the most quoted adages of the great King ParakramabahuI who created the Parakrama Samudra, which when translated into English literally would mean the "Ocean of Parakrama," was"not even a little water that comes from the rain must flow into the ocean without being made useful to man".

In his time the wet zone was covered in jungle and inhabited sparsely and therefore flooding in the wet zone I believe was not a relevant issue.However, in the dry zone where our civilisation thrived, rainfall was normally only during the north east monsoon and mainly once a year. Therefore there was a need to save each drop of water andmany great Sinhalese kings built tanks and created the much-exalted hydro irrigation culture.It is said that during Parakramabahu's time we even exported rice from Sri Lanka.

In the present circumstances, huge volumes of water inundate the land and ultimately flow into the sea without being utilised by our people due to this incessant flooding of the great big rivers which ultimately flow into the sea.

I am not an expert either in irrigation or agriculture but I ask the question, cannot these excess precipitation be diverted into other large water bodies created for this purpose by manmade tanks without flooding the people's lands and ultimately flowing wastefully into the sea? For instance, the Kelani Ganga is a river which always appears to be having water though may be at different volumes during floods and droughts.The KaluGanga and NilwalaGanga are similar perennial water bodies.Is it not possible to create large tanks like those created by the Sinhala kings on the flat lands of the dry zone to store the excess water during floods?

I believe there has been suggestions for diverting the KaluGanga through a huge network of tunnels to water the dry zone.This would certainly be a mega project which I believe would have to be considered in the long-term so that we could use excess water to promote agriculture in the dry zone.

The other reason for flooding in cities is due to bad planning without proper facilities to drain excess water which falls on our roads.We have observed sometimes that even after a short shower the roads of the capital City of Colombo are often inundated with water.

In this connection, I must appreciate the efforts of the Minister of MegapolisChampika Ranawaka for planning to create two huge tunnels taking excess water away from the city and thereby draining finally into the sea.This is also a mega project and will probably take two or three years to complete as it will require very sophisticated technology of tunnelling under existing major roads which are required to be operational without interruption.Be that as it may, I believe it will be a wonderful solution.

However, recently a highly qualified Engineer wrote an article to the papers expressing the view that such a project would be a total disaster and would only result in a huge amount of foreign exchange being spent in usingsophisticated imported equipment to create these huge tunnels of around three metres in diameter.


Harvesting water

The Israelis who are experts at using every drop of water available will be amused to find that in Sri Lanka there are two major zones, the wet zone which has a precipitation of over 600 inches per year and the dry zone which has less than 600 inches.I believe in Israel there is hardly any rain at all during the year and they have been ingenious in creating novel methods of utilising whatever available water.

Global climate change has serious ramifications, especially for island nations like Sri Lanka.We have witnessed unusual droughts during the last few years with our agricultural community suffering from the lack of the availability of water for cultivation even for three consecutive seasons.

I believe that we should consult the Israelis and obtain their assistance for utilising whatever resources available in the dry zone during protracted droughts.

Secondly the age old technique of harvesting water should be utilised everywhere possible and especially in the dry zone.Rainwater harvesting is the accumulation and storage of rainwater for reuse on-site, rather than allowing it to run off.

Rainwater can be collected from rivers or roofs, and in many places, the water collected is redirected to a deep pit (well, shaft, or borehole), a reservoir with percolation, or collected from dew or fog with nets or other tools. Its uses include water for gardens, livestock, irrigation, domestic use with proper treatment, indoor heating for houses, etc. The harvested water can also be used as drinking water, longer-term storage, and for other purposes such as groundwater recharge.

Rainwater harvesting is one of the simplest and oldest methods of self-supply of water for households, usually financed by the user.