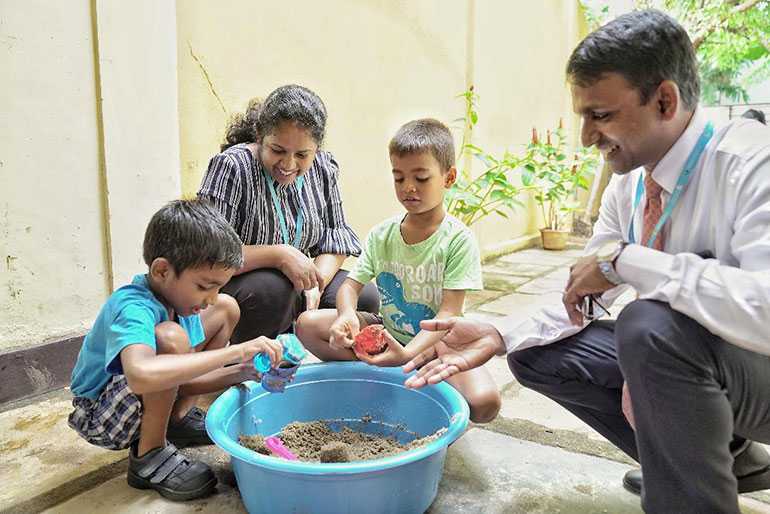 Above is a photo taken at the Standard Chartered crèche. Standard Charted is one of the companies featured in IFC's report on the business case of employer-supported childcare in Sri Lanka.
---
In Sri Lanka, women's formal workforce participation is at only 36%, compared with 75% for men. Sri Lanka could raise its gross domestic product by as much as 20% in the long-run by closing the gender gap in the workforce, according to one estimate.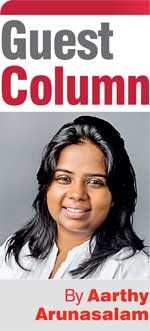 One of the ways to narrow the gender gap in the country is to expand employer-backed childcare options for employees. That's because the lack of access to childcare is a key barrier for many parents, especially women, to join or remain in the workforce. A recent World Bank Report indicates that having a child under age five at home reduces Sri Lankan women's labour force participation by over 7%, and this figure has increased over the years.1

When women forgo employment opportunities, households lose out on additional income while business not only lose employees through attrition but also incur increased costs to recruit and train new employees.
Employer-supported childcare good for business
To tackle the topic of employer-supported childcare in Sri Lanka, International Finance Corporation, in partnership with UNICEF and the Australian Government, recently launched a report on 'Tackling Childcare: The Business Case for Employer-supported Childcare in Sri Lanka'.2 The report features 10 case studies from employers across several sectors, including banking, manufacturing, and information technology.

The study highlights the benefits companies get from offering childcare and provides guidance on how to implement the various childcare options. The top five business benefits of establishing workplace crèches are increased recruitment, retention, productivity, diversity, and market access.

Childcare initiatives in the garment industry, including in Brandix Essentials and MAS Holdings, strengthened relationships with high-value, international buyers, augmenting long-term market access and growth opportunities.

MAS, which has 10 childcare facilities around the world—eight of which are in Sri Lanka—saw reduced volatility in attendance and turnover by introducing employer-supported childcare. The company said absences due to sick leave fell by 9% within eight months of the introduction of a childcare centre in its MAS Kreeda Al Safi-Madaba office in Jordan.3

Shehara Varia, Partner, Founding Parent of the F. J. & G. de Saram, a law firm in Sri Lanka, explains that the business case can convince management and parents to establish and successfully run a crèche with the support of a teacher. The firm saw the potential benefits of a crèche early and launched a childcare facility more than 18 years ago. Since then, the employer has seen close to 100% return rates after maternity leave while it continues to retain a high percentage of women professionals in the firm.

The discussion has long shifted from "why" employer-supported childcare is important to "how" to implement it. When implementing, the following five points need to be considered:
Explore childcare as an investment rather than a cost
It's important to put key metrics in place to measure business results such as recruitment, retention, productivity, promotions. In the IT sector, Sri Lanka-based LSEG Technology's corporate values focus on the needs of parents and children to improve recruitment and retention. A worldwide study estimates that closing IT female leadership gaps would add between $430 billion and $530 billion in global output.4

LSEG Technology states that to recruit a new staff member and train them up to speed requires eight months, and that every time there is a resignation, it leads to productivity losses. Once an organisation is able to quantify the indicators, it is in a great position to explore potential returns on childcare investments.
One size does not fit all
The on-site crèche is the most commonly used model pursued by employers in Sri Lanka that have available space within or nearby. The onsite crèche can make a powerful, visible statement about the company's values and culture.

WSO2, a Sri Lankan IT company, accommodates children on-site between the age of four months to two years, after which employees can enrol their children in any one of the available Ceebees Preschool and Daycare Centres. Ceebees is a childcare care provider with whom WSO2 has a tie-up and are located close to the office or homes of parents.

Sri Lankan employer Hemas Holdings, a diversified business that includes healthcare, leisure, and mobility services, is offering back-up childcare under a pilot initiative at its headquarters. Parents can bring their children when their regular childcare arrangements fail.
Quality of caregivers is key
Finding the right caregiver is often challenging. Chinthaka Premaratne, Group HR Director of Sri Lankan real estate company Fairway Holdings, said that one vital reason for the success of the company's facility is the commitment of its crèche supervisor. With limited availability and growing demand for childcare, there is a need to ensure that quality is not compromised and the crèche supervisor's commitment is a key factor.

Selyn, the fair-trade guaranteed handloom business in Sri Lanka, not only offers childcare facilities, but also has a curriculum with emphasis on early childhood education. As a result, the children perform well at school, boosting the school's ranking.
The regulatory environment matters
Employer-supported childcare also depends on an enabling environment. The World Bank Group's Women, Business and the Law program highlights how 19 out of 100 economies mandate employers to support childcare.

Where governments publicly provide or subsidise childcare for pre-school children, women are more likely to receive wages. The research suggests that support for parents—such as tax credits and early childcare—can increase women's labour force participation.
Enable men to embrace benefits
Encouraging fathers to engage with childcare support can foster family flexibility in childcare responsibility while also augmenting employer gender-diversity benefits. Alternative work arrangements such as part-time or flexible working hours, career by choice, and career breaks may further reinforce benefits derived from employer-supported childcare.

In addition to a crèche, Unilever Sri Lanka Ltd., a consumer goods firm, offers a range of policies to support employees' work-life needs, including a six-month maternity leave, a three-week paternity leave, extended career break, flexible working, and agile working programs.

Standard Chartered Bank Sri Lanka, which has been operating a creche since 2008, also provides two calendar weeks of paid paternity leave to new fathers. Both paid maternity and paternity leave, over and above the mandated norm, are also applicable when adopting a child.
Investing in the future
The 10 companies included in Tackling Childcare, The Business Case for Employer-supported Childcare in Sri Lanka offer powerful examples for replication by the wider private sector.5

By providing critical, family-friendly services they are investing in their staff, and reaping business benefits in terms of motivation, productivity, and staff retention. They are also making a key strategic investment in the next generation, who will provide future employees and customers, as well as drive Sri Lanka's economic development and stability.

Motivated, financially secure, and worry-free people make good employees and even better parents; making employer-supported childcare not just the right thing to do, but the smart one.
(Aarthy Arunasalam is the Lead for Tackling Childcare and Women's Employment of IFC-DFAT Women in Work Program in Sri Lanka. Follow tweets @Aarthy_Arun)
Footnotes

1 Solotaroff, Jennifer L., George Joseph, and Anne T. Kuriakose. Getting to Work: Unlocking Women's Potential in Sri Lanka's Labor Force, Overview booklet, World Bank, Washington, DC. License: Creative Commons Attribution CC BY 3.0 IGO. 2017.

2 IFC and UNICEF. Tackling Childcare: The Business Case for Employer-supported Childcare in Sri Lanka.December 2018. www.ifc.org/TacklingChildcareSriLanka

3 IFC.Tackling Childcare: The Business Case for Employer-Supported Childcare - MAS Kreeda Al Safi-Madaba Case Study, Jordan. 2017. www.ifc.org/TacklingChildcare

4 S Thomas, Andria, Joe Dougherty, Scott Strand, Abhinav Nayar, and Maryam Janani. 2016. Decoding Diversity: The Financial and Economic Returns to Diversity in Tech. Dalberg Global Development Advisors underwritten by Intel Global Diversity and Inclusion Group.

5 In addition to firm-level business case research, IFC - together with other private sector companies - has also been serving on the Prime Minister's Taskforce for a National Child Day Care Policy, which is coordinated by the Ministry of Women and Child Affairs. Moreover, IFC is exploring a Workplace Consortium around employer-supported childcare in the Tourism Sector and have rolled out a demand survey that would cover more than 4,000 employees in the hospitality sector in Colombo 1 and 2.