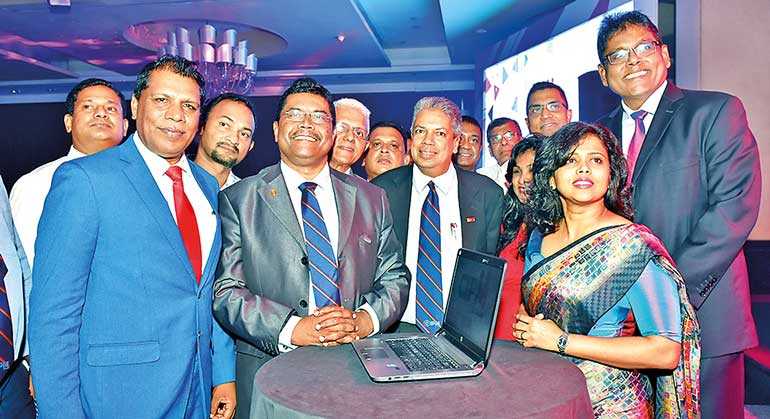 Launch of the new CIPM website last November by CIPM Sri Lanka President Dhammika Fernando and Council members
---
It is very encouraging to see the opportunities emerging for Sri Lankan HR professionals to reach a charter status. This is in fact filling a long-felt void in the profession of HR. It is in the broad context of the transformation of the Institute of Personnel Management (IPM) to the Chartered Institute of Personnel Management (CIPM).
Today's discussion is about the prospects of Sri Lankan HR professionals obtaining charter status in joining their chartered counterparts in other professions, in adding more value to national development.


Overview

The word "charter" has earned much prestige over years. The typical dictionary meaning tells us that it is a formal statement, especially by a government or a ruler, of the rights of a group organised for some purpose. The term "Royal Charter" is one such example.



According to the UK Privy Council Office, a Royal Charter is an instrument of incorporation, granted by The Queen, which confers independent legal personality on an organisation and defines its objectives, constitution and powers to govern its own affairs. Interestingly, the Royal Charters, granted by the sovereign on the advice of the Privy Council, have a history dating back to the 13th century. The terms of each charter are therefore somewhat different, depending on the individual requirements of the type of organisation that is being incorporated.

What is the significance for an individual in this context? Based on the description by the UK Commission for Employment and Skills, a chartered professional is a person who has gained a specific level of skill or competence in a particular field of work, which has been recognised by the award of a formal credential by a relevant professional organisation. Hence, the chartered status is widely recognised as a mark of professional competency, and is awarded mainly by chartered professional bodies.

Obviously, there is a greater recognition to the individual and also a greater acceptance of his/her ideas with the built-in authority to take decisions, grant approvals and issue certifications. It is in fact a higher elevation of a professional where a better-quality output with wider implications is expected. This will be a reality for Sri Lankan HR professionals in the near future.
HR professionals to the forefront

An HR professional can be viewed as a senior person engaged in Human Resources activities as an occupation. In other words, a manager with experience and qualifications, handling the responsibilities associated with the Human Resources function of an organisation.

We often here the rhetoric that every manager is an HR manager. There is a truth in it in the sense that every manager has a people management role to play. Yet, the reality is that a manager coming from a specific functional background might not have the required capability to handle all the specific people management aspects. Moreover, there has to be a consistent approach with a clear policy framework.

The point here is that, when every manager plays a "people role", the HR professional's role is becoming increasingly strategic. He/she has to act like an internal coach, guide, policy setter and an architect of strategy. It no way makes their role redundant contrary to naïve thinking of getting rid of them.


Salient realities in local scene
I recall one of my published research carried out on a sample of senior managers who were following MBA degree program at the Postgraduate Institute of Management (PIM). They represented functions other than HR. Though I am not intending to discuss the intricate details of the research, I should mention that a structured questionnaire consisting of two parts, one to be filled by the senior managers and the other to be filled by their respective head of HR was administered.

According to the analysis, only two out of 10 HR professionals were perceived both by themselves as well as their colleagues as having a high strategic orientation. This is in line with previous research findings where low strategic orientation of HR professionals, particularly a perception of such nature in the minds of other senior managers is an acute issue. (Wright and others, 2001).

The data analysis also indicates that four out of 10 HR professionals are perceived as operational players, lacking in their strategic orientation. This is also in line with previous research findings, where a heavy burden of administration with short term focus is on the HR professionals was identified as a regular occurrence (Ulrich, 1988). In essence, what could be seen is not so healthy scenario, with a clear pointer for the need to improve strategic orientation of HR professionals.

In this reality, three key aspects can be considered in order to improve the strategic orientation of HR professionals, revolving around involvement, alignment and contribution.

Strategic involvement of HR: Ensure that HR professionals are involved in the strategic decision-making process of the organisation. In some cases, the opportunity is not available. In other cases, the respective person is not ready to rise up to the occasion due to competency issues. Strategic alignment of HR: Ensure that HR policies and practices are aligned to the organisational strategic direction, and are reflective of organisation's long-term goals. For this to happen, HR professional has to work closely with other functional colleagues with proper awareness on current issues and future challenges.

Strategic contribution of HR: Ensure that HR function, and particularly the Head of HR is accountable for people-related strategic matters and thus should achieved agreed targets. Quantification of targets with appropriate matrices should be a perquisite for this. It highlights the leadership dimension of a HR professional where ownership of results has to be a must.

I have seen in many corporates, the remuneration committee, a mandatory committee of a board, typically headed by a non-executive independent director, is not from an HR specialisation. The way, the audit committee is headed by a chartered accountant, I think the time has come to insist that a remuneration committee should be headed by a chartered HR professional. CIPM should discuss this with the Sri Lanka Institute of Directors (SLID) and make a common voice towards "exemplary governance".


New vistas through CIPM

In raising the profile of HR professionals by way of making them more strategically oriented has become an acute and timely need as we have seen above. In such a context, the transformation of IPM into CIPM is of utmost strategic significance. It was a challenging journey of more than four years in overcoming multiple hurdles.

CIPM was born through the parliamentary (Amended) Act No.31 of 2018 which was passed and certified by Parliament on 28 September 2018. This historical milestone is the beginning of a new chapter of IPM having been in existence for 58 years. Since its establishment in 1960 and its incorporation by an Act of Parliament in 1976, IPM has come a long way in becoming the nations' leader in HRM.

I recall with gratitude Samitha Perera, whose presidency of IPM pave way for the initiation of the process of transformation to the charter status. It was further carried out by Major Rohitha Amarapala who succeeded him. Thereafter, during my tenure as the President, despite many obstacles, the major transformation was almost done. It is Dhammika Fernando, my worthy successor at IPM who became the first president of CIPM, committedly working towards overcoming the final hurdles in making it a lasting reality.

As Dhammika observes, "In this endeavour we were supported well by successive labour ministers D.J. Senevirathne and Ravindra Samaraweera with the able assistance of the former Labour Secretary Sarantissa. Further the Speaker of the Parliament Karu Jayasuriya and his Secretariat staff have lavishly cooperated in this effort."

A coherent council and a striving secretariat with the support of many genuine friends in multiple walks of life made the birth of CIPM a reality.


Promising prospects

As CIPM is the one and only chartered HR body dedicated to raising the standards of HR professionals in Sri Lanka, it is making arrangements to have a professionally designed and a transparently delivered process of evaluating HR professionals in granting them the prestigious charter status. This is very much in line with their newly formulated three-year strategic plan.

With a vision of becoming a Guiding Force and Global Leader in Developing and Managing Human Capital and a mission of Developing Innovative Practices for Unleashing Human Potential, t is marching ahead with confidence promoting core values of Courage, Integrity, Passion and Mastery.

According to CIPM sources, a three P emphasis has been formulated. It is to be more Patron centric, Profession Centric and Practitioner Centric. With a vibrant business school offering Professional Qualification of HRM (PQHRM), the only HR course in Sri Lanka accredited by Asia Pacific Federation of HRM (APFHRM), and a committed consultancy arm providing a variety of services, the future looks promisingly prosperous.

As the President, CIPM observes, "to tie up with the Chartered Institute of Personnel Development (CIPD), UK with an agreement of a wide-ranging scope in areas such as making our Business School a CIPD approved study centre, to map our curriculum with CIPD and thereby to match our membership framework with theirs and facilitate the option of obtaining automatic duel membership of CIPM and CIPD with their subscription payments, assistance of CIPD to establish our applied research arm and conducting CIPD short courses in demand at CIPM."

As collaboration is the key to collectively succeed, CIPD, UK and CIPM, Sri Lanka are poised to progress towards prosperity.


Way forward

Sri Lanka needs an awakened HR profession which will contribute more to the skill building of the nation. Being strategic in planning and being systematic in performing are vital for sustained success. The new breed of chartered HR professionals can raise the bar in committedly contributing towards national prosperity.
(Prof. Ajantha Dharmasiri can be reached through director@pim.sjp.ac.lk, ajantha@ou.edu or www.ajanthadharmasiri.info.)