---
The speech made by Prime Minister Ranil Wickremesinghe as the Chief Guest of the Sri Lanka Economic Summit 2019 deserves very careful consideration by the country due to several reasons.
This will no doubt be his last speech on economic policy to be delivered to a non-political forum, an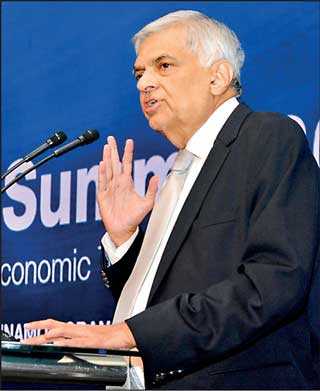 Prime Minister Ranil Wickremesinghe addressing the

Sri Lanka Economic Summit 2019
August assembly, comprising of the topmost business magnates in the country represented through that important organisation Ceylon Chamber of Commerce.
As a General Election of the country is not far away his pronouncements could be accepted to reflect his achievements during his tenure of office, which is to end shortly, as well as an indication of the continuity of his economic plans during the oncoming period.
PM Wickremesinghe was the Cabinet Minister in Charge of National Policies and Economic Affairs in addition to several other portfolios he held, almost throughout the tenure of his office as the Prime Minister. We recall at least three macro-economic plans he presented to the country during this period including the Vision 2025 plan prepared under the generosity of the HCID (Harvard University's International Center for Development).
On 5 November 2015, PM Wickremesinghe presented his 'Third Generation Economic Reforms' package in Parliament, hailed by his men as their Premier's farsighted economic policy package attracting dignified comments such as "it is the first time such a comprehensive set of reforms were enunciated". Among some of the highlights were the following unique proposals:
Establishment of a State Holding Corporation Limited, to provide State entrepreneurship, similar to Temasek Company of Singapore
Creation of a Public Wealth Trust with the Secretary of the Treasury and Governor of the Central bank as the custodians of this trust
To create an international trade agency to handle all aspects of international trade Amalgamate ETF and EPF to create a new national pension fund
Establish an Emplo-yment Council managed by civil society and trade unions

Make structural changes in the Central Bank to give more independency and take away the ETF from the purview of the bank

To make Sri Lanka the most open economy of South Asia

To uplift our agriculture to cater to the needs of 25 million middle class inhabitants spread across the Indian subcontinent to South Asia

To make Sri Lanka the most dynamic economy between Dubai and Singapore

In October 2017, Vision 2025 titled 'SL's Path to Prosperity' was launched by the PM, underscoring priority reforms to help the country become more prosperous. Some of the most significant features were:

To reform the island's "archaic Land Policy" which was identified by the policymakers as "inefficient" and "underdeveloped"

To balance the uneven geographical growth in Sri Lanka

To make SL an export oriented economic hub in the Indian Ocean

Per capita to be raised to $ 5,000, one million new jobs, increase FDI to $ 5 billion per year, double exports to $ 20 billion per year by 2020
We have passed most of the target dates of this vision plan. Tax reforms were introduced to increase Government revenue and the tax laws introduced a three-tier Tax Policy with rates of 14%, 28% and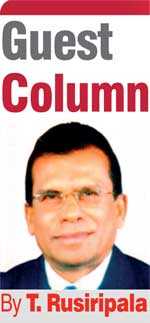 40% as rate structures. The IMF gave a three-year loan of $ 1.5 billion. GSP was restored with effect from 9 May 2017. The country managed to get $ 1.5 billion as additional investment into the Port City Project.
Despite all these, our current economic scenario has become precarious. According to the Government's fiscal performance during the last six months:
Income decreased from Rs. 925 billion to Rs. 888 billion

Expenditure increased from Rs. 1,271 billion to Rs. 1,410 billion

Deficit up from Rs. 346 billion to Rs. 522 billion
These statistics are indicative of a major debt and liquidity crisis.
Investors in apartment housing projects lament over poor sale response.
The Central Bank has warned lending against property mortgages for apartment projects.
The Finance Ministry is trying to raise Rs. 10 billion in debentures through People's Bank.
Non-performing loan portfolios of all commercial banks have increased considerably, causing capital adequacy issues in some banks
Foreign investors have pulled out more than Rs. 25 billion from Government securities
For this year alone the total forex outflows exceed Rs. 50 billion. This figure for the last year was about Rs. 160 billion. The foregoing is only a cross sectional view of the ailing economy.
It is in this context that the Ceylon Chamber of Commerce invited PM Ranil Wickremesinghe to deliver the keynote address of the Economic Forum this year. The chosen title appears to be very appropriate. 'Recalibrating Sri Lanka's Economic Trajectory: Towards 2025'.
Although it appeared as an indirect indictment against the economic policy planning of the current Government for which Wickremesinghe is responsible, he chose to address the issue by stating that he needs a new system of governance now to move towards increased productivity and competitiveness.
He is still talking about things to be done, some completely new and contrary to his magnanimous projections and visions pronounced in the past as far back as 2015. He seems to have forgotten the magic visions he presented to the country to which no one objected. He needs sweeping changes in policies, breaking into new industries, and more than anything else international engagements. He wants to provide more space for investors and improvement of business climate to boost trade and development.
The rotten state of SOEs which were completely under his control through his chosen Cabinet colleagues need urgent reformations, according to him. And this he has detected only now. He is talking about single window facilitation for exports and investment. All these years he had several heads at the BOI appointed by him.
But the only consolation arising out of his presentation is the conclusion part, where he said: "We need competent faces, we have to rebuild trust, and that is the way to go forward."
We want to remind our dear Prime Minister that some will have to sacrifice and pave the way for that to happen.