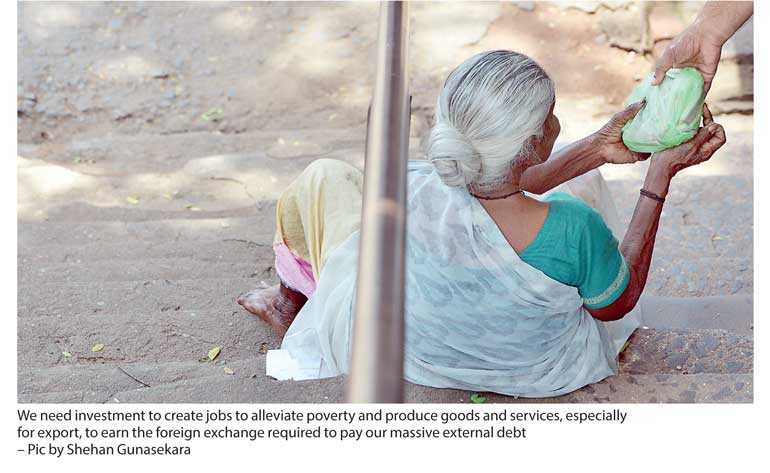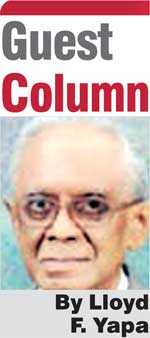 The purpose of this article is to point out the great need for investment, especially foreign direct investment in Sri Lanka, and to indicate how it could be attracted.

Why do we need investment?

We need investment to create jobs to alleviate poverty and produce goods and services, especially for export, to earn the foreign exchange required to pay our massive external debt ($51.8 million, or 59.5% of Gross Domestic Product, 2017). We need to save about 35 to 40% of GDP to invest, but our domestic savings were only about 29.3% of GDP, 2017. We also need modern technologies to help in value addition to goods and services, as well as to obtain world market access. These are the reasons for the great need to attract Foreign Direct Investments (FDI).

It may be noted that it is mainly because of high inflows of FDI that the 'tiger' economies of South East and East Asia have prospered. As of 2016, the stocks of FDI inflows in billions of dollars to some of these economies, particularly of the 'little tigers', were: South Korea, 185.0; Hong Kong, 1,690.8; Taiwan, 75.0; Thailand, 188.7; Malaysia, 121.6; and Singapore, 1,096.3, whereas in the case of Sri Lanka it was only 9.7, according to UNCTAD. This is the main reason for the economy of Sri Lanka to lag behind.

The need of a small economy like Sri Lanka is for FDIs that produce manufactured goods and services mainly for export, as production for the small local market only cannot generate sufficient jobs and earnings for the country to prosper. The stock of $ 9.7 billion that has been attracted by Sri Lanka, particularly in recent years, has been mainly for construction and described as non-tradable goods and services; it is for this reason that exports have not taken off (13% of GDP in 2017, whereas it was 33% of GDP in 2004).

Another result is that manufacturing employment has not been created to reduce poverty (34%, on the basis of persons earning less than $ 2 per day, in 2008 according to the World Bank) and absorb the excess employment in agriculture and in the public service (27% and 17% of total employment, respectively). It is the excess employment in agriculture that has destroyed some of the forest cover due to encroachment, especially in steep slopes, causing landslides and floods, as well as diminishing the water catchment area and resulting in water shortages during droughts.

Why have we failed to attract sufficient FDI?

This is the next question to be asked. According to the World Bank's Global Investment Competitiveness Report 2017/18, a sample of 238 FDIs that was surveyed on the type of investment destinations they look for, indicated a) 50 looked for political stability and security; b) 40 for legal and regulatory environment; c) 42 for large market size; d) 34 for macroeconomic stability (consistency of policies); e) 28 for skilled labour; f) 25 for physical infrastructure; and g) 19 for low tax rates. Thus, 21% look for political stability plus security, but only 14% for macroeconomic stability or consistency of policies, showing that it is only one of the reasons, and not the main reason, as claimed by our authorities.

The main reason for avoidance of Sri Lanka by FDIs is clearly political instability and the absence of security. In fact, the OECD Country Risk Classification for Sri Lanka was previously 6 and is currently 6; we are just behind Afghanistan, the risk classification of which was previously 7 and is currently 7. Political instability in Sri Lanka began in 1956 with the election of a leftist government with emphasis on state control of the economy. Its failure was marked by an uprising by Marxist/Guevarist-oriented youth in1971. Another leftist youth rebellion took place during 1987 to 1989. The Liberation Tigers of Tamil Eelam (LTTE), claiming independence for a Tamil 'Homeland', started a civil war in 1983 that ended in 2009. The causes for the demand for a Tamil homeland or the ethnic conflict were never really examined properly and settled even up to this date; the Tamils and other minority communities may maintain that the main cause of the conflict was racial hatred on the part of the majority community, fuelled by a certain group of politicians who have been greedy for power and giving rise to discrimination against other communities. This racial hatred, which has been simmering below the surface since 2009, erupted again in March this year against Muslims in the Kandy area.

Thus, foreign investors may fear that history could repeat itself, and affect the security of their assets and personnel. Even local investors may entertain such fears. Worse, there have also been reports about the increase in various types of harassment, including demands for bribes, ransoms and even bodily harm, meted out to both local and foreign investors as well as tourists.

In the meantime, the skills produced by our outdated system of education have failed to meet the technical and soft skills demanded by investors and businesses. To make things worse, thousands have been leaving the country – especially professionals and skilled persons – looking for 'greener pastures' or better living conditions abroad, as the quality of life in Sri Lanka has been deteriorating steadily.

The physical infrastructure needs of investors have also not been met adequately. The roads, particularly in cities and towns, are clogged with traffic. There are frequent breakdowns in power supplies, even in the administrative capital of the country. Infrastructure development could be worse in the rural areas where essential investment in agricultural value chains – such as cold rooms for storing perishable products, investment for provision of irrigation and for prevention of droughts and floods – has not been made, while there has been feverish activity for building highways probably because of the 'low hanging fruit' of massive illegal commissions.

Another problem faced by investors has been the cumbersome procedures and documentation with regards to approvals and registration of projects, customs regulations regarding clearance of imports and exports as well as the management of labour about which there are supposed to be 45 pieces of legislation including the Termination of Employment of Workmen Act, the worst of the lot. The inefficiency that results is reflected in the two indices concerned: The Ease of Doing Business Index rank Sri Lanka 111, Malaysia 24, Singapore 2 out of 190 countries, World Bank 2017; the Logistics Performance Index rank Sri Lanka 113, Singapore 5, Malaysia 32, in 2015 out of 160 countries, World Bank 2016). These regulations also reduce the efficiency of the public service and incentivise bribery and corruption among politicians in charge of the various agencies and the officials.

Talking about corruption, it is wide spread; there is no doubt it increases the risk faced by investors; the main cause of corruption is the election campaign expenditure incurred by the parliamentarians as the unit of election under the present system is a district instead of the smaller constituency .

Countries with small domestic markets such as Sri Lanka also do not attract FDI that look for large markets. Such small countries have to attract efficiency seeking FDI. Sri Lanka does not possess an enabling environment of such efficiency as stated above nor a population that welcomes investors with open arms; they will claim that Sri Lanka's assets are being 'sold' to foreigners or will seek to harass them in various ways as mentioned above.
So what has to be done to attract investment?

The first need is to create a positive enabling environment of socio political stability for attracting investment. This is best achieved by creating new constitution including the grant of full equal rights to all citizens of Sri Lanka, devolution of power to the regions, separation of power among the executive, the legislature and the judiciary, a new system of elections where the members of parliament are elected to constituencies/not districts, an educational qualification like the GCE/A Level from candidates for election and the recognition of all three languages, etc., on the lines of those of India or the USA, to set up a well integrated nation as soon as possible i.e. before the next general election.

The leaders of all political parties may have to convince the people why a new constitution is necessary. They will have to address the various groups who are against the idea like the Buddhist clergy by convincing them that grant of equal rights, etc., to all members of various communities and devolution of power to the regions for instance will not lead to separation of the North and the East; if these rights are not granted not only will separation actually take place, but also will drag the entire Sri Lanka community including the Sinhalese to a state of confusion and poverty equalling that of a failed state like Somalia.

The other step is for all leaders of the country to adopt a social market economic policy where the engine of growth is the private sector and the state is the protector of the rights of the citizens, the regulator of private sector activity, in addition to maintaining law and order and development of social and physical infrastructure. To enable the private sector to operate efficiently, the state will have to remove all the constraints mentioned above and in addition grant incentives to attract investment for creation of jobs and production of value added goods and services especially for export. The task will become easier if the leaders as well as the professionals and the clergy explain to the people what the path to prosperity which begins with investment; they will have to be convinced that the best way to attract investors as well as tourists is to treat them as our customers who will help us to earn the foreign exchange we need instead of driving them away by harassing them.

The leaders have so far failed to carry out this task of educating the people, as most of them have been busy with politics and robbing the tax payer; so the professionals and the clergy have to take over from them in this task. This may seem to be a difficult effort; but not now due to the emergence of social media and techniques such as 'crowd culture' which is superseding branding; the message to be delivered by way of a video to be posted in the social media has to be carefully prepared by a team including an economist, a sociologist and a marketer.

Conclusion

If we can attract substantial investments especially FDI for production for export by improving the enabling environment particularly by educating the people regarding the importance of investment and setting up a new constitution and also if the state could invest in rural development, education to produce the skills needed by the private sector, for upgrading the physical infrastructure and simplify the cumbersome procedures and documentation, Sri Lanka could be on the way to prosperity. But if these things are not done, Sri Lanka could be on the way to be a failed state and poverty will become worse.