---
International Day for the Elimination of Violence against Women, which fell on 25 November, started the 16 Days of Activism against Gender-Based Violence. It is an annual international campaign that runs for 16 days until 10 December (Human Rights Day). In recent years, there has been increasing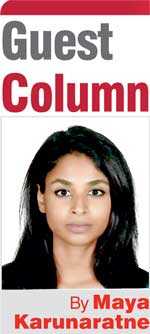 engagement with the campaign around the world including notable traction in Sri Lanka.

The campaign stands to create awareness and demand accountability – in order to do this, Sri Lanka must look at addressing the underlying issues surrounding gender. It is within this context that universal comprehensive sexuality and reproductive health education is absolutely foundational for gender equality and plays a significant role towards the social and economic development of Sri Lanka.
Universal comprehensive sexuality and reproductive health education
Young people have the right to lead healthy lives and society has the responsibility to provide them with accurate knowledge on sexual and reproductive health. This equips young people with the tools they need to make healthy decisions.

Comprehensive sexuality and reproductive health education must occur throughout a student's grade-levels and be honest and age-appropriate. It must include information from basic biology including bodily development, puberty, sex, and reproduction – to the more social aspects including family planning and parenting, contraception, sexuality, relationships, sexual violence and disease prevention, gender identity, and sexual orientation.

The National Youth Health Survey of Sri Lanka conducted in 2013 identified that close to 50% of young people have limited knowledge about sexual and reproductive health. This is an alarming statistic considering naturally curious young people in today's technology driven world will resort to other sources of information which are not always accurate. Not to mention, unregulated "resources" such as internet pornography not only provide inaccurate information but also reinforce dangerous practices including sexual abuse and degradation of women.

It is only with a thorough understanding of these issues that young people can have the autonomy over their bodies and also identify when their rights are being violated or abused. There are too many incidences of incest, molestation, rape and other abuses happening around Sri Lanka that go ignored. Of course, reliable state structures, legal frameworks and services have to be in place to effectively support victims and justly persecute perpetrators.

Simply taking the 2015 study conducted by UNFPA, which shows that 90% of women have been subjected to sexual harassment on public buses and trains, illustrates the severity of the situation. Generally speaking, patriarchal norms and sexual frustrations due to learned behaviors, a lack of knowledge and restrictive societal customs contribute to perpetrator aggression and sexual harassment. Accurate knowledge of sexual and reproductive health from a young age will help create a culture of respect and empower youth.

The Ministry of Health/Family Health Bureau of Sri Lanka and other entities have recognised the significance of sexual and reproductive health education including family planning. Still, considering the state of gender equality and the issues surrounding it, education programs need to be introduced in full force if Sri Lanka is to create a progressive society that can compete in a growing economy.

When incorporating into the education system, it is important to distinguish between types of programs and ensure that they are comprehensive and complete (and only abstinence based). This calls for more inclusive programs which focus on modern gender roles, does not contest morality, and internationally, is statistically proven to have impacted declining rates of teen pregnancy and transmission of STIs.

One of the main challenges is the capacity of teachers to effectively teach on the subject of sexuality and reproductive health education. In addition to teacher training and capacity building, a gradual introduction for students is necessary – creating awareness from a young age (in many countries from Grade 5) and teaching age-appropriate material as they mature from grade to grade.
Myth busting and stigmas
In Sri Lanka, cultural values which are designed to protect young people can actually pose as barriers and restrict access to knowledge on sexual and reproductive health, especially within the education system.

There is an impression that openness about sexuality can "ruin the culture". A culture of patriarchy? Innocence? Naivety? Society cannot be in denial that young people, during adolescence experience physical, emotional, and behavioural changes. It is an extremely confusing time, and young people have the right to be equipped with accurate knowledge about their bodies in order to make confident and respectful decisions.

It is a grave misunderstanding that sexuality education makes young people more promiscuous. To the contrary, numerous studies, by organisations including WHO, prove that increased awareness helps them develop self-esteem and life skills that encourage critical thinking, clear communication, responsible decision-making and respectful behaviour.

Family planning is another contentious issue in Sri Lanka and cultural and religious values have a role to play in shaping mindsets. While respecting these values, it is important to dispel myths and prejudices around sexual and reproductive health by sensitising the public on family planning being a not only a choice, but a human right. This will reduce unwanted pregnancies and unsafe abortions.
It will also create awareness for women who continue pregnancies and need care. For women especially, having control over their bodies and life choices not only provides for increased economic participation, but for healthier family structures when they do decide to engage in marriage and childbearing.

A visit to any orphanage or children's home in Sri Lanka should be testament enough that every pregnancy and child should be wanted. The overwhelming number of children who have been abandoned or born to parents who are unable to care for them is heart-breaking. There are not enough resources to provide basic care, leave alone the psychological and emotional nurturing. While there are efforts by the state and commendable initiatives by other organisations and individuals for these vulnerable children; often, many end up marginalised with reduced opportunities and limited control over their lives. Social service and welfare provision must not work in isolation of sexuality education including family planning and related services.
Evolution of gender norms
It's important to recognise that culture is an evolving concept – it shifts, changes and is pushed forward as an impact of development. With this comes inclusivity – recognising the different, the marginalised, and accepting progressive attitudes and mindsets to create a sustainable future.

Gender-based violence is a violation of human rights and eventually people (men and women included) need to grasp zero-tolerance attitudes. There have been effective campaigns using slogans such as "she is your mother/daughter/sister" which aim to evoke empathy in male perpetrators of gender-based violence and harassment in order to correct behaviour.

While we should continue to mobilise whatever efforts are effective in reducing acts of harassment and violence against women; moving forward, we need to understand that there is something deeply problematic with adjusting interpretations of basic rights to satisfy the status quo and pacify the male ego. Being a PERSON should be enough reason not to be harassed, irrespective of being a mother/daughter/sister.

The conversation around gender is not exclusive to women. Men and boys are also victim to abuses and harassment and this is an even bigger taboo. Further, the lack of social recognition of LGBT+ people has seriously affected access to their rights as citizens. This discrimination is supported by the existing laws that criminalise homosexuality and the stigma is so deep-rooted that some LGBT+ persons themselves feel that they are mentally ill or abnormal.

It is not uncommon for members of the community to be subject to physical violence, verbal abuse, and even ostracised by their own families because of their sexual orientation or gender identity/expression. As a growing, inclusive culture – we must revisit and revise outdated structures that inhibit rights of marginalised groups including in education.
Conclusion
This article only grazes the surface of the many complex and interconnected issues highlighted above. There is a lack of evidence and data to provide a thorough understanding of many gender-related issues and Sri Lanka must be willing to invest into further research and subsequent solutions. A holistic approach is key if we are to advocate for inclusive policy changes and achieve the Sustainable Development Goals (SDGs) to which Sri Lanka is committed.

With an ageing population, productivity is key and a shift is required for more progressive attitudes and initiatives in order to promote growth and compete in a global economy. There is a need to engage more women and young people in the workforce and their awareness and understanding of their own bodies and identities is fundamental.

Finally, society must be willing to acknowledge the taboo realities faced by young people and marginalised communities. We must work towards ensuring legal structures and State service provision are inclusive and geared to embrace the evolving culture.


(The writer a specialist in social policy and development with an MSc from the London School of Economics, UK and currently contracted by the United Nations. She could be reached via email at maya.karunaratne@undp.org.)