Muttuvel Karunanidhi, known to the Tamil-speaking world as "Kalaignar" (artiste), passed away at the age of 94 in Chennai on 7 August. Karunanidhi had been Chief Minister of India's Tamil Nadu state for a total of 19 years. He was Chief Minister of Tamil Nadu five times from 1969-71, 1971-76, 1989-91, 1996-2001 and 2006-11. No other Tamil Nadu chief minister has been in office for so long.

Another record was that of being party leader for nearly 50 years. He was the undisputed leader of the Dravida Munnera Kazhagham (DMK) since 1969, leading the party through thick and thin for 49 years. The Dravidian patriarch was first elected to the State legislative assembly in 1957 and has not lost an election he contested personally since then. No Indian politician can boast of such an unbroken record. "Kalaignar" Muttuvel Karunanidhi was no ordinary politico but a veritable political institution.

'Spotlight' however does not intend to beam on Karunanidhi's politics at this juncture. As is well known this column focuses on films, film personalities and film related matters. As stated earlier, Karunanidhi was widely known as "Kalaignar" or artiste. He was referred to as Kalaignar more than as Karunanidhi respectfully in later years.

Karunanidhi was a versatile, multi-faceted personality. In his eventful life "Kalaignar" was a journalist, editor, dramatist, stage actor, film script writer, short story writer, novelist, literary commentator, poet, lyricist, film producer and TV channel proprietor. This column however would be focusing on "Kalaignar" Karunanidhi's immense contribution to Tamil movies in a cinematic career spanning more than six decades of his life.


Cinema and politics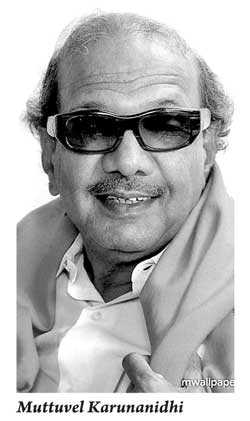 It was Karunanidhi's entry into filmdom which brought him much recognition and more remuneration in early life despite his lack of tertiary education. His rise in cinema helped him greatly to carve out a name for himself as a politician too. Although Karunanidhi was very correctly recognised and respected as a political leader, there is no denying that it was his association with films that gave him the necessary popularity with the masses of Tamil Nadu.

This is due to the peculiar course of politics in Tamil Nadu where the influence of cinema on politics has been of a phenomenal nature. Popular film personalities have enjoyed great support among the masses. Tamil Nadu film personalities served as an integral component of their parties.

Significantly, from 1967, most chief ministers in Tamil Nadu have had connections to the silver screen – Annadurai, Karunanidhi, M.G. Ramachandran, Janaki Ramachandran and Jayalalithaa Jayaram. The exceptions have been the current Chief Minister Edappaadi Palaniswamy and earlier O. Panneerselvam nominated as "caretaker" CM on three occasions.

With a population of more than 70 million, Tamil Nadu has the third highest literacy rate among the states of India. The role of cinema in the political history of Tamil Nadu provides interesting insights into present-day developments.

The politics of Tamil Nadu for the past 75 years has been pervaded by notions of the Aryan-Dravidian divide. This concept itself is not very scientific and has been greatly mythologised. Nevertheless, this Dravidian consciousness and ideology has helped politicise significant sections of the Tamil masses and has sustained whole political parties and movements. The DMK led first by Annadurai and later by Karunanidhi has played a crucial role in promoting Dravidianism.

The DMK was born in post-independence India. The parent Dravidian movement of the DMK was the Dravida Kazhagham (DK) founded by E.V. Ramaswamy Naicker known as "periyaar" (great person) was opposed to participation in electoral politics. It was also very much under his autocratic control.

A group of dissidents, including Karunanidhi, revolted under the leadership of Conjeevaram Natarajan (CN0 Annadurai and formed the Dravida Munnetra Kazhagham (DMK) in 1949. Starting out as a social reform movement, the DMK later decided that change was impossible without capturing political power through democratic means. The DMK Captured state power for the first time in 1967. "Kalaignar" Karunanidhi's ascendancy in politics basically corresponded with that of the DMK's rise in Tamil Nadu.


Karunanidhi's early life



Karunanidhi was born on 3 June 1924 in the village of Thirukkuvalai what was formerly the Thanjaavoor (Tanjore) District of the Old Madras Presidency. Today it falls within the Nagapattinam District of Tamil Nadu.

Karunanidhi's parents Aiyathurai Muttuvel and Anjugam were of Isai Vaelalar stock. The Isai Vaelalar community has been historically a talented artistic community. Some of India's greats in the spheres of music, dance, drama and cinema hail from this caste group. Some of these illustrious artistes include Thiruvaavaduthurai Rajarathinam, Kaarukkurichchi Arunaasalam, Valangaimaan Shanmugasundaram, T. Balasaraswati, M.S. Subbulakshmi, M.L. Vasanthakumari, T.K. Ramamoorthy, T.R. Rajakumari and E.V. Saroja.

Karunanidhi's given name at birth was Dakshinamoorthy. He later changed the 'Sanskrit-sounding' Dakshinamoorthy to the more 'Tamil-toned' Karunanidhi.

His foray into active politics was in 1938 when he participated in an anti-Hindi agitation at the age of 14. Karunanidhi formed a student political organisation while a high school student and started the journal 'Maanava Naesan' (Student Friend).Later he started the 'Murasoli' (Drum Beat) which still remains as the DMK flagship newspaper. Karunanidhi quit secondary school studies and became a political activist while working freelance in newspapers and contributing articles.

He also became a stage actor and playwright. It was the well-known actor M.R. Radha who bestowed upon him the title "Kalaignar" (artiste) when the drama 'Thookumaedai' (Gallows) was staged for the 100th time. Karunanidhi wrote and acted in the play. Later Karunanidhi ventured into films as a script writer. This brought him much recognition and more remuneration which helped him greatly to carve out a name for himself as a politician.


Entry into films as a scriptwriter

India celebrated her cinema centenary in 2013. On that occasion Karunanidhi issued a special statement in Tamil that was translated into English by journalist T.S. Subramanian and published in the newsmagazine 'Frontline'. In that statement Karunanidhi briefly outlines his entry into films as a scriptwriter and of his experiences and what he sought to achieve through his screenplays and dialogues. This fascinating account is rather illuminating and provides a vivid insight into the man and his message. Here are a few relevant excerpts:

"I am 90 years old today, but you can say my political career is 76 years old and my film career spans 66 years. At the instance of Thanthai Periyar [E.V. Ramasamy], I was working for the 'Kudiyarasu' magazine in Erode, when I got a request from the Director A.S.A. Sami in Coimbatore to write the dialogues for a forthcoming film. I was asked to write the dialogues for the film 'Rajakumari,' produced by Jupiter Pictures, Coimbatore. I informed Periyar and he said, 'Au revoir'."

"I told Sami that I would pen the dialogues for the film, provided it did not interfere with my political activity. Sami agreed to it. It was the first film in which M.G. Ramachandran acted in the lead role. That was also the time of an emerging friendship between me and MGR, who was a 'devotee' of Mahatma Gandhi. I would give him books of Anna [C.N. Annadurai, Karunanidhi's mentor] and MGR would give me works of Gandhiji. There would often be discussions between him and me. As a result, he later joined the DMK [Dravida Munnetra Kazhagam]."

"I engaged myself in addressing political meetings and in writing. I devised my work in films in such a way that it amounted to only a leisure-time activity in the midst of my full-time political work. Even then, I used films to spread rationalist ideas among people. My objective in writing for films was to avoid obscenity and highlight the principles of the Self-Respect Movement and thereby appeal to the intellect of the viewers.

"The film 'Naam' dealt entirely with the aspirations of the working class. A conversation from that film shows how deeply the lofty ideals of the communist movement were entrenched in me even when I was young. In the film, MGR picks an argument, on behalf of the proletariat, with a zamindar. This angers the landlord, who asks MGR, 'What, how dare you put an exclamation mark?' MGR replies, 'Yes, zamindar, if the exclamation mark bends a little, it will become a question mark. You should remember that there is not much difference between a sickle and a question mark'."

"Through the character of Pathanjali Sastri in 'Thai Illaa Pillai,' I portrayed how casteist feelings, age-old customs and rituals and superstitious beliefs had been deeply entrenched in the human psyche for generations. Through the dialogues in many films, I drove home the ideals of Anna. Indeed, I titled one of the films 'Kanchi Thalaivan' (Kancheepuram was Annadurai's home town). 'Penn Manam,' written by the popular novelist Lakshmi, metamorphosed into screenplay in my hands, and the film was given the title 'Iruvar Ullam'."

"In my 90 years, I have written stories and dialogues for 75 films. I have used my career in films to dispel ignorance among the people in the lower rungs of society, to light up their lives, to remove inequities in society, to spread socially reformative and progressive views and to make Tamilians aware of the antiquity, the sweep, the grandeur and the richness of their language."

These sentiments expressed by Karunanidhi encapsulate what he thought of himself and his mission in movies was as a script writer. There is no denying that the script writer engraved a lasting imprint on Tamil cinema through his dialogues. "Kalaignar" Karunanidhi developed a writing style for cinema that was flowery and alliterative (adukku Mozhi), and soon became very popular. Court room scenes, inquiries in royal courts in historical movies and short dramas introduced into films that had a modern setting, provided ample scope for Karunanidhi's captivating prose.

His reputation had producers advertising their movies by proclaiming, 'Story and Dialogue by Kalaignar Mu. Karunanidhi'. When film titles were projected in the cinema halls, his name would be shown ahead of the stars and greeted with applause. There were others to follow Karunanidhi in both content and style from the DMK camp — Aasaithamby, Krishnaswamy, Maaran and Kannadasan, etc. – but Karunanidhi was the master in that genre surpassing even his mentor and leader Annadurai.


Prolific script writer

Karunanidhi has written the screenplay and dialogues for 64 films. He has written the story or screenplay without dialogues for 11 other films. The first two films he wrote scripts for were 'Rajakumari' and 'Abhimanyu'. However Karunanidhi was not credited for those films. It was his third film 'Marutha Naattu Ilavarasi' released in 1950 for which Karunanidhi was first credited as script writer in the titles.

Among the films scripted by Karunanidhi are 'Manthiri Kumari,' 'Parasakthy,' 'Manamahal,' 'Panam,' 'Manohara,' 'Thirumbi paar,' 'Malaikkallan,' 'Pudumaippithan,' 'Kuravanji,' 'Raja Rani,' 'Arasilankumari,' 'Iruvar Ullam,' 'Rangoon Radha,' 'Pudaiyal,' 'Kaanchi Thalaivan,' 'Poom buhaar,' 'Poomaalai,' 'Avan Pithanaa,' 'Marakka Mudiyumaa,' 'Pillaiyo Pillai', 'Paalaivana Rojakkal,' 'Uliyin Oasai' and 'Ponnar Shankar'. It is said that he received 300 rupees for work on his first film. However in later years he got up to 75 lakhs of rupees to script a film.

Kalaignar also formed a film company called Mekala Pictures in partnership with others and produced several films. Later his nephew and former Indian Cabinet minister "Murasoli" M.K. Maaran took over the company. Karunanidhi was also involved with three other film production companies. Altogether Karunanidhi has produced or co-produced 29 films. In addition to being a script writer and playwright, Karunanidhi has also written film songs. He has written around 35 to 40 songs for different films.

Interestingly Karunanidhi's family has had and continues to maintain close links with the Tamil film industry. Apart from Karunanidhi, his nephew and former Cabinet Minister M.K. Maran – who is no more – was also a former film script writer. Maran's brother Amirtham was a cinematographer.

Maran's sons Kalanidhi and Dayanidhi are co-owners of the 'Sun' group TV network. They also produce films under the banner 'Sun Pictures'. Karunanidhi's son and heir apparent M.K. Stalin too has dabbled in acting, as the hero of a TV serial 'Kurinji Malar'. Stalin's son Udhayanidhi is both a successful film producer as well as actor who has played the hero in many Tamil films. His wife Kiruthiga directs films.

Karunanidhi's younger son Thamizharasu's son, Arulnidhi, has made his mark as lead actor in some films. His elder son Azhaghiri's son Dayanidhi is a film producer and distributor. Karunanidhi's eldest son M.K. Muthu also had a short-lived film career as an actor-singer.

Moreover, the DMK Chief's "second wife" Rajathi was also a stage actress who got involved with Karunanidhi as his "Thunaivi" when acting in dramas penned by Kalaignar. Their daughter Kanimozhi who is a Rajya Sabha MP is the owner of 'Kalaignar TV'. If cinema and politics are intertwined in Tamil Nadu, then Karunanidhi's family seems to be immersed in both.
(D.B.S. Jeyaraj can be reached at dbsjeyaraj@yahoo.com.)