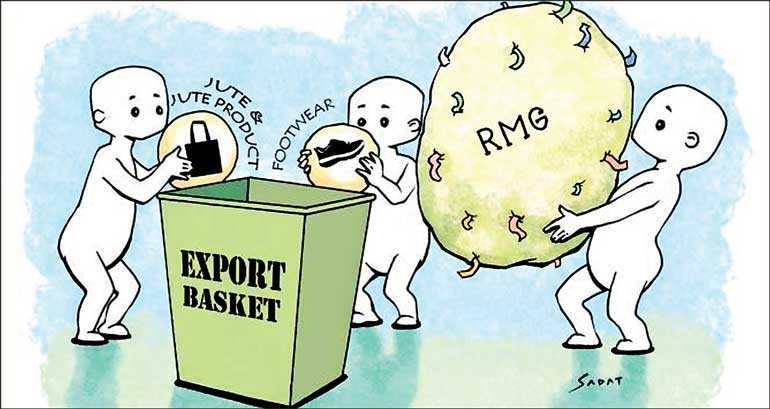 ---
Slowness of reforms have slowed potential export growth
Need the NES to be a smart export strategy
Remember it was during the height of terrorism and civil disturbances that late President Premadasa put the foundation to accelerate the apparel-led growth of exports, which resulted in the country stabilising as a middle-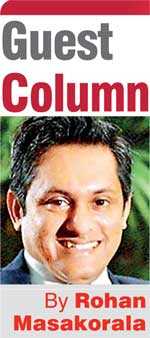 income nation? And to date, beyond the apparel industry and information technology sector, Sri Lanka has not managed achieve large scale growth or to diversify the export-led growth with new high earning sectors of manufactured products embracing new global technologies.

The National Export Strategy (NES) of 2017 was a very good initiative after a long break and has been now put into action, but sadly due to many reasons including the continuous political destabilisation and changes in ministries, the 26 October 2018 events and now the brutal terrorist attack, has significantly reduced the attention, focus and the speed of action of reforms. However, this is not an excuse; it is important that the Government and policy makers must put the accelerator on export-driven growth for Sri Lanka to stabilise its economy again. We have yet to see the focus and emphasis of what late Lalith Athulathmudali and President Premadasa gave to the export sector in a tangible and an actionable way or execution, although many proposals and ideas have been floated. Speed of reforms are the essence the export sector needs right now from Government.
Role of the Head of State
If the export industry is a priority it should have been scrutinised by the President, Prime Minister and the line ministries once a month with the exporters forum as provided by the EDB Act. If the Head of State doesn't act to meet the export community and give the focus and the assistance, it is unlikely that the rest will be placed into the right position. This has been the fact since 1994, no head of state has acted to focus on exports other than to do lip service, and as a result its contribution became 12.5% to GDP by 2014 from a healthy 35% of GDP at the beginning of the century. The current 16% of GDP is also way below par, given the growth factors seen in countries such as Bangladesh, Vietnam, Thailand etc.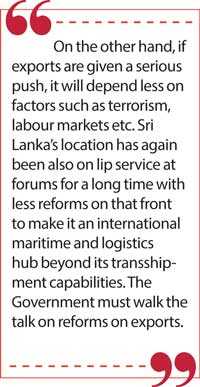 Indeed, the focus on tourism since the end of the war has led many to believe that it is the future of Sri Lanka, and a greater focus was visible on this externally dependent sector. Sri Lanka earns its foreign exchange mainly through its overseas workers' foreign remittances, tourism and exports. It is important to note that the first two sectors are totally dependent on external factors, which the Government or businesses can do very little at a time of crisis like now. The tourism industry, which was focusing on $4 billion in 2019, has now re-adjusted to a figure of around $2.5 billion overnight. This has a huge effect on the economy, the supply chain and employment. It will take time to resurrect. I need not elaborate the challenges to do so either.
The reforms slow and stuck
On the other hand, if exports are given a serious push, it will depend less on factors such as terrorism, labour markets etc. Sri Lanka's location has again been also on lip service at forums for a long time with less reforms on that front to make it an international maritime and logistics hub beyond its transshipment capabilities. The Government must walk the talk on reforms on exports. For example, the domestic trade facilitation mechanism has been stuck for years in true sense for seminars, workshops and documents but processes have very marginally changed. In the World Bank Logistics Performance Index (LPI) country has been pushed back to 94th position in 2018 from 89th place in 2014, since other countries have advanced with faster reforms. India came up by 53 positions. The Customs Ordinance was proposed for reforms in 2015/2016 budgets. The digital signature for e-documents was initiated in 2014. None of these have seen its completions, and status core remains and NES seems to be an alien subject for some ministers even to date. Port sector expansions, such as the East terminal has not even begun beyond what it was in 2015. But workshops are held for capacity building for the north port. International marketing to promote Sri Lanka as a logistics and a re-export hub has not made any headway. The smallest adjustments required for the Commercial Hub Act, which was incorporated in 2013 to the Finance Act, and a budget proposal done in 2015, has not yet succeeded in getting a gazette out for nearly four years. The new entrepôt process is stuck for three years. These are just a few to mention.With this background, the industry is unable to market international hub operators to set up logistics centres for re-export, as there are land restrictions and process issues to be sorted out. At the same time, institutions such as the Ports Authority, while seeing transshipment growth, increases local tariffs arbitrary without any rationality or consultations passing new cost to exporters. The export industry needs predictability and consistency in policy and that seems to have not been understood by many as of today.
Expand NES to a smart export strategy
The Government, policy makers, executers and the business community must realise, that if we attract and facilitate more export-driven industries, the country's vulnerability will be much less than the tourism and migrant worker dependent economy we are today. The export industry will not only create new jobs, but it creates whole new ecosystems in a country. This can be clearly identified if one breaks down the $17 billion current small export industry and understand how it creates both horizontal and vertical supply chains and value chains across the economy. Exports create so much of a multiplier effect and gears a nation for innovation at the same time. But it will only happen if the correct environment is created for the sector. Conducive environment, infrastructure, capacity building, training, exposure and competitive laws and market access are essential elements of reform if Sri Lanka wants to attract new investors related to manufacturing and for exports to achieve at least a position of 25% GDP by 2025.

I hope the Easter Sunday debacle will open the minds of those authorities and politicians to re-think and make up their minds and accelerate the process of exports, export diversification and facilitating the logistics hub concept for re-exports through speedy reforms. I urge them to make use of assets and abilities such as location and talent to be properly converted to reduce external dependency. The current situation certainly emphasises the critical need of the NES, and now we need it to be a smart exports strategy which can be built on our location, human resources and reforms that no terrorist can take away in a blink of eye.