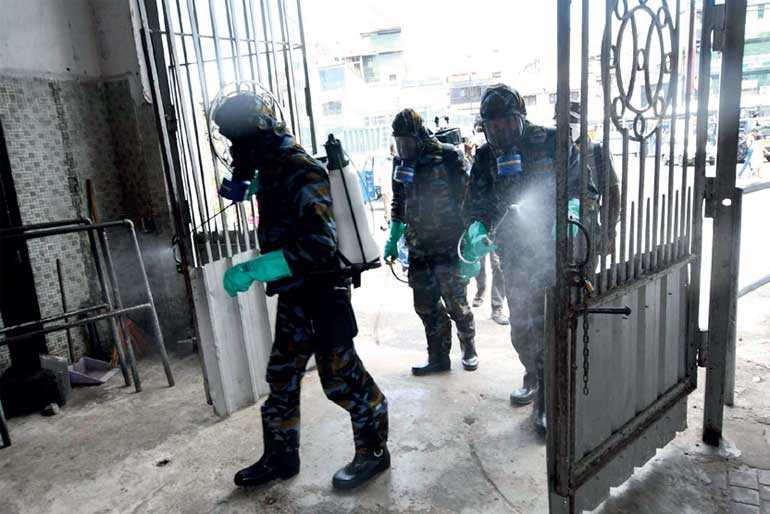 What is important is how we are going to evolve from this current lockdown with extensive curfews to a normal situation which allows the economy to function – Pic by Shehan Gunasekara
---
Well, it will not go away. All this boring stuff we see repeatedly on the TV does not help with the problem in any way.



The smart DIG in his well-pressed uniform is telling us the score every day. The number of people arrested and the number of vehicles seized. I can't believe any viewer finds this information interesting or comforting.

If they told us in detail why people were breaking the curfew, it might have provided an insight into the social tensions created by the curfew. Were they going to visit an elderly parent or to find food or medicine or went for a drive because they were bored?

We have had a plethora of people ranging from doctors, trade unionists, the good general, and an eclectic collection of people delighted at hogging the limelight and smartly dressed for it, telling us about restricting the spread of CV.

We all know that if a person has CV those who were in contact may also get CV and sensible steps must be taken to restrict the spread of CV. One does not have to be very clever to figure this out.


Important

What is important is how we are going to evolve from this current lockdown with extensive curfews to a normal situation which allows the economy to function.

We will have CV tomorrow, the day after, and the day after that. In that context what will life be like for the people in this country? That is what everybody wants to know and so far nobody is providing the answer.


The present cannot continue

A man earning a daily living, for many years, and raising a family well-fed and clothed, is now like a beggar waiting for the food parcel. He must wonder whether he will ever see those days again – to unwind with his poison of choice after a hard day's work and to hand over the day's earnings to the wife. Elderly parents hoping that curfews will be lifted and that they will see the children again before they die.

There are many thousands of such stories. The bottom line is that what prevails now is not a model for perpetuity. The Government, the Opposition and society must think carefully and begin an evolution to a new order that will take us back to nearly where we were before CV.


Moving to tomorrow

We have to move to tomorrow sooner rather than later. Economic activity must be allowed to start before it is damaged beyond repair.

The first step is to dampen the fear and panic about CV. When the current severe restrictions are relaxed, for sure, the numbers of infected people will go up. The challenge is to get this into a least frightening scenario. This can be achieved by telling the people the truth about CV.


The truth about CV

The truth about CV should be explained without delay. Stop the endless scenes on TV of food parcels and policemen stopping and checking people. Instead have senior distinguished physicians explain all the facts about CV. (They will have more credibility because they are more knowledgeable than health administrators and medical trade unionists we now see on the box.)

According to information in the common domain 80% recover in a week. In the UK two high profile persons who got CV went home and were looking very well on TV after eight or nine days. Of the 20% who get more seriously ill, more than 15 % recover. Those who died were less than 5% in hot countries.

We can work out our own statistics and the top medical professionals should explain this to the public. This then makes CV a much less frightening illness. People will know that out of 100 who get CV, 95 for sure and possibly two or three more will be back to normal.

Those who recover should be sent home as fast as possible and not be detained. A test to see if they carry the disease and if not it should be 'off you go home'. Seeing people who had CV returning soon will have a soothing effect on the community.


Hospitals

To cater to increasing numbers of people with symptoms, perhaps a thought to consider is having two wards. Everybody goes into the first and only those who develop breathing or other problems get moved to the ward with ICU facilities.


The challenge is to reduce deaths

If no one died, CV simmers down into no more than a bout of flu and we don't need curfews, etc.

If deaths are kept down to 1% we will be close to making CV no more than a wave of bad flu. The secret of taking the sting out of CV is to reduce the percentage of deaths.

Firstly, our top physicians should study the postmortem details to understand in detail the causes of death. I have not read anywhere that post mortems are being done let alone studying the details of what caused death.

Then our top physicians should develop the treatment regime that should be followed and they should follow up to see that it is followed. Pneumonia can be cured.


My experience with pneumonia

There should be no doubt in anyone's mind that pneumonia can be cured. I am so adamant in insisting, because I had a very bad bout of pneumonia with all the indicators bad but I was cured. The treatment regime was intense – intravenous injections, three oral medicines, nebulised every four hours with salbutamol, oxygen as required and physiotherapy twice a day for breathing exercises and a compulsory short walk.

After I left hospital I remained at home in London for two months and then came back to Sri Lanka. A week after I returned I started playing golf with the approval of the consultant treating me.