We generally think people work from 9 to 5 but in reality most people leave home to work much earlier. If travelling to and from work was counted as part of work, most people work 8 to 6. Not to mention another hour in the morning spent getting ready to leave home for work. This is a huge waste of time which could otherwise be spent with their families or doing other activities – Pic by Shehan Gunasekara
---
Working from home has always made more sense since the rise of technology made it more than possible but still companies continue to have employees commute for hours to and from office for work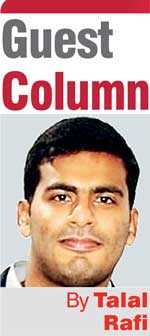 which could have been done from home.

Only a small spark is needed to light a great fire. A virus called COVID-19 originating from China was the spark that has started the remote working revolution. With a study in the UK saying social distancing may need to last for up to 18 months, remote working will be the norm for over a year.

As employees around the world get used to remote working for over a year and find out that they can do all the work from their homes, will they return to office a year later when the coronavirus vanishes? Will they not question why they have to go back to office in the first place if all the work can be done remotely?
Benefits of remote working
We generally think people work from 9 to 5 but in reality most people leave home to work much earlier. If travelling to and from work was counted as part of work, most people work 8 to 6. Not to mention another hour in the morning spent getting ready to leave home for work. This is a huge waste of time which could otherwise be spent with their families or doing other activities.
Technology means working from home is much easier
Telecommuting means there is less of a need for physical interaction nowadays. Tech giants like Microsoft and Google have the platforms for remote working. Microsoft has announced that it will make its Teams platform free for the next six months. Along with other connecting applications such as Slack and Zoom, there really is no need to have office spaces.
Saves companies a lot of money
By moving more employees to work from home, companies will need less office space. This means less rent costs. A huge portion of a company's budget goes to paying rent for the building it occupies. This can help cut it.

The company can use this money saved to increase the dividend given to shareholders, increase salaries for employees, cut prices of their products in the market or spend the money on marketing and research. Also having less employees in the office means less energy costs with less air conditioning needed.
Helps find talented people
Meanwhile, 34% of US workers say they would even take a 5% pay cut to have remote working. Remote workers say they are much happier than others according to research. Many qualified people are unable to work for a certain company which would make the best out of them, simply because of location. This has always troubled recruiters as they are limited to hiring someone for a particular job from a certain geographic area and this limits their capabilities.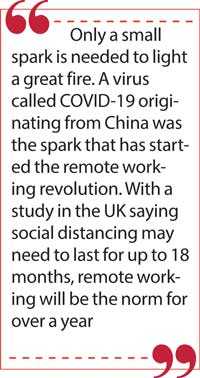 Same goes for the job seeker as many people are talented to work in a certain company but let the job go because of the long time taken every day to travel to and from work.
Saves employees time and energy
On average a person spends two hours a day travelling to and from the office. If employees are allowed to work from home, they can use this time more productivity. It will also mean the employees are less stressed out as travelling to and from work considering the traffic is stressful and makes employees tired even before they reach office.
Helps the fight against global warming
Fossil fuel consumption by vehicles is a huge contributor to climate change. Employees travelling every day back and forth to the office makes up a big part of this. One day a week where employees are allowed to work from home can cut fuel consumption by vehicles used to travel back and forth to work by 20%. This can be a huge boost in the fight against climate change.
Helps productivity
Not having to travel to work means employees are less stressed when they start work. A study by Stanford University shows that working from home helps a person improve productivity by 13%. The study by Stanford found two reasons for the increase in productivity.

Firstly, remote workers actually work their full shift compared to people working in offices who were unable to because of distractions at the office. Secondly, remote workers can concentrate better whereas in the office there is a noisy environment. The Stanford University's study shows that because of remote working, the company they based their study on made $2,000 more profit per person per month. Also, when remote working was adopted, resignations went down by 50%.
Work-life balance
With a 40-hour work week which comes to over 50 hours a week when considering travelling, people hardly get time to spend with their family and friends. People being busy during the weekdays means even house related work like groceries are pushed to the weekend.

Family life is affected greatly. If a family member gets sick, the employee has to take it out of their annual leave to attend to the needs. In many cases children hardly meet their parents and the parents miss out on being with their children at the time their children need them the most.

(Talal Rafi is an entrepreneur and international consultant)