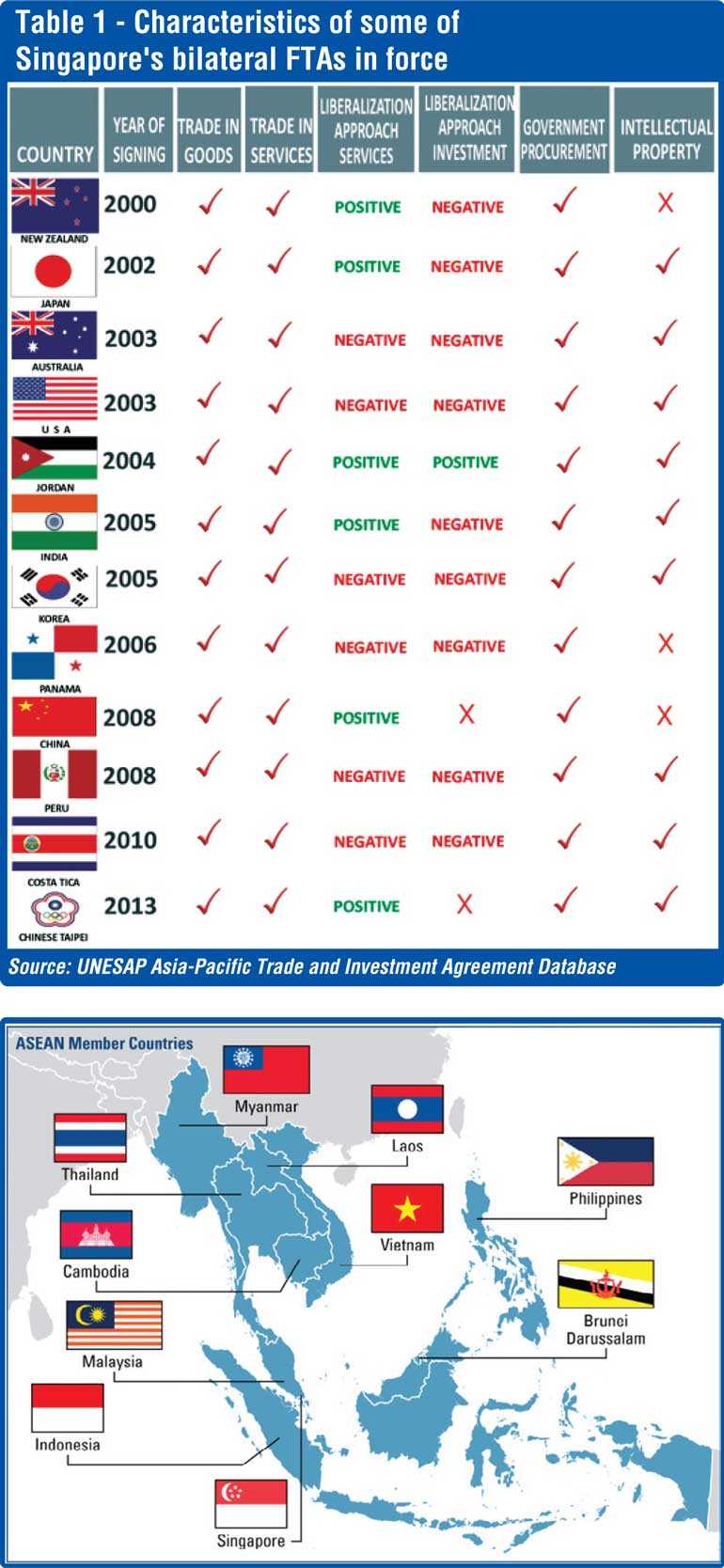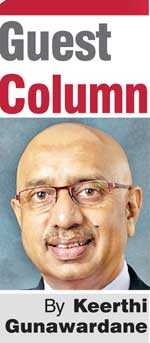 Market access to Singapore was not a problem for Sri Lanka even before the Sri Lanka-Singapore Free Trade Agreement (SLSFTA). Singapore is one of the world's most open economies and 99% of all imported goods enter duty-free and there are few banned imports.

Singapore was a free port for decades and we could export almost anything to Singapore if we were competitive. This means there is no advantage whatsoever for the Sri Lankan exporters with the present Singapore-Sri Lanka FTA. Simply we are trying to have a Free Trade Agreement with a country already have 99% market access.

Benefits to Singapore

We will look at the opposite, what benefits Singapore will have out of the Free Trade Agreement with Sri Lanka. Outlining the key benefits of the agreement, Singapore Ministry of Trade and Industry (MTI) said Sri Lanka will, over 15 years, eliminate tariffs on 80% of Singapore's exports. This means a potential tariff savings of about S$10 million each year, it added.

The Ministry said the agreement also contains one of the most liberal rules of origin, which will allow more exports from Singapore to qualify for the lower tariffs negotiated. It includes Sri Lanka's first treaty commitment on government procurement. This will allow Singapore companies to bid for projects by several of Sri Lanka's large central entities and State-Owned enterprises.

Singapore and Sri Lanka are also committed to granting better access to each other's services markets, said MTI, adding that the agreement includes sectors of interest to Singapore companies in the professional and trade-related services as well as environment, construction and tourism.

The SLSFTA also covers cross-border transfers of information by electronic means and data flows. MTI said this will benefit Singapore and Sri Lankan companies given the increase in demand for e-commerce and digital services. There are also safeguards against discriminatory treatment based on nationality and protection against expropriation.

Under the agreement, the Singapore International Arbitration Centre is listed as an institution where Investor-State disputes can be heard. MTI said this is aligned with the objective of promoting Singapore as an arbitration hub. They further explained about the FTA with Sri Lanka as follows.

According to Singapore – Sri Lanka's first modern and comprehensive FTA

The deal is Sri Lanka's first "modern and comprehensive" Free Trade Agreement and will, said MTI, "position Singapore as an early and supportive partner of Sri Lanka's economic liberalisation plans and development". To date, Singapore companies have established a presence in Sri Lanka in sectors such as construction, infrastructure, manufacturing, food and services. There are currently about 90 Singapore companies in Sri Lanka.

MTI said Sri Lanka was Singapore's 36th largest trading partner in 2017, and bilateral trade amounted to S$2.7 billion. Singapore's exports to Sri Lanka totalled S$2.5 billion, while Singapore's imports from Sri Lanka totalled S$178 million.

Singapore's top exports to Sri Lanka include petroleum and diesel, non-monetary gold. The top imports from Sri Lanka include jewellery, gems, refined petroleum, textiles, boats; agriculture, fisheries, clothing accessories and wheat flour.

"It will liberalise trade and service, it will improve investments into Sri Lanka, and it will give a shot in the arm to manufacturing and service," he said. He added that the SLSFTA would "certainly be helpful" to small and medium enterprises and other prospective investors interested in Sri Lanka.

Benefits to Sri Lanka

The Ministry of Development Strategies and International Trade (MODSIT) of Sri Lanka explained the benefits as follows.

Singapore is Sri Lanka's 20th export destination and eighth trading partner. In terms of trade in goods, Singapore is not a significant export market of Sri Lanka. But, being an important member of the ASEAN with a high trade to GDP ratio (168.5% world's highest whereas Sri Lanka ratio is 24.7%), the FTA with Singapore will provide Sri Lanka a gateway to larger ASEAN market as Singapore has so far signed 21 Free Trade Agreements with 32 trading partners. The development policy of the Government aims primarily at maximising the economic benefits through integration in to global economy, attracting Foreign Direct Investments (FDIs) in strategic sectors and improving export competitiveness.

Who benefits?

It is very clear from the Singapore side they have a clear vision what to achieve out of the SLSFTA. Looking at the Sri Lanka side we do not see any comprehensive document about the benefits to Sri Lanka.

Looking at the Singapore document it is clear that we are going to lose about S$10 million each year due to the eliminate tariffs for Singapore exports to Sri Lanka.

Contd. on Page 21

(The writer is an Economics Hons Graduate from the Sri Jayawardenepura University, Immediate Past President of the International Chamber of Commerce and the Vice President of the Federation of Chamber of Commerce and Industries Sri Lanka.)

Singapore and ASIAN

Singapore is no more a manufacturing country and they are mostly famous for trading and financial services and other services today.

The Singapore Port is one of the most efficient and productive ports in the world. Even their cost of operations are high compared to some of the countries in the region they are rating is very high in this region.

Singapore is one of the strongest among the ASIAN countries (Brunei Darussalam, Cambodia, Indonesia, Lao PDR, Malaysia, Myanmar, The Philippines, Singapore, Thailand, Viet Nam) and the present Chair of ASIAN.

ASEAN Trade in Goods Agreement

The ASEAN Trade in Goods Agreement (ATIGA) aims to achieve free flow of goods in the region resulting to less trade barriers and deeper economic linkages among Member States, lower business costs, increased trade, and a larger market and economies of scale for businesses.

Through ATIGA, Brunei, Indonesia, Malaysia, Philippines, Singapore and Thailand have eliminated intra-ASEAN import duties on 99.65% of their tariff lines. Cambodia, Lao PDR, Myanmar, and Viet Nam have reduced their import duties to 0-5% on 98.86% of their tariff lines. Today, focus is given to addressing non-tariff measures that could have non-tariff barrier effects on the region's trade and business activities.

Singapore already excel to be one of the most efficient ports in the world. They are worried about the other port developments in Asia mainly in Sri Lanka and in India. The Chinese getting the control of the Hambantota (Magampura Port) is also a concern to Singapore in terms of keeping the transaction volumes of Singapore Port and sustain their business.

The large Chinese investments to develop the ancient Silk and Spice Route and One Belt One Road Initiative is also some what a threat to Singapore.

Singapore has a challenge to secure their business and the port operations with all these developments around them.

Benefits against potential threats to Sri Lanka

According to MODSIT they have identified Singapore is not a significant export market for Sri Lanka but talk about the potential gateway to the lager ASEAN market using the Singapore Free Trade Agreements with their 32 trading partners.

If this works that is fine but there is a greater tendency to work the other way too. Through the SLSFTA the ASIAN good can come to Sri Lanka too. The Malaysian and Indonesian goods very easily can come though Singapore. Looking at the geographical locations of the ASIAN Member countries there is a greater possibility to use the Singapore Port. If this happens there is a greater chance of agricultural products can come in to Sri Lanka and become a threat to our farmers.

The price of an agricultural product can go up or down mainly depending on the demand and the supply of the product. We are aware how the pepper prices in the local market came down without having an increase of supply in the market. The most recent complain is about cashew. Some of the cashew sellers complained they were offered a low quality cashew by the traders and this was discussed over the media. President Sirisena himself says the cashew nuts served on SriLankan Airlines flight not fit for consumption even by dogs (BBC Report). These are few examples of the possible threats we are facing right now.

The second area of our concern is to attract and improve (FDIs) from Singapore. However only 5.3% of Sri Lanka's FDI during 2014-17 came from Singapore. If we have to attract the FDI then we have to improve our ease of doing business conditions in Sri Lanka and the other related rankings.