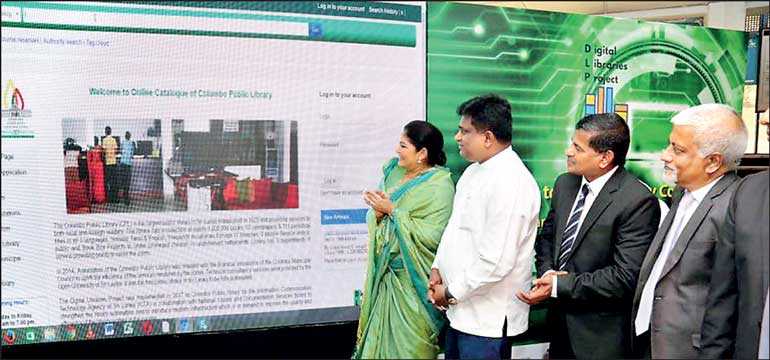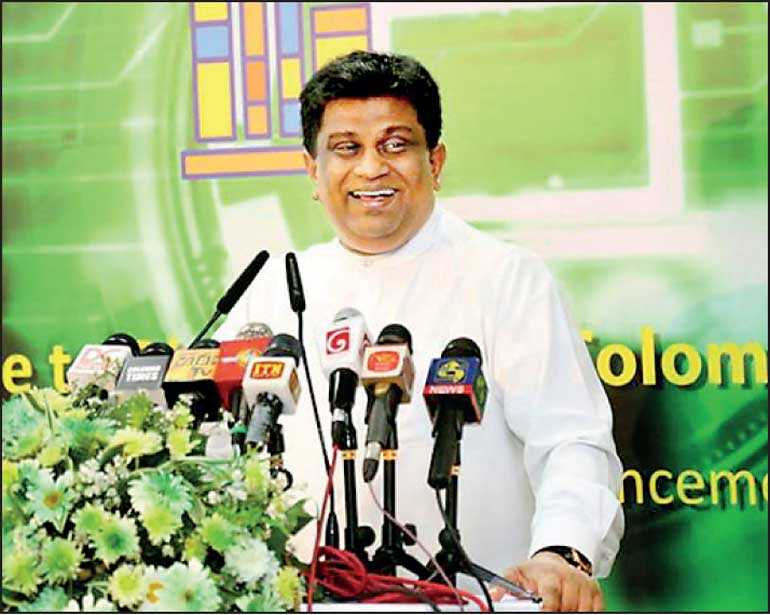 ---
Shenzhen, in economic terms, is the fourth largest city in mainland China. Located in Pearl River Delta between Guangzhou and Hong Kong, it is one of the youngest of Chinese cities too. Its history goes back only to 40 years. Shenzhen officially became a city in 1979, taking its name from the former county town, whose train station was the last stop on the mainland Chinese section of the railway between Canton and Kowloon. In 1980, Shenzhen was established as China's first special economic zone.



This piece of information remains to be verified, but some say Chairman Deng Xiaoping's inspiration has been Katunayake Export Processing Zone in Sri Lanka set up by former President J.R. Jayawardene, immediately before.

It may or may not be, but Shenzhen has been a sure success over the years, to rank fourth highest in its industrial output, only following Shanghai, the historical commercial capital of China, Beijing, the administrative capital and Guangzhou (better known as Canton) the most industrialised city historically. Interestingly Shenzhen beats all three in its per capita GDP, as high as $ 27,000, far above country average of $ 8,827 per individual.

Even in Chinese terms Shenzhen is a highly populous city. Its registered population in 2017 has been 13 million. However, the local authorities estimate that the population of Shenzhen could be much higher, even about 20 million, due to the large unregistered floating migrant population living in the city. That is close to Sri Lanka's own.

Now be ready for an amazing comparison. Sri Lanka's 20 million is spread over 65,610 square km, while Shenzhen's not more than 2,500 square km. Such a high population density is only possible, like in Singapore and nearby Hong Kong, with high rise apartment buildings that provided housing for the vast majority of the citizens. Only the extreme rich can afford their own housing in this expensive city.

Interesting how municipal authorities handle day-to-day affairs in such a vastly populated place. It is no small task. Consider how difficult the waste management itself would be. A city dweller typically produces 0.75 kg of waste per day. That is about 15 million kg (15,000 metric tonne) of waste for the entire city.

Dissipating such a large amount of waste would be a nightmare of any municipal authority. This is only one aspect. Schooling. Drainage facility management. Healthcare management. Disaster risk recovery. Traffic movement (Shenzhen has over three million private vehicles only). These are all tasks too difficult – as unwieldy as they are in a small country like Sri Lanka.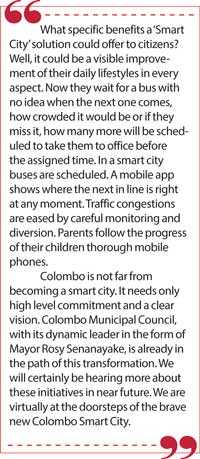 Fortunately, for Shenzhen the solutions too are locally brewed. The Silicone Valley of China has its own tech firms to provide comprehensively designed smart city solutions to address all these gargantuan issues.

Longgang, a district of Shenzhen, for example, home to a large number of high-tech, advanced manufacturing, logistics, and financial firms recently found itself at a critical juncture: It needed a way to improve social governance and city management.

The solution came in the form of a 'Smart City' to build an intelligent urban infrastructure. It needed to provide more convenient, efficient, and cost-effective public services to enable intelligent, sophisticated city social governance that could organise a liveable environment while promoting the development of 'smart' industries.Longgang has a sizeable young and a large transient population. Citizens are increasingly concerned about the population explosion, traffic congestion, and unbalanced educational resources. 'Smart Longgang' is a giant system based on a 'Device + Network + Database + Image + Cloud' architecture.

It involves 11 key projects that gradually enabled intelligent infrastructure, efficient and collaborative government productivity, convenient public services, refined social management, liveable urban environments, and high-end industry development.

A gamut of basic databases was built to facilitate public sharing of information. This horizontal integration of data resources eliminated the data silos of traditional vertical agencies, forming a 'neural data network'. The neural network constantly improves data quality and exploits the full benefits of data resources.

Longgang has achieved the following multiple results in the fields of urban governance, efficient collaboration, and public services that benefit its population as a result of this Smart City solution:


Unified basic databases enable district-wide data aggregation and sharing, exploit the full benefits of data, and support scientific decision-making
The unified spatio-temporal information-sharing platform features full coverage and high precision that reinforce urban security
The one-window government service system integrated a variety of services from 30 agencies and restructured approval services, raising public satisfaction to 95%
The collaborative planning system combined data from more than 100 sources to enable unified planning


While North America, South America Europe and even East and South-East Asia can boast about few Smart city enclaves, South Asia is yet to establish its own. Logically it could be Colombo. With a population of nearly one million, and equally that number of daily visitors during day time, Colombo is neither too small nor too big to be an ideal smart city.

Then we find Colombo's city infrastructure well developed. It has carpeted roads still with manageable traffic – that crosses the limits only few times a day. Colombo also is 100% electrified, has a good water supply and drainage systems and reasonably efficient waste management facilities – which still can be improved.

Not everyone feels happy about the school system as the perception is a sizable gap of facilities between popular schools and others, but healthcare is satisfactory. Crime rates are average. In these circumstances, it would be easy to implement a smart city solution in Colombo further making city management efficient and easier and also reducing citizens' burdens. One may even say it is the logical next step.

It wouldn't be so easy transforming any other South Asian city. Take Mumbai for example. It comes with a huge population of 22 million only in the metropolitan region. Yes, Mumbai is the wealthiest city in India with the highest number of millionaires and billionaires among all cities in India.

On the other hand, it is a highly disorganised city with poor infrastructure facilities in many areas within the city. About 700 million litres of water, out of a daily supply of 3,500 million litres, is lost by way of water thefts, illegal connections and leakages, per day in Mumbai. Almost all of Mumbai's daily refuse of 7,800 metric tonnes, of which 40 metric tonnes is plastic waste, is transported to be dumped, not recycled. Power supply has serious issues with pilferage so common. The number of slum-dwellers is estimated to be nine million – that is, 62% of all live in slums. Dharavi, Asia's second largest slum, is located in central Mumbai and houses between 800,000 and one million people. Poverty and unemployment, poor public health and poor civic and educational standards for a large section of the population are rampant. You cannot implement smart cities in such places. At least not at once. Such cities need considerable work prior to digitalisation initiatives to be successful. Colombo is certainly a better option.

What specific benefits a 'Smart City' solution could offer to citizens? Well, it could be a visible improvement of their daily lifestyles in every aspect. Now they wait for a bus with no idea when the next one comes, how crowded it would be or if they miss it, how many more will be scheduled to take them to office before the assigned time.

In a smart city buses are scheduled. A mobile app shows where the next in line is right at any moment. Traffic congestions are eased by careful monitoring and diversion. Parents follow the progress of their children thorough mobile phones.

In a disaster situation organised activities minimise the trouble they face. Most importantly a smart city is also a safe city. It would make life safer with reduced crime rates. For example, in Barcelona, Spain where a safe city application is active, steal of vehicles has become a thing of the past. All vehicles stolen in 2018 has been monitored and recovered to be returned to owners.

Colombo is not far from becoming a smart city. It needs only high level commitment and a clear vision. Colombo Municipal Council, with its dynamic leader in the form of Mayor Rosy Senanayake, is already in the path of this transformation. We will certainly be hearing more about these initiatives in near future. We are virtually at the doorsteps of the brave new Colombo Smart City.


(Ajith P. Perera is the Minister of Digital Infrastructure and Information Technology and Chanuka Wattegama is a business writer.)