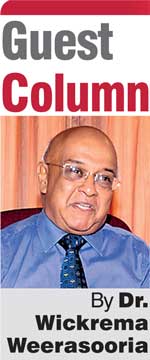 I had the pleasure to attend the inaugural session of the Colombo Law Faculty Research Symposium on 25 November. The session was launched by its current Dean Indira Nanayakkara. The inauguration was well attended by judges of the Supreme Court and Court of Appeal, the Attorney General and by leading lawyers and senior academics and all law teachers of the Colombo Law Faculty.

The Keynote address was given by the Chief Guest Dr. K Kanag-Isvaran PC who only two days before that had been conferred with a LL.D doctorate (Honoris Causa) by the University of Colombo. This doctorate conferred on Kanag-Isvaran was much deserved and in my view long overdue.

Dr. Kanag-Isvaran has been for many years one of the leading practitioners in Commercial Law and he has served successive governments in areas of law reform mainly in the area of Company Law, Commercial Law and Commercial Arbitration. Again, in my view what singles him out for a doctorate is his longstanding commitment to legal academia and I am personally aware of the time and effort and even personal expenditure he has incurred in teaching law students, especially law students who cannot pay for tuition.

His book on Company Law is also a signal contribution as a text book not only for judges and lawyers, but for law students and legal academics. In fact one of the main reasons I attended this Symposium was to listen to Dr. Kanag-Isvaran's Keynote address. His manner of speech and delivery should be emulated by law teachers.

Nanayakkara and Prof. Sharya Scharenguivel who initiated this year's Research Symposium did well in identifying Dr. Kanag-Isvaran to deliver the Keynote address. It was also a pleasure to see the presence of Supreme Court Judge Justice K.T. Chitrasiri and Court of Appeal Judge Justice Nawaz. The Symposium would have been a relaxing experience to Justice Chitrasiri currently heading the Bond Commission Inquiry with its strenuous cross-examinations! Justice Nawaz is also another judge who is always there to help academia.

The Symposium also valued the attendance of Jayantha Jayasuriya, President's Counsel the present Attorney General. The presence of such individuals at the event show their commitment to academia. After all it is ultimately from the law students that members of the future Bar and Bench will come!

Also, at the Symposium were launched two good Journals 'The Colombo Law Review of 2017' which contains about 15 excellent articles. This is a prestigious refereed journal. Also launched was 'The Colombo Law Journal' of over 200 pages. This is an excellent effort by the law students of the Colombo Law Faculty. Justice Chitrasiri had kindly written an excellent Foreword to it and the theme of the Colombo Law Journal was devoted to Intellectual Property.

I was made to understand that the Research Symposium of the Faculty of Law was first initiated from about 2002 during the time of my friend and academic colleague at Peradeniya Law School, Professor Savitri Goonasekera, one of Sri Lanka's highly acclaimed legal academics. She was the Dean and later Vice Chancellor of Colombo University. In fact when I was leaving the Symposium last Saturday, I was fortunate to meet Prof. Goonasekera who had arrived to conduct the academic part of the Symposium. The willing support she gives our legal academia is highly commended.

To conclude let me emphasise that it is Legal Research Symposiums of this nature that hallmark the prestige of a legal institution and in that context the Dean and the staff and students of the Colombo Law Faculty should be congratulated. Well done.
(The writer is Chairman of the UGC Standing Committee on Legal Studies.)