Much of the anti-Muslim violence on 5 May in Negombo had occurred in Poruthota, Periyamulla and Dalupotha areas. It appears that the violence was an isolated aberration – with outside forces trying to provoke people and create religious unrest – and was in no way a communal backlash caused by the Easter attacks – Pix by Chamila Karunarathne
---
Negombo, called Meegamuwa in Sinhala and Neerkozhumbu in Tamil, is a multi-ethnic coastal town 31 km to the north of Colombo. The ethnic breakdown in Negombo is roughly 75% Sinhalese, 14% Muslim and 9% Tamil people. The population is mainly Christian, comprising Catholics (65.3 %) and
Protestants (3.35%). With numerous Catholic cathedrals, churches, shrines and grottos dotting the landscape, Negombo is often referred to as "Little Rome".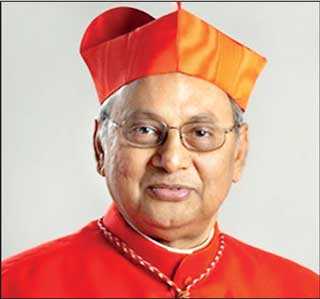 His Eminence Malcolm

Cardinal Ranjith
The peace and tranquillity of Negombo was shattered on 21 April when a suicide bomber targeted the St. Sebastian's Church at Katuwapitiya during Easter mass. A large number of people were killed and injured. The attack was part of a coordinated campaign by suicidal followers of the Islamic State (IS) organisation in which three churches and three five-star hotels were targeted.

Ninety-three people including children who were killed at St. Sebastian's Church were buried en masse in a highly-emotional funeral conducted by His Eminence Malcolm Cardinal Ranjith, who is also the Archbishop of the Catholic Diocese of. Colombo.
Although a very large number of Christians were killed on Easter Sunday by Islamist suicide bombers, there were no reprisals or attacks against Muslims by Christians. This was particularly so in the predominantly Catholic Negombo where there is a sizeable Muslim population (14.33%) also. This enlightened conduct was chiefly due to the timely appeals made by different Christian leaders who called upon their members to desist from such unchristian behaviour.

The church was quick to clearly distinguish between a fanatical group engaging in terrorism and the innocent, overwhelmingly peace-loving Muslims of Sri Lanka and provided correct guidance to their flock. Cardinal Ranjith played an exemplary role in this exercise. There was no "backlash" against the Muslims in Negombo despite the horror affecting St. Sebastian's Church. The Muslim people of Negombo appreciated this greatly.
Refugees under attack
Unfortunately another group of pitiable people suffered in Negombo and elsewhere in Sri Lanka after the Easter Sunday attacks. According to reports these were the refugees and asylum seekers who came to Sri Lanka seeking protection due to persecution they faced in their own countries. They are from 15 countries, with the majority being from Pakistan (1,341) and Afghanistan (201). Many are Ahmadiya and Shia Muslims from the Hazara ethnic community, while others are Christians, all allegedly persecuted by Muslim groups.

Since Sri Lanka is not a signatory to the 1951 Refugee Convention there are no national procedures for the granting of refugee status. Sri Lankan governments have allowed them to stay in the country temporarily, until they found permanent resettlement in other countries. As of 31 March 2019, there were 851 persons who have been accepted as refugees awaiting resettlement in other countries and another 819 asylum seekers, whose refugee applications are pending.
The majority of these refugees were staying in and around the Negombo area. After the Easter attacks these pathetic people became the targets of enraged citizens. Many were harassed and threatened. Owners of the residences where they were staying asked them to vacate immediately. As a result around 1,200 such refugees are now refugees again.

As one of them told the media, "In Pakistan we were told we are not Muslims and persecuted. In Sri Lanka we are told we are Muslims and victimised." They are now housed in makeshift refugee camps in two Ahamadiya Mosques and the Negombo Police station. There are 175 people including 45 children staying at the garages in the Negombo Police Station.

While refugees and asylum seekers felt the sting of a misdirected "post-Easter backlash," the Muslim people in Sri Lanka did not suffer any violent repercussions. However the ongoing security operations to counter and check terrorism and terrorist activity has caused many problems and pain of mind to the Muslims as it is that community which is bearing the brunt of anti-terrorist action.

However, most Muslim people realise that this state of affairs is inevitable at this point of time and undergo current hardship with the hope that this would only be a temporary phase. In the prevailing climate of insecurity they are thankful that they have not been the victims of violence despite the attacks on churches and hotels. After all this is a land where "Black July" was unleashed against innocent Tamils in 1983 when 13 soldiers were killed in a landmine ambush by the Liberation Tigers of Tamil Eelam (LTTE).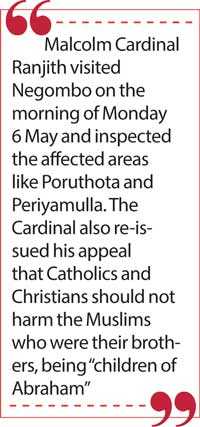 Negombo violence on 5 May
Sadly this sense of safety and security felt by the Muslims received a shock in Negombo on Sunday (May 5) night last week. Houses, businesses and vehicles belonging to Muslims in Negombo came under attack. Even a mosque was damaged. A curfew was imposed.

When news about anti-Muslim violence in Negombo became known, most people were upset and puzzled. Why was anti-Muslim violence happening in Negombo now whereas there had been no immediate backlash in the aftermath of the attack on St. Sebastian's Church? The knee-jerk reaction of the Government in blocking social media outlets and the bland announcement of a "clash between two groups" did not help very much either. There was a sense of shock and disbelief.

It is against this backdrop that I contacted many people in Negombo and a few other knowledgeable persons elsewhere to find out what had exactly happened. This article is pieced together from the bits and pieces of information gathered from multiple sources including Muslim residents of Negombo.

The good news about this violence is that there was no loss of life or limb. A few were injured but none serious. There has been damage to property but again not as much as was feared. The salient factor is that the Negombo violence was not in any way a backlash caused by the terrorist bombings. Though the targets were Muslim, the motivating factor does not seem to be "delayed" retaliation for the Easter attack on St. Sebastian's Church. In fact the singular hallmark of this "violence" appears to be the conspicuous absence of extensive physical harm.

The Negombo violence originated on Sunday 5 May at the place called Poruthota in Sinhala and Palahathurai in Tamil. There are two versions about the flashpoint that triggered off the frenzy.

One is that it was caused by an accident between two three-wheeler drivers from the Sinhala and Muslim communities respectively. This resulted in an altercation that led to fisticuffs and ultimately a free-for-all among Sinhala and Muslim auto drivers.

The second version is that there had been a longstanding dispute over parking spots between Muslim and Sinhala auto rickshaw drivers and that it had erupted into violence on that fateful day after a verbal duel turned into scuffles. Since both versions point to a "tuk-tuk" quarrel as reason for the squabble, it is very likely that the clash was caused by a combination of both.



The volatile situation was further exacerbated by the influx of extraneous elements. A group of persons reportedly armed with clubs, poles, knifes and bottles had entered the scene about an hour after the initial altercation.

This group of outsiders in an inebriated state led by someone called "Sumathi Mahathmaya" had started attacking the Muslims. The tuk-tuks owned by Muslims were overturned and smashed up. Attempts were made to set three auto-rickshaws on fire but only one was totally burnt. Some Muslim-owned shops were also attacked. Many Muslims sought refuge in the nearby mosque. The mob that was swelling in numbers then converged in the vicinity of the mosque.

A potentially ugly situation was averted by the Police who arrived at the trouble spot along with some STF personnel. They succeeded in dispersing the mob through persuasion without penalising anyone. No miscreant was arrested. A few Catholic clergymen also arrived at the scene and confronted the mob. They pointed out the appeal made by Malcolm Cardinal Ranjith that Catholics and Christians should not do any harm to their Muslim brethren and asked the persons to leave.
Anti-Muslim violence
A curfew was imposed from 7 p.m. on 5 May to 7 a.m. on 6 May. Police curfew was imposed in 10 police divisions including Negombo, Kochchikade, Katunayake, Divulapitiya, Kotadeniyawa, Pamunugama, Raddolugama, Seeduwa, Dungalpitiya and Katana. The Army and Police were deployed to enforce the curfew. However, gangs of armed men had arrived around 8 p.m. and resorted to anti-Muslim violence during the night while the curfew was in force. Power was cut off in certain localities while the gangs engaged in violence. The troubling aspect in this is the allegation by Muslims that many of the incidents happened within the sight of the security forces who simply remained passive and did nothing. Muslims also allege that the security forces prevented them from gathering in numbers to resist the mobs.

The mob consisting of loose gangs of men had proceeded steadily along areas and roads where Muslim residences were and engaged in attacks. Many houses were stoned. The gates and doors of some residences were broken and damaged with axes and rods. The windows were smashed. A few houses were broken into and furniture damaged. There was practically no looting but in a few instances jewellery and valuables were robbed. When terrified Muslims telephoned the Negombo Police Station, the phone calls were not answered, complain some Muslim residents. As news of the mobs began spreading, many Muslims ran to the Grand Mosque in Periyamulla for safety.

Frantic calls were made by the mosque authorities to influential people in Colombo. As a result both Prime Minister Ranil Wickremesinghe and Defence Secretary Gen. (Retd.) Shantha Kottegoda were alerted. This led to quick action being taken. Additional reinforcements including Air Force personnel from Katunayake were deployed with specific instructions to disperse the mobs. This was done and by midnight the mobs had all vanished after running amok for almost four hours.

Much of the anti-Muslim violence had occurred in Poruthota, Periyamulla and Dalupotha areas. Most of the attacks happened along Lazarus Road, Sellakanda Road and Samagi Mawatte. According to details provided to the media by Ismathul Rahman, the Secretary of the Periyamulla Grand Mosque, 53 houses had been damaged in different degrees. In most cases windows had been shattered and doors and gates broken. In a few instances furniture had been damaged. There was no looting except in a few places.

Ten three-wheelers had been damaged, inclusive of three being burnt. Six motorcycles were smashed and one burnt completely. Seven Muslim-owned businesses were attacked in Poruthota and damaged but nothing was looted. However another Muslim-owned gems and jewellery store on Beach Road was attacked and looted. The only mosque attacked was the Deniyakanda Asanaar Thakiya Mosque, where the glass showcase with the Holy Quran was damaged. Eight window panes were also smashed.
Cardinal's appeal for unity
In a very commendable gesture Malcolm Cardinal Ranjith visited Negombo on the morning of Monday 6 May and inspected the affected areas like Poruthota and Periyamulla. He also went to the affected mosque and also the Negombo Grand Mosque and reassured Muslim clergymen. The Cardinal also re-issued his appeal that Catholics and Christians should not harm the Muslims who were their brothers, being "children of Abraham".

His Eminence Cardinal Ranjith also held a press conference and said that the clash in Negombo on Sunday was the work of several outsiders who had entered Negombo to create unrest between the Sinhalese and the Muslims. Cardinal Ranjith charged that the said outsiders had intoxicated some residents in the area with liquor and provoked them into violence.

"I request the Government to close all liquor shops in vulnerable areas. These forces are trying to create unrest in Sri Lanka to pave the way for external interference. Some forces are trying to provoke people and create religious unrest. The clash in Negombo is a perfect example for this. Those who are behind it are outsiders. They are attempting to create unrest among the Sinhalese and the Muslims. I ask all Catholics not to raise their arms against Muslims as they are not behind these destructive efforts. It had been done by a group of individuals who had gone astray. They are backed by some international forces. We don't have to harm innocent Muslims because of this group," the Cardinal further said.

The Colombo Archbishop also requested Catholics to live according to the teachings of Jesus: "I appeal to them to continue to support the security forces. I request the Catholics to live according to the teachings of Jesus and pray for the country. At a time when people are living with uncertainty, we should realise that those who take up arms will die from the destruction caused by them."

His Eminence Malcolm Cardinal Ranjith demonstrated through his timely action how a true religious leader should act in troubling times. The manner in which he has acted ever since the Easter attacks occurred has been truly "Christian" and praiseworthy. There are many who have not been quite happy with the Cardinal over matters concerning the Catholic Church in the past but few will fault His Eminence for the manner in which he rushed to Negombo, consoled with affected Muslims and reiterated his appeal for peaceful co-existence.

There has been no violent incident in Negombo after that controversial Sunday. It appears that the violence was an isolated aberration and was in no way a communal backlash caused by the Easter attacks.

The Air Force has been entrusted with the task of maintaining the peace and enforcing the curfew that is being relaxed gradually. Police security has been provided to the nine mosques in the Negombo area. Police have arrested two persons allegedly involved in the Sunday violence. Police are also utilising the smartphones of several Muslims who had "recorded" the violence to identify more culprits. More importantly it is necessary to apprehend those "forces" who instigated this anti-Muslim violence as mentioned by the Cardinal.

Meanwhile, it is learnt that Prime Minister Ranil Wickremesinghe has ordered a survey and damage estimate of the Negombo violence with the intention of awarding compensation where necessary.
(D.B.S. Jeyaraj can be reached at dbsjeyaraj@yahoo.com)