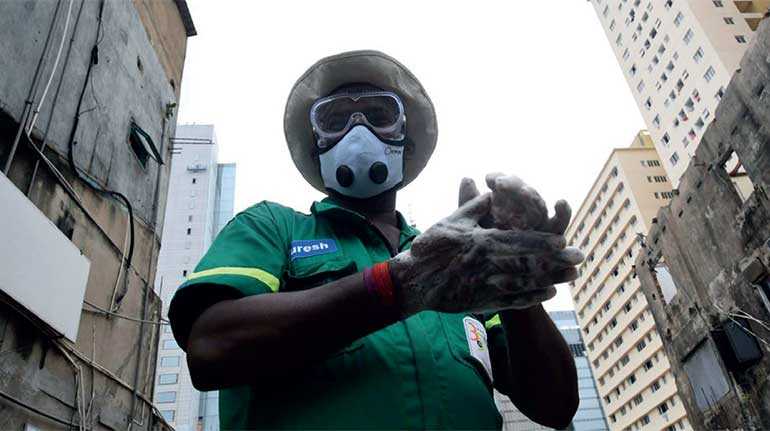 The world has been confronted with one WMD, climate change, for a long time, and now, in less than three months this year, another WMD, the COVID-19 pandemic. These are real WMDs – Pic by Shehan Gunasekara
At the time of writing this article, COVID-19 has so far killed more than 10,000 people, and infected over 244,000 in more than 150 countries, and is likely to infect more and kill more people. No one is able to predict when the pandemic will end. A vaccine is at least 12 to 18 months away.

The economic damage that is resulting from this pandemic is something the world has not experienced. This is going to create a major breakdown in the social order, with unemployment rising, health services taking a major brunt and possibly more long term health issues and deaths even if the pandemic is brought under control.

According to the WHO, air pollution kills a staggering seven million people every year. Recent studies have found toxic air shortens lives worldwide by almost three years on average and the life of every child born today will be greatly affected by climate change. Yet, sceptics continue their anti-climate change rhetoric and they have managed to influence political leaders who unfortunately contribute to adversely changing the direction the world is heading. Donald Trump is one such leader.

During the Iraq war, the USA and UK feigned a pretext to attack Iraq to take control of their oil reserves. The pretext were the non-existent Weapons of Mass Destruction (WMDs) that they claimed Iraq possessed, knowing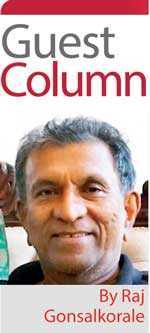 full well it didn't. Estimates of Iraqis killed during and since that war is said to be at least a million people. 

Unlike those non-existent WMDs, the world has been confronted with one WMD, climate change, for a long time, and now, in less than three months this year, another WMD, the COVID-19 pandemic. These are real WMDs.

Sudden and dramatic vs. slow and steady

COVID-19 impact has been sudden and dramatic. It is more immediate, and tangible and is infecting people now and is the undisputed source of their illness and death. The world is panicking and racing to take drastic action to contain the virus. Rightly so.

The climate change crisis however has been unfolding slowly and steadily, although scientific evidence has consistently shown it is and will be no less deadly. However, no world leader has shown the need to take drastic action to contain climate change, and the resulting deterioration has manifested in several ways. 

Scientists are convinced that bush fires, as experienced in Australia and California in recent times, the destruction of the eco system in these regions, droughts, excessive rain over short periods of time, cyclones, unprecedented floods, record high temperatures in polar regions, melting of polar caps, sea level rises which threatens the very existence of some island nations, and the toxicity in the air in several industrial cities are all the signs of the slow death that the earth is experiencing. 

Heat-trapping emissions from human activity keep rising, air pollution continues to choke cities, and the world is on track to warm by 3°C or more above pre-industrial levels with catastrophic effects.

Climate crisis is not a virus. The illnesses it causes and dangers it poses come through a third party, pollution, a flood, a drought, giving climate crisis deniers an opportunity to argue they were caused by other factors. Considering its immediate intangibility, for many people, the climate crisis feels like a future problem and someone else's problem. Many such sceptics and Ostriches with their heads in the sand are no different to each other.
Both are global crises that threaten lives of millions
While the COVID-19 pandemic and climate change are different issues, they share two important and deadly characteristics: both are global crises that threaten the lives of millions of people. Although to date, the number of cases infected and the number of people who have succumbed to COVID-19 are small in number compared to the population of the countries where it is present, and the number that air pollution kills every year, the potential for far more catastrophic outcomes is before everyone.

The impact of the climate crisis brings in progressively damaging economic consequences. The economic havoc that COVID 19 has, and is creating, is immediate, but will have very long lasting effects. It is no different to the economic damage sustained as a result of climate change. 

COVID 19 has put countries into lockdown, isolated human beings from one another, airlines have stopped their flights to and from many countries, tourism something of the past, and the resulting isolation a reminder of chilling movies of the past. Businesses are heading towards bankruptcy and unemployment and social disorder is imminent. Schools and universities have closed in several countries, events cancelled, factories shuttered, millions told to work from home and emergency funds released in many countries to tackle the immediate aftermath of the virus spread. 
Possible to take dramatic steps and make economic sacrifices
However distasteful these measures are, the COVID-19 pandemic is proving that it is possible for world leaders to take dramatic steps and make economic sacrifices to save lives. None of these leaders have reacted in this manner to arrest climate change.

For decades, scientists have been demanding that climate crisis be taken this seriously. But despite numerous international agreements, world leaders have, by and large, fooled the world and only paid lip service about action to reduce carbon emissions.

Although it is not the way climate change and lowering carbon emissions would have been welcomed, levels of air pollutants and warming gases over some cities and regions have shown significant drops as coronavirus impacts work and travel.

Researchers in New York have told the BBC their early results showed carbon monoxide mainly from cars had been reduced by nearly 50% compared with last year. Emissions of the planet-heating gas CO2 have also fallen sharply. Unfortunately, while an end to the COVID 19 pandemic is what everyone wishes for, it does not appear there is any thought being given to addressing the other WMD, climate change. There are warnings that levels that have dropped will increase rapidly after the pandemic.
"The challenge for world leaders is whether they are capable of seeing only what is near the tip of their noses and not the dangers that lurk beyond that. If need rather than want, and necessity over greed, and bridging the gap between the haves and have nots in the world by compelling the haves to make sacrifices for the have nots, it is possible that the world could live with less and be genuinely content"


With global economic activity ramping down as a result of the coronavirus pandemic, it is hardly surprising that emissions of a variety of gases related to energy and transport would be reduced.

While it is early days, data collected in New York this week has suggested that instructions to curb unnecessary travel are having a significant impact. Traffic levels in the city were estimated to be down 35% compared with a year ago. Emissions of carbon monoxide, mainly due to cars and trucks, have fallen by around 50% for a couple of days this week according to researchers at Columbia University.

They have also found that there was a 5-10% drop in CO2 over New York and a solid drop in methane as well. "New York has had exceptionally high carbon monoxide numbers for the last year and a half," said Prof Róisín Commane, from Columbia University, who carried out the New York air monitoring work. "This is the cleanest I have ever seen it. It's is less than half of what we normally see in March," he said.\


An analysis carried out for the climate website Carbon Brief suggested there had been a 25% drop in energy use and emissions in China over a two week period. This is likely to lead to an overall fall of more than 1% in China's carbon emissions this year, experts believe. 

Both China and Northern Italy have also recorded significant falls in nitrogen dioxide, which is related to reduced car journeys and industrial activity. The gas is both a serious air pollutant and a powerful warming chemical. With aviation grinding to a halt and millions of people working from home, a range of emissions across many countries are likely following the same downward path.

"It will depend on how long the pandemic lasts, and how widespread the slowdown is in the economy particularly in the US. But most likely I think we will see something in the global emissions this year," said Prof Corinne Le Quéré from the University of East Anglia. "If it lasts another three of four months, certainly we could see some reduction."
What's likely to make a major difference
What's likely to make a major difference to the scale of carbon emissions and air pollution is how governments decide to re-stimulate their economies once the pandemic eases. Back in the 2008-09, after the global financial crash, carbon emissions shot up by 5% as a result of stimulus spending that boosted fossil fuel use.

In the coming months, governments will have a chance to alter that outcome. They could insist, for instance, that any bailout of airlines would be tied to far more stringent reductions in aviation emissions. "Governments now have to be really cautious on how they re-stimulate their economies, mindful of not locking in fossil fuels again," said Prof Le Quéré. 

"They should focus those things that are ready to go that would lower emissions, like renovating buildings, putting in heat pumps and electric chargers. These are not complicated and can be done straight away, they are just waiting for financial incentives."

However, some argue that if the pandemic goes on a long time, any stimulus would more likely focus on promoting any economic growth regardless of the impact on the environment. "I certainly think climate could go on the back burner, and in this case, I don't think there is much hope that stimulus goes to clean energy," said Prof Glen Peters from the Centre for International Climate Research.

"Any stimulus will help those with job losses such as tourism and services. I think this is very different to the global financial crisis. The only silver linings could be to learning new practices to work remotely, and buying a few years of lower growth allowing solar and wind to catch up a bit, though, these may be rather small silver linings." Two months of pollution reduction "likely has saved the lives of 4,000 kids under five and 73,000 adults over 70 in China," he said.

The challenge for world leaders is whether they are capable of seeing only what is near the tip of their noses and not the dangers that lurk beyond that. If need rather than want, and necessity over greed, and bridging the gap between the haves and have nots in the world by compelling the haves to make sacrifices for the have nots, it is possible that the world could live with less and be genuinely content.

References

The world is coming together to fight coronavirus. It can do the same for the climate crisis

Analysis by Helen Regan, CNN Updated 0147 GMT (0947 HKT) March 19, 2020

Coronavirus: Air pollution and CO2 fall rapidly as virus spreads

By Matt McGrath Environment 

correspondent

19 March 2020