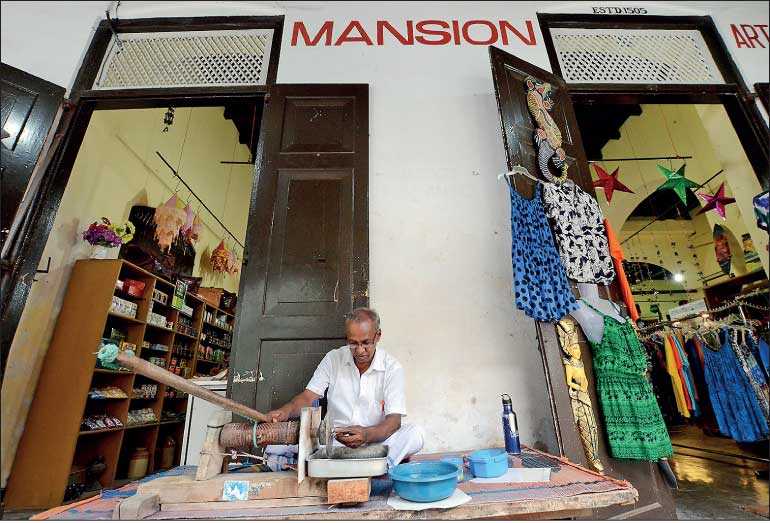 Today, the creative industry is one of the most dynamic sectors of the world economy and offers new opportunities for leaps and bounds in the emerging economies of the world – Pic by Shehan Gunasekara
---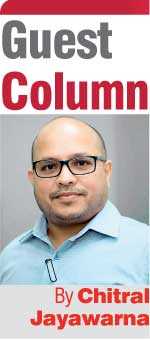 There is no single definition for the creative economy. It is a concept evolving based on the interaction between human creativity, ideas, intellectual property, knowledge and technology. Essentially it is knowledge-based economic activity based on creative industries.

Creative industries can be identified as advertising, architecture, design, fashion, film, video, photography, music, theatre, publishing, research and development, software, computer games, arts and crafts, electronic publishing, television and radio. They are also an important source of commercial and cultural values of this sector.

On the other hand, the creative economy is the sum of all segments of the creative industry, including trade, labour and production. John Hawkins, in his 2001 book 'creative economy' shows how creativity and innovation are about how people make money from ideas. According to Hawkins, "creative economy" refers to the socio-economic potential of trading activities with creativity, knowledge and information.


The creative industry

Today, the creative industry is one of the most dynamic sectors of the world economy and offers new opportunities for leaps and bounds in the emerging economies of the world. Creative industries in the international market have witnessed sustained growth over the past decade. It represents a 7% growth in global trade.

The global market for traded creative goods and services has expanded. Europe is the largest exporting of creative goods among countries in the developed region. Germany, France, Switzerland, the Netherlands and Belgium are among the top five creative products exporters.

Among countries in the Asian region, China is the largest exporter of creative goods. The top five exporters in the region were China, Hong Kong, India, Turkey and South Korea. Developing countries seem to play an important role in the international trade of creative industries.

The creative economy is the engine of growth and employment growth in many countries. It extends to the areas of advertising, broadcasting, architecture, arts, crafts, design, fashion, gastronomy, music, publishing, drama and technology. These have been a major force of entrepreneurship and innovation and have helped to increase social development and employment.

As agriculture and manufacturing economies grow, many are building new clusters of creative and artistic activities. These have been regarded in the past as branches of economic activity. On the other hand, leisure mediums are more than just working forms. They are not only substantial and profitable industries, but also well-paid and satisfactory jobs. In the past, these sources were not financially viable but have become very good income sources in the 21st century.


Creative services

Creative services is a sub-sector of the creative industry that is part of the revenue generating economy by providing creativity to other businesses. Creative services is a department within a company that does creative work, such as writing, designing and producing. It is often a sub-department of the marketing department of a company or organisation.

The market in today's world has been created with the help of these creative services. It covers all aspects of commercial art, industrial design, branding, and advertising. The UNCTAD report explains the shift in the trend of world trade from creative goods to creative services as industrial and agricultural output drops.


Sri Lanka's creative economy

This is a good time to think about Sri Lanka's economy. It is time to look at new avenues that can contribute to the economic growth of Sri Lanka. On the other hand, it is time to introduce new reforms within the economic structure of Sri Lanka.

We have traditionally taught about an export economy of tea, rubber and coconut. But with the introduction of garment manufacturing in the country during the eighties, garment products became the main stream of exports. Therefore, this decade is a time for search new economic opportunities.

In the face of the current crisis in the economy of Sri Lanka, the contribution of the creative and economic sectors will be an important factor in the future. Sri Lanka's creative economy is stable. Growth has increased from $ 433.62 million in 2010 to 2014 to $ 845.41 million. Contribution to GDP is 5.3%. The contribution to employment in Sri Lanka exceeds 3%.

A survey by the British Council in Sri Lanka identifies three main areas of the creative economy in Sri Lanka. According to art and culture, design and media are the disciplines. Under art and culture, photography includes visual arts, performing arts, literary arts, heritage, and crafts.

Design includes software design, advertising and branding, architecture, portrait design, industrial design and fashion design. Media includes publication, radio and television, digital media, film and video. The fact that these sectors are still traditional in Sri Lanka indicates that the economy has not yet modernised.

In Sri Lanka, there was a negative balance of creative trade during the period 2005-14.This negative equilibrium has been caused by higher imports than exports. Other countries in the region – India, Pakistan, Thailand and Malaysia – have gained a positive trade balance.


Building a creative economy

There is little scope for extensive discussion on building a creative economy in Sri Lanka and policy makers are less interested in these areas. Similarly, other countries in the region have shown keen interest in these economic sectors. Accordingly, the contribution of this sector in the economic development of those countries seems substantially increase. It is a matter of concern whether the Government is concerned with the sectors mentioned above.

Sri Lanka's traditional industry has a good market for antiquities in the world market. Sadly, we have not yet been able to identify this market and supply it with demand. Architecture in Sri Lanka has a historical reputation.

For example, Geoffrey Bawa and Bevis Bawa are renowned architects in Sri Lanka and internationally. They brought the Sri Lankan architecture into the international arena. A new trend in the world of hotel design is the replacement of traditional architecture. A good market for craftsmen will be created in the future.

The textile industry in Sri Lanka had a local market in the past. But gradually the market has fallen due to imports of foreign garments and inputs. Recently there has been a good demand for Sri Lankan textile products locally and internationally.

The textile industry, which is built as a cottage industry, is being organised by various organisations to create a market for their products. As a result, a local market is being created. This industry is a mix of modern design and therefore has the potential to create a foreign market. The overseas market for handloom sarees and other products manufactured in Sri Lanka is open. What should happen is that the industry needs assistance and knowledge to help marketers find the market.


A new economic sector

If creative cities can be created with the creative economy, it can be built as a new economic sector. Activities in the city must be developed extensively. Creative cities can be created as a pilot project especially in Colombo, Galle and Matara.

For example, New York has about 50 million visitors a year. Foreigners refer to New York City as the "Big Apple" or "The City That Never Sleeps". It features historic sites such as Times Square, Empire State Building and Central Park, as well as a large number of entertainment options for tourists, including international theatres that are spectacularly entertaining with modern technology.

The new Colombo and Colombo Port City which is under construction will create new economic opportunities through the creation of these international theatre and dance halls. On the other hand, the Colombo city can be transformed into a tourist attraction by connecting the new Port City and the old Colombo city. We need to have a broader vision and strategy.


Creative software development

Sri Lankan software manufacturers have a good market compared to other countries in the region. Most of the major software development companies in the world have subcontracting companies in Sri Lanka. Mainly software and related services develops software for clients in London, New York, San Francisco and Sydney. In 2018, the IT sector's export revenue is $ 1 billion. Its revenue target is set to be $ 5 billion by 2022.

Accordingly, in the future, the country will have a huge income through creative software development that will transform the industry. The industry can be further expanded by innovations affiliated with foreign companies. In addition to these areas, there are many other areas of concern to the creative economy of Sri Lanka. This should identify the most effective areas and work hard to find new business opportunities. Special attention may be given to establishing a separate institution for this purpose.

It is time to rethink the development of creative industries as an investment sector to create a knowledge-based economy in the formulation of Sri Lanka's economic policy. Creative workers, entrepreneurs, employees, experts, the public and policy makers in this regard can create new economic opportunities in this sector. Thereby the country's economy can take a big leap forward.
---
(The writer is an economist and a member of the Sri Lanka Council for Agricultural Research Policy. He is a former Director of the Merchant Bank of Sri Lanka and Finance PLC.)
---