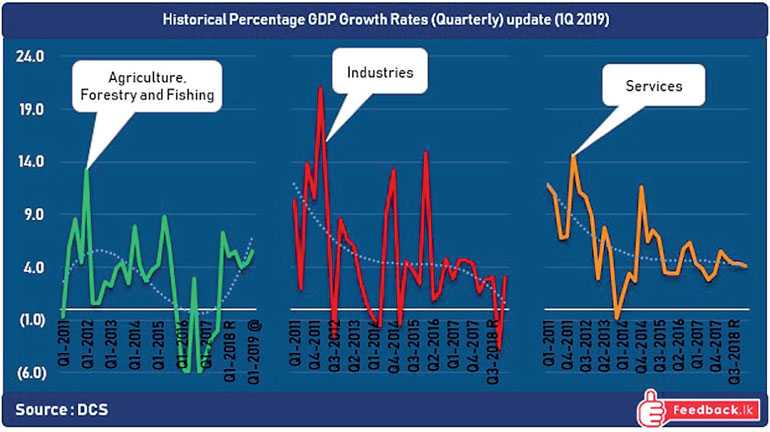 The declining GDP in Industry and Services that account for 70% of GDP
Macro issues in Sri Lanka make planning a real challenge
Long working hours by corporate executives to handle macro uncertainties
Corporate executives must learn to be tough
Last week Sri Lanka staged 'Rotary Performance Awards 2019' at the Cinnamon Grand with a packed audience of almost 600 people. The attendees included Past Global President K. Ravindran and Governor 2018/19, former Sri Lankan cricketer Dushan Soza.

The year under review was fantastic from a balanced scorecard perspective. Rotary has initiated and partnered the Government of Sri Lanka on some landmark projects, including the innovative dengue eradication new product 'Ovi Trap' which is at test market stage in Grandpass area, the flagship Cancer Prevention and Early Detection Project, the novel English teaching product MasterSpeller, and the One Million Tree Planting Project partnering UN Global Compact agricultural company Hayleys Plantations, apart from the many initiatives on tourism revival post the Easter Attack on Sri Lanka.



This included global initiatives and a program that fully automated the tracking of each of the 70-odd Rotary Clubs across the country. It was an amazing year in my view with media exposure crossing over 50 million and a new members crossing 400, which the 90-year-old Rotary had not seen in its history in Sri Lanka.
The challenge

When I asked District Governor Dushan Soza what his biggest challenge was, he said that macro challenges and social governance issues took up most of his energy in running Rotary in the last year, given that it is a voluntary job whilst doing his full-time job and balancing social and family life.

It sure made me ponder, given that he was a top sportsman, electronic engineer by profession and a top CEO from a pioneering IT company of Sri Lanka whilst also serving on the Cricket Board of Sri Lanka at one time. This is the same pressure that a corporate executive goes through in their daily life.
Biggest challenge in SL

If I were to look at my corporate life, the situation is similar given the macro challenges to the nonexistence of political leadership where the county's economy is on cruise control and Q2, 2019 GDP will undoubtedly be at 1%.

The banking community is painting a grim picture with almost all industries defaulting on repayments post Easter attacks, whilst the Government announced that a new wage hike will take place for State employees, which will sure take the tea industry to the wire. Sadly, the political hierarchy continues with the funfair as if the country is one of the most developed countries of the world.

Little do they know that average household has deferred the purchasing of a cake of soap from every nine days to 11 days, whilst average consumption and household penetration has dropped even in categories like milk powder, which means that Sri Lanka has come down to the lowest standard that a country can come to in terms of the quality of life. Sadly, the politicians are oblivious to these facts but I am sure those like MP Harsha De Silva are aware of the reality as he was instrumental in setting up one of the top global research agencies in Sri Lanka.
Health of a corporate executive

In this background we see that corporate executives are experiencing increasing heart ailments, diabetes and other health issues that are essentially caused by stress, improper eating habits and sedentary life styles.
Corporate executive vs. being an athlete

Research reveals that the only way out is to make corporate executive a corporate athlete. Let me explain this.

If a corporate executive is to work at a high energy level equivalent to a professional athlete, the only way out is to increase stamina levels just like a top athlete of today. For instance, if we take a tennis super star like Novak Djokovic or cricketing legend Malinga, the challenges they face in the sports field is equal to a top corporate executive in office.

If we take a typical high performer like Djokovic, it will include serving hard and positioning the returns with some sharp cross court passes followed up with some aggressive play at the net and then coming back to take a lob at the base line. The next challenges he will face will be questioning wrong line calls by the judges and following it up by engaging the crowd to maintain the off-court relationship. It is also customary that a rough media conference happens post the match that adds to the pressure on the player.

On the other hand, if we take a typical corporate executive, the challenges on a Monday are similar, with multiple decisions having to be taken by analysing data. Each decision can cost the company millions of rupees if the decision is incorrect.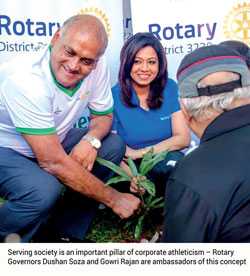 Making presentations to get new businesses, briefing media on corporate affairs, engaging the policymakers to influence policy direction and finally ensuring that the humour is maintained so that the spirit of the work place is kept vibrant – this routine can be mentally very demanding. Hence we can see that there are many similarities between a top class corporate executive and a high-performing athlete of today. Let's now examine the differences.
The difference

There are many differences between the two. A top class athlete like Novak Djokovic competes only once a month and may be 10 tournaments for a year. On the other hand a corporate executive will have to perform each day for almost a 12-hour duration at peak performance. Another difference is that an athlete takes an up to three-month break for a year whilst a corporate executive will get a maximum of two weeks off.

The lifespan of a top athlete is between 10-15 years (if one is lucky) whilst a corporate executive will have to perform for 40-45 years. When one starts working at 20 years, one will continue until 65. This very clearly demonstrates that a corporate executive of today needs to be fitter than a professional athlete if one wants to be competitive in today's corporate world.

This holds ground more especially because of the turmoil that keeps hitting the corporate world of Sri Lanka. It's been a roller coaster ride with one day being terror attacks, then communal violence, then we have the death penalty announced and the world focus back on Sri Lanka.

The next wave that will hit Sri Lanka will be Provincial Council Elections or Presidential Elections. Then why not have General Elections given that Sri Lanka actually does not have a government at play? The only way out is for a corporate executive to survive such a tsunami of instability issues is by finding solitude by wrapping oneself around the concept called a corporate athlete. Let me explain this concept.
Becoming a corporate athlete

As per the scientists who originated this concept, Dr. Jim Loehr and Tony Schwartz, the essence of developing a corporate athlete has four key capacities that need to be developed so that performance can be at a very high level. They are: Physical capacity, Emotional capacity, Mental Capacity and finally Spiritual capacity.
Physical capacity development

Physical capacity is essentially the capacity to continue working for long hours at peak performance. How one can develop this is by doing a 45 minute brisk walk three times a week. The objective is to get your heart beat up to 120 beats per minute. Then, followed up with a 15 minute routine that includes stomach exercises and stretching. In essence it's only one hour's dedication that is required. May be the venue can be the Independence Square where the motivation levels tend to be high too given the different shapes and styles in attendance. The rest of the two days must include a light weight training session so that energy can be built. The maximum weight should be a 50 kg. The objective is to stretch the muscle up to a point of tearing and then follow up with a rest day so that rebuilding takes place. Once this becomes a ritual it's very interesting. May be joining a gym and getting trainers' assistance can help.
Emotional capacity development

The next building block to become a corporate athlete is working on one's emotional capacity. This is where close relationship with a human being is a must during a working day. All it takes is a two to three minute telephone call where an intense closeness has to be achieved, so that certain positive hormone gets elicited. If this is not done, research reveals that there can be emotions that get into the system such as self-pity and boredom that elicit negative emotions which are very harmful to health.

Unfortunately, most high-performing corporate executives feel that giving into one's emotional side is a feminine trait or, more over, a weak characteristic that should not be exposed to others. Research also reveals that if one wants to be a corporate athlete in today's high-performing environment this second building block of developing emotional capacity is a must. The key thing to remember is that these building blocks must become a way of life in a busy executive's working day. In other words it has to become ritualistic behaviour, if one is to get into peak performance for long durations.
Mental capacity development

The next skill that is required to be developed is called knowledge management. This has to be done daily. All it takes is reading one article that is mentally stimulating and thereafter reflecting on that for just two to three minutes. This can be done in the evening and all it takes in total is just a 20-minute time block. Once again it's all about habit formation. This can be also done by watching TV programs such as 'The Buck Stops Here' on NDTV or by watching CNN's 'Boardroom' discussions, where a top global CEO is interviewed for success stories in business.
Spiritual capacity development

The last building block, but remember that this is not about one's religion. It is more to do with understanding the values which are deep within you. For example you may cherish the last burst of sleep between 6-7 a.m. in the morning before you dress up for work. But on the other hand if you have to drop your son to school and this is the quality time that you engage with him then, waking up at 5:45 a.m. to achieve this objective will not be an issue.

The challenge is to find the deeper reasons for your behaviour that motivate and excite you. This is spiritual capacity development. It's very important to becoming a corporate athlete. The challenge once again is making this a routine in your working week.
Next steps

By now, you have a fair idea of the building blocks that will make you a corporate athlete. You also know what areas in your life need to be developed, so that you can become a corporate athlete. Practicing this is the next step.

You have to make it a ritual so that it happens naturally. You need to come to a stage where if the gym kit is not in the vehicle, you will feel you are not ready to leave home. Also, you will come to a point where foregoing a cocktail party to do your weight training schedule is not a choice anymore but a way of life. At this stage you can be termed a corporate athlete and then you will suddenly experience that working at high peak performance is equal to playing a game. Then you have really mastered the art of being a corporate athlete.

To summarise, it is three days of cardio walk, and then two days of weights schedule with two days of rest after each weight training session.

A few more tips in the life of a corporate athlete:

Have five to six small meals a day (may be a snack at 10 a.m. and 4 p.m. is all it takes)

Develop a routine time for sleeping with six to eight hours of sleep a day being a must

Make a five-day-workout a routine during the week a ritual (combination of cardio)

Be proud that you are a corporate athlete – do not be shy to practice emotional capacity building.


(Dr. Athukorala has a Black Belt in Karate and is the CEO/President of a global Artificial Intelligence company, Clootrack, handling the markets Sri Lanka, Maldives and Pakistan. The thoughts are strictly his personal views.)