In the early '80s, a businessman turned financier from the hill capital started a public deposit canvassing drive by offering 20% interest per month. The depositors were offered on the spot payment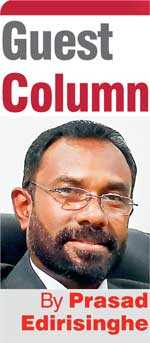 of 20% as interest for the first month for their deposit when the deposit is placed and paid 20% interest monthly thereafter.

A father of a friend of mine who retired during the same period had invested a part of his terminal benefits totaling to Rs. 100,000 with him. On the first day itself, he came home buying home appliances worth Rs. 12,000 out of his first month's interest payment of Rs. 20,000. Later on the day he threw a party for a few of his colleagues and celebrated his first return on investment.

The trend continued for three months and suddenly the businessman got ill and hospitalised. Subsequently, he breathed his last breath leaving many unanswered questions around.

My friend's father was shocked. He didn't know what hit him on the head. For that matter, no one in our circles knew what went wrong. It was a new experience to most in the hill capital. The helpless depositors formed a society and filed a lawsuit for their hard-earned money. Through courts by disposing of a building owned by the offender some have recovered part of their monies and others just kept silent.

Scenarios of this nature have occurred many times in regular intervals in the last two to three decades in the country. In another incident in the late '80s, it was found in one of those failed finance companies, the cashier has balanced his day end cash by using a chit sent by his owner/chairman for Rs. 500,000 through his driver. The money was taken for the personal use of the Chairman.

Having faced such situations frequently, the Central Bank of Sri Lanka (CBSL) has introduced a direction disciplining the functions of the directors and officers who are performing executive functions of finance companies. This direction is known as Finance Companies (Assessment of Fitness and Propriety of Directors and Officers performing executive functions) Direction No 3 of 2011.

Section 1 of the direction validates the disqualification for being appointed as a director or an officer performing executive functions. It says, no person shall be appointed as a director of a finance company or an officer performing executive functions in a finance company unless that person is a fit and proper person to hold office as a director or an officer in terms of the provisions of this Direction.

Under such circumstances nowadays no finance company is allowed to appoint directors and officers without the approval of the Director of Supervision of Non-Bank Financial Institutions of CBSL (hereinafter referred to as "the Director" for ease of reference).
Affidavits and declarations
The Directors and Officers performing Executive functions should submit to the Director an affidavit stating their academic and/or professional qualifications, and effective experience that they possess in banking, finance, business or administration or of any other relevant discipline.

Additionally, a Declaration should also be given by the Directors and Officers performing Executive functions to the Director stating comprehensive annual remuneration package that will be received for the employment, annual value of benefits derived by Director or Officer performing executive functions and/or his family from company assets such as company bungalows, second vehicles, etc., expenses borne for the maintenance of such assets by the company including reimbursement of credit card bills and utility bills, purchased value and book value of such assets and the location of such assets are kept or located.

Directors and Officers performing Executive functions should also declare the details including passport numbers of the spouse and children. Additionally, they have to declare their past employment records, shareholdings in Finance Companies and their related companies, any transaction with other finance companies, details of relatives presently employed as a Director or an Officer performing executive functions in any other finance company, their shareholding in such companies and their transactions. The relevant declaration should be authenticated by the CEO of the company and in case of CEO's declaration it should be authenticated by the Chairman.
Key Management Personnel
The Directors and Officers performing Executive functions are the Chief Executive Officer/General Manager, Additional General Manager, Senior Deputy General Manager, Senior Deputy General Manager, Deputy General Manager, Deputy General Manager, Assistant General Manager, Chief Operating Officer, Chief Risk Officer, Chief Accountant, Chief Financial Officer, Chief Internal Auditor, Compliance Officer, Head of Treasury, Head of Legal, Head of Information Technology, Company Secretary, Officers serving as consultants or advisors to the board of directors of the finance company, and any other officer within the meaning of "Key Management Personnel" as stated in the Finance Companies (Corporate Governance) Direction Section 2.1.

These key management officers are personally responsible for the well-being of the company. Hence, unlike in the past taken place in failed finance companies, they can't take duties for granted when discharging their duties. The survival of key management personnel will depend on their skills, experience, knowhow, and mostly their integrity.

Section 2.1 of the Direction gives the criteria on which the assessment of fitness and propriety that the Director considers before the appointments are made to Directors and Officers performing Executive functions. They are the relevant academic or professional qualifications, any questionable involvement in fraud, deceit, dishonesty or other similar criminal activity, conducted by the police, any regulatory or supervisory authority, professional association, commission of inquiry, tribunal or other body established by law, in Sri Lanka or abroad, declared insolvent or declared bankrupt in Sri Lanka or abroad, failure to satisfy any judgment or order of any Court whether in Sri Lanka or abroad, or to repay a debt, declaration by a Court of competent jurisdiction in Sri Lanka or abroad, to be of unsound mind, and has not been a Director, Chief Executive Officer or held any other position of authority in any failed bank, finance company or financial institution.
Conclusion
These are the directives introduced by the regulator CBSL to discipline the recruitment process to have most appropriate personnel in the key management positions in the non-banking financial industry. These directions have certainly strengthened the industry to a great extent.

We will not find financiers who will pay 20% up-front interest for a month for public funds. We will not see chairmen who will send personal chits to their helpless cashiers asking to send a half a million rupees through the chauffeurs in the future.

Nevertheless, there can be a different breed of scammers in the industry. They might slowly move into top positions without anyone's knowledge. Hence, my personal opinion is the industry too should have self-developed mechanism to support CBSL in order to clean the industry. One rotten egg tossed into the cake mix directly will spoil the entire cake. Hence, it is the responsibility of the industry to keep eyes open to see whether the corrupted individuals are creeping into the system.

Similarly, individual companies should take better precautions to screen when Key Management Personnel are recruited to their organisations. These self-developed systems have more homogenies effect than the systems introduced, externally. Such systems will enhance depositor and investor confidence of the industry.


[The writer is the founder of Infornets, a non-profit oriented organisation formed to share credit-related information and financial knowledge to less-informed people, locally and internationally. He counts 36 years of experience in the Non-Banking Financial Industry of Sri Lanka. He is a former CEO/General Manager of a Non-Bank Financial Institution and a Commission member of the National Science and Technology Commission (NASTEC). He holds a Master's Degree in Business Administration from the UK. He is a Member of the Institute of Management of Sri Lanka. He can be reached via pemack2016@gmail.com or www.infornets.com.]