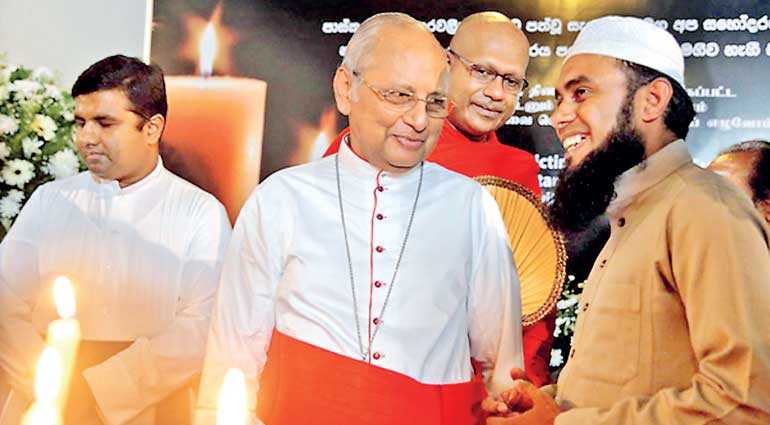 I live in Negombo and know many who lost their lives in the Easter tragedy that engulfed serene Sri Lanka. There was surely no repetition of 'black July' or 'dark Digana'. It is amazing to see the restrained response of affected masses withgrief and sorrow on one hand yet the compassion and care on the other hand. Today's column is a reflection on authentic leadership in the aftermath of recent crisis with the due emphasis of the presence and absence of it.
Overview

Many have commented on the lapses of execution related to intelligence alerts. Also, there is still finger pointing with the typical blame game of actions, inactions and reactions. As a learner and practitioner of management, I simply see it as a leadership crisis. Heavy price had to be paid for the hefty lethargy of the so-called important yet incompetent individuals. One ray of hope emerged is the authentic leadership aptly demonstrated by his eminence, Malcolm Cardinal Ranjith, the Archbishop of Colombo with the blessings of other religious dignitaries.

My intention is not to instil personal glory to an individual, but to showcase the fulfilment of a timely need in avoiding an inter-religious or inter-racial conflict. It was authentic leadership much in evidence, in the context of key political leaders showing the absence of it.
Authentic leaders in dire need

Leadership literature is full of fancy jargon and multitude of packaging as well as re-packaging. One significant trend in recent past in the east and west alike is the focus on authentic leaders. In essence, leadership is all about inspiring, influencing and initiating. It is more than positions and titles as it involves decisions and actions. Authentic leaders had always been there in the world. All great religious leaders are obviously authentic. From Thripitaka, Bible, Koran and Hindu texts, many such examples could be found.

How would an authentic leader differ from the rest? Forbes magazine gives the following four reasons:



1. Authentic leaders are self-aware and genuine. Authentic leaders are aware of their strengths, their limitations, and their emotions. They also show their real selves to their teams. They do not act one way in private and another in public; they don't hide their mistakes or weaknesses out of fear of looking weak. They also realise that knowing themselves better is an endless journey, never complete.

2. Authentic leaders are mission driven and focused on results. They are able to put the mission and the goals of the organisation ahead of their own self-interest. They do the job in pursuit of results, not for their own power, money or ego.

3. Authentic leaders lead with their heart, not just their minds. They are not afraid to show their emotions, their vulnerability and to connect with their employees. This does not mean authentic leaders are 'soft'. In fact, communicating in a direct manner is critical to successful outcomes, but it's done with empathy; directness without empathy is cruel.

4. Authentic leaders focus on the long-term.From a business point of view, corporate leaders are focused on long-term shareholder value, not in just beating quarterly estimates. From a socio-cultural point of view, it highlights the need to go beyond petty politics of wooing the voters to commit towards long term wellbeing of all.

The way His Eminence Malcolm Cardinal Ranjith, in collaboration with other religious leaders as an inter-religious front, guided the Catholic Church in Sri Lanka demonstrated all the above four. Despite numerous criticisms about his previous standpoints on various issues, this was a solid testimony of authentic leadership in action. As a true servant of God, he is showing the power of serving, setting an example to the so-called leaders in power.
Leaders serve and laggards survive

When you consider the 550 Jathaka stories, more than 50% of the time, Bodhisathva is portrayed as a leader. In some cases, as one who serve others. In brief, a servant leader is a servant first. The simple motto is service first. Jesus Christ washed the feet of his disciples and requested them to do so for the others. It is a true demonstration of servant leadership. There are instances from Prophet Mohamed's life too where the servant leadership characteristics could be found.

Robert Greenleaf describes the servant dimension of an authentic leader as follows: "The servant-leader is servant first. Becoming a servant-leader begins with the natural feeling that one wants to serve, to serve first. Then conscious choice brings one to aspire to lead. That person is sharply different from one who is leader first. The difference manifests itself in the care taken by the servant first to make sure that other people's highest priority needs are being served. The best test, and the most difficult to administer, is this: Do those served grow as persons? Do they, while being served, become healthier, wiser, freer, more autonomous, more likely themselves to become servants?"

We, in fact saw this in abundance in hundreds of Catholic priests who were with affected families in Katuwapitiya and Kochhikade. Instead of shouting slogans andholding placards, they carried the coffins of the departed ones whilst consoling the surviving relatives. It was a rare case of breeding authentic leadership in transforming followers to empowered leaders.

Leader needs a team in order to move towards a shared dream. It is not being autocratic but democratic, not being coercive but collaborative. World of sports have many such examples where leader harnesses a winning team. Authentic leaders have to awaken the team spirit in fostering synergy. Leveraging on strengths of each team member, the leader can collectively do more. What Mahathma Gandhi demonstrated in rallying a nation with non-violence against a forceful empire is this reality. He was a true synergist and the community, even while he was in jail practiced what he preached. What we are witnessing in the aftermath of Easter tragedy also show the rays of hope with authentic leadership in action.
Serving leaders and subservient laggards

When authentic leadership was demonstrated in religious fronts, the opposite was seen in the political fronts. Instead of servant leaders, subservient laggards accusing one another, engaging in the typical blame game can still be seen. Thanks to media, both leaders and laggards in the current Sri Lankan context were amply exposed with their words and deeds.

Social media, re-allowed again, are full of bouquets towards emergence of authentic leadership from religious fronts whilst throwing brickbats at the opportunistic politicians. The sarcasm is seen at its highest with regards to the accusations of inactivity and incompetence. As there is no smoke without fire, it invites for a sincere sole searching by all political leaders at least to learn what authentic leadership is all about.

St. Mother Theresa of Calcutta demonstrated her authentic leadership through what she did with destitute street children. We have reached a time where there is a dire need to heal the wounded hearts and minds through close association, caring communication and core counselling where needed.Religious and laity alike can show their authenticity in rising to the occasion as committed leaders.

The way his eminence Malcolm Cardinal Ranjith conducted himself during the aftermath of the Easter Tragedy is not only a demonstration of leading from the front but also breeding empowered leaders who would silently do the needful.Sowing love where hatred was rampant, and guiding the flock towards peaceful behaviour were much evident in the past few days. He lived the Gospel values not only in being a 'sheep among the wolves', but also 'wise as a serpent and innocent as a dove'.

Catholic Church worldwide, despite issues, scandals and controversies, has sustained itself for more than 2,000 years. With its clear mission with heaven in mind, it will move along, with sustained spirit of loving one another. We in Sri Lanka with 7% Catholic population can look forward to a meaningful engagement with all other religions in collectively contributing to the nation re-building. Authentic leadership demonstrated by our beloved Archbishop has already become a ray of hope for such an enormous endeavour. Subservient laggards may continue to do the contrary. In fact, we ourselves have to be blamed, as we deserve the results from who we have elected with much hope. Rather than worshiping politicians, working smart as professionals with competence and commitment is what is required for a rapid bouncing back. With an electoral system where a major political party has to bow down to small parties of ethnic origin to obtain the needed majority, controversies of conniving for selfish gains also will be a recurrent reality.
Way forward

Living with authentic leaders on one front and awful laggards on another front is not comfortable. Yet, it is the reality. Transforming laggards to leaders is not so easy. Yet, it is necessary. His eminence Malcolm Cardinal Ranjith has shown us the way of challenging incompetent laggards with insightful thoughts and inspirational actions. Time has come for Sri Lankans to show their resilience in bouncing back with vigour and valour in embracing authentic leadership though words and deeds.
(Prof. Ajantha Dharmasiri can be reached through director@pim.sjp.ac.lk, ajantha@ou.edu or www.ajanthadharmasiri.info.)