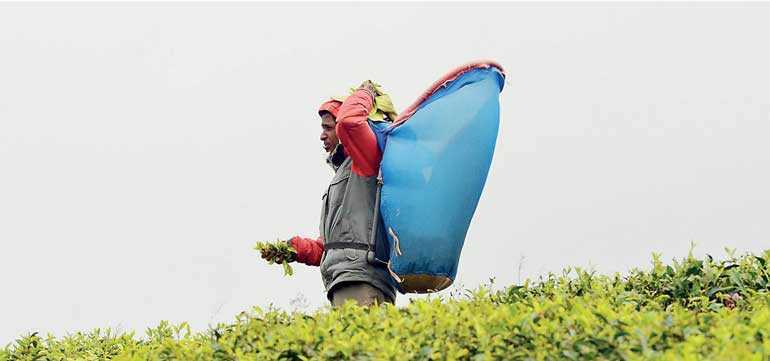 Last week, I elaborated on 'Going Beyond Agronomic Research for Plantation Reform' with the aim of beginning a conversation on the importance of non-agronomic research to understand the many problematic areas that plague the plantation sector, in order to devise long-lasting solutions that should lead to an increase in the viability and value of one of our economy's oldest and still vital sectors.



The contributions of the plantation industry to Sri Lanka on its economic and social developments for the past century and a half have been enormous. This includes its achievements as the highest foreign exchange earner until the mid-eighties and being one of the biggest direct and indirect employment generating industries. The coconut plantations, in particular, ensure food security of the country, whilst the tea sector accounts for 14% of the total export income and 59% of the total agricultural exports, as reported in the Central Bank of Sri Lanka's 2012 Annual Report.

The export earnings in 2010 for Sri Lankan tea and rubber, however, remain at a meagre $ 1.37 billion and $ 0.17 billion respectively, whilst the revived garment industry, which is lesser than 40 years, has contributed $ 3.35 billion. Although the extents of cultivation are much larger compared to Sri Lanka, export earnings in 2010 for Malaysian and Indonesian oil palm stood at mammoth $ 18.6 billion and $ 15.2 billion, respectively, providing direct employment opportunities for 3.5 million workers across Malaysia and Indonesia, according to the Malaysian Palm Oil Board, in 2011.

On the other hand, according to our Department of Labour, the Sri Lankan plantation sector, including tea, rubber and coconut plantations – which are considered to be highly traditional and labour-intensive – directly employed 802,492 people in 2011, which is about 9.4% of the total workforce of the country, whilst the garment industry employed 486,587 people in 2012.

In terms of growth, Sri Lanka has lagged behind global competitors in recent times. The sector is in need of urgent sustainable, systematic reform and not just quick fixes. This mammoth task requires all stakeholders to have a larger understanding of the different aspects of the plantation sector and embark on a journey giving due emphasis to areas such as non-agronomic factors which have the potential to create a significant impact but are least explored.
The coconut industry

The history of expansion of the coconut industry in Sri Lanka is as noteworthy as the establishment of the tea industry. Large scale expansion of coconut began as early as 1850 and rose from 100,000 hectares to 350,000 hectares by the 1860s. Even during that era, the dominance of coconut plantations has been with the local capitalists and small holdings, partly due to lower capital investment and easy maintenance compared to other crops such as tea and coffee.

To date, coconut is considered the 'second food crop' next to rice due to obvious reasons such as the involvement of over a million people in small holdings in the coconut sector, multiple usages of different parts of the tree and large local consumption. It was reported that in 2011, the total coconut extent in the country was 395,000 hectares, whilst the production stood at 2.8 billion nuts, of which 2.3 billion nuts were consumed locally and the export earnings was $ 0.43 billion, as per the Department of Census and Statistics in 2011. The coconut industry's output includes traditional coconut products and emerging products with a higher earning capacity – consisting of virgin coconut oil, coconut water, coconut milk/powder/cream, coconut ice cream and coconut sugar.

The Sri Lankan coconut sector is still at the relatively lower end of value addition partly due to its strong domestic demand. It is important to note that coconut not classified as a pure economic crop and instead has a heavy socioeconomic leaning. Since the majority of produce comes in small quantities from small holdings, which provide livelihoods to a large number of people, exploitation of opportunities for high end value additions which have health benefits, is making inadequate progress.
The rubber industry

Rubber was first introduced to Sri Lanka in the form of 1,700 actively growing seedlings that were brought to Ceylon in 1876. With the spread of coffee rust epidemic during the latter part of the 19th century in Sri Lanka, rubber became the best alternative crop to fill the vacuum created by coffee plantations, and hence, commercial planting commenced in 1890. Till then, Sri Lanka was referred to as the 'cradle of the Southeast Asian rubber plantation industry', commercially producing rubber plant seeds for India, Malaysia, Queensland, Bogor, Fiji, Sumatra and Seychelles in the mid-1880s.

The rubber planting extent increased rapidly from 120 hectares in 1890 to 16,000 hectares by 1905. As of 2012, 130,000 hectares of land in Sri Lanka was covered by rubber plantations which contributed to an export earnings of $ 0.98 billion. Out of the total rubber exports, 83% were exported as end products, whilst the remainder was exported in the form of raw rubber and semi-processed rubber foam as per a report by the Ministry of Plantation Industries in 2012. Frequent fluctuation of natural rubber prices is a grave concern for local producers and impacts the continuance of the rubber industry.
The tea industry

Unlike coconut and rubber, the journey of Ceylon Tea has been extensively documented. From its beginnings at the talented hands of James Taylor in 1867, when the first commercial tea planting took place in the country and Sri Lanka became the largest tea producer in the world for the first time in 1965. In 2000, Sri Lanka surpassed 300,000 metric tons in tea production, thus it became a key contributor to the national economy. However, the Ministry of Plantation Industries reported in 2012, that the total productive tea land in Sri Lanka, excluding abandoned tea lands, had shrunk to 203,000 hectares in 2011 from 212,700 hectares in 2007.

By 2012, Sri Lanka was overtaken drastically by China, India and Kenya, and limited to just 8% of global tea production share. On land productivity, Sri Lanka ranks in sixth position behind Kenya, Argentina, Turkey, Japan and India. In Sri Lanka, the kilogrammes per hectare per year (kg/ha/yr) index stands low at 1,684 against 2,106 in Kenya and 2,338 in Argentina, indicating a rather poor land productivity. On worker productivity, the Sri Lankan estate sector stands drastically low at 15 kilogramme (kg) of green leaf per worker per day, compared to South India, North India and Bangladesh, at 25 kg, 24 kg and 20 kg of green leaf per worker per day, respectively.
Analysing the plantation management system

There have been different phases for the plantation industry across time that have all contributed to its current predicament. In terms of management, it has switched from colonial establishments to private ownership to state control to being run by regional plantation companies and small-holding operators, all in the space of 60 years. While there are other factors to consider such as weather events, government policies and developments in competitor markets, we need to take a closer look at how these changes to the management of the sector over the last six decades have contributed to industry's current status.

Next week, in my 'Beyond the Plants' series to identify and address problems in Sri Lanka's plantation sector, I will be diving into the impact of organisational culture on management of plantations and its influence on the current state of the industry. This is an aspect that hasn't been given enough consideration thus far, and I will present research evidence of its power to alter business outcomes and how it can be applied in the plantation sector for better business results.
Pic by Shehan Gunasekara
(The author is a Director of state and private sector plantation companies with extensive experience at operational and strategic levels. He can be contacted on: nbogahalanda@gmail.com.)